Ed Sheeran Used His Time Out Of The Spotlight To Really Bond With His Fiancé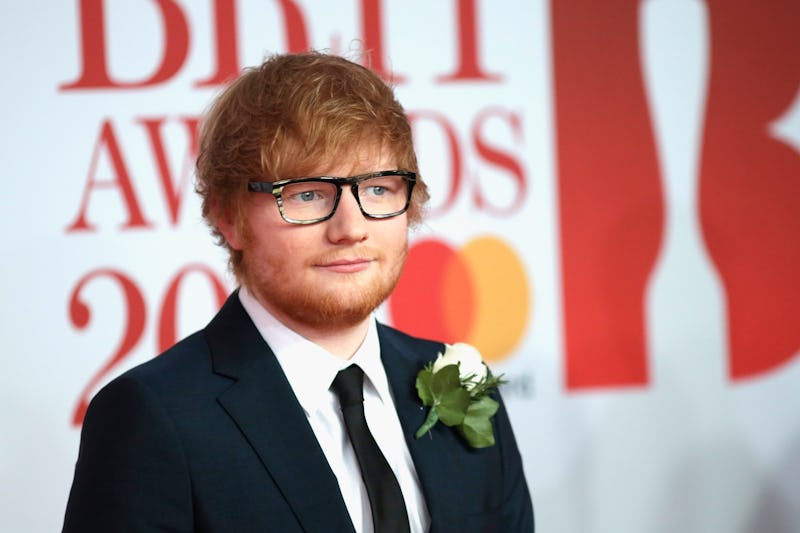 John Phillips/Getty Images Entertainment/Getty Images
Achieving a healthy work/life balance can be difficult for your average nine-to-five professional, so just imagine how tough it must be for a chart-topping superstar on a non-stop world tour. The pull toward different priorities must be incredibly daunting. During a recent interview with People, though, Ed Sheeran's comments about fiancé Cherry Seaborn clearly reveal his top priority — and guess what? It's not about selling records.
Back in October 2015, Sheeran announced that he'd be taking a year-long hiatus to "get rid of my iPhone, get rid of internet, get a Nokia 3310 and just go off into the wilderness somewhere for a bit," according to MTV. Later, the singer admitted he'd dealt with some substance abuse issues during his time off, which proved to be an important lesson in the value of self-care.
In his new interview with People, Sheeran further explained some of the motivations behind his decision to take a hiatus. "I ended the ['x'] tour and I [realized] I hadn't ever really lived a life," he said. "It's quite weird being a touring 'celebrity.' People assume you're living the best f*cking life in the world, but you don't really get to live any life because you work the whole time."
So, how did he spend that year living his life? Well, for starters, Sheeran worked on mending and improving his personal relationships with the people he cared about the most. The singer continued,
"I was like 'F*ck, I'm 25, I left school early and went straight into touring.' I haven't properly formed relationships with people so I needed to have a year off and spend it with friends and family and [my now-fiancée] Cherry [Seaborn] and actually become a human being."
Sheeran and Seaborn had known each other for more than a decade before they started dating, according to Us Weekly. They were childhood friends, but seemingly lost touch after high school. The pair wouldn't reconnect again until 2015 — just a few short months before Sheeran announced his hiatus.
The then-new couple traveled the world together in his quest to live life, he revealed to People, noting that "Fiji was pretty cool." He also added that they "did a road trip of Australia that was great. Fourth of July, that was fun coming to America. Lots of things! We did a road trip of Italy."
Sheeran and Seaborn continued to be inseparable over the course of the next several years, and in January 2018, he announced that they'd gotten engaged. "Got myself a fiancé just before new year," the singer captioned an sweet Polaroid photo via Instagram. "We are very happy and in love, and our cats are chuffed as well xx."
It seems like Seaborn's been there for Sheeran throughout all the ups and downs in his life — both as children and now, as a world-wide pop star. It's unclear whether or not they've set a date for their wedding yet, but they've undoubtedly got a lifetime of happiness ahead of them.