Women Need To Listen To Ed Sheeran's "Save Myself"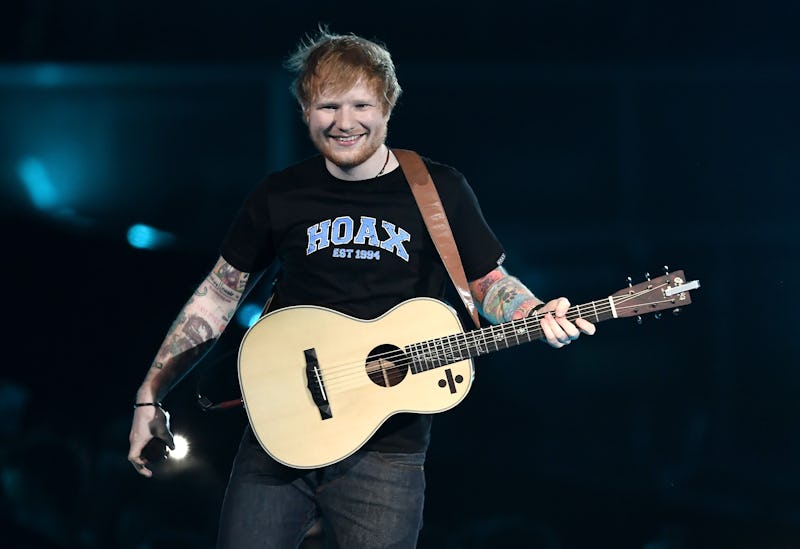 Gareth Cattermole/Getty Images Entertainment/Getty Images
After previewing a few tracks over the last couple of months, Ed Sheeran released his third album Divide on March 3. With 16 tracks on the deluxe edition, there's a lot for Sheeran fans to take in. Although some songs sound different than his usual style — like the previously released "Shape of You" and the opening track "Eraser" — Divide is full of those deeply personal lyrics that Sheeran is known for. Considering he's a famous male singer and all, the experiences that he sings about on Divide may not always be exactly relatable to his female fans, but there is still one song from Sheeran that every woman should listen to.
Many songs off Sheeran's new album prominently feature women, particularly his current girlfriend Cherry Seaborn and his grandmother who passed away while he was writing the album. Yet, even though it's not about a female in his life, the new Sheeran song that every woman should hear is "Save Myself." It's the final song on the deluxe version of Divide, which is available on Spotify, and has an important message of self-care for anyone of any gender. And the heart of the song is right there in the lyrics of the chorus:
"So before I save someone else, I've got to save myself"
While "New Man" may be a bit too mansplainy for many women (and may insult both women and men who are working on their fitness), "Save Myself" is a song that can resonate with anyone who has ever given too much of herself to other people or felt taken advantage of — and sadly, isn't that kind of everyone?
The opening lyrics speak directly to that feeling of being used:
"I gave all my oxygen to people that could breathe
I gave away my money and now we don't even speak
I drove miles and miles, but would you do the same for me?
Oh, honestly?"
Most fans would probably love to do the same for Sheeran, but the point of the song is that he was helping others until it became detrimental to his own well-being. Although the song may not be strictly autobiographical, he sings about using alcohol and prescription pills to numb himself in the chorus. And even if you don't self-medicate, the idea of exhausting yourself for others is something that happens to many people of all genders — and unfortunately, it's fairly common with women.
As the stereotypical "nurturer" of the sexes, women may feel that they have to take care of others before themselves and do so without acknowledgment. Sheeran even notes that in the bridge since he says he's not like his mom who would just smile while having these feelings and he's "complaining in a song." However, everyone — whether they're a mom or an internationally renowned musical artist — should feel like they can openly communicate about their emotions. After all, like Sheeran says, "It helps."
The final lines highlight how it's essential that you take care of yourself because it will make you more able to help others. (Kind of like the airplane rule to put the oxygen mask on yourself first before helping others put theirs on.)
"So before I save someone else, I've got to save myself
And before I blame someone else, I've got to save myself
And before I love someone else, I've got to love myself"
While this idea of loving yourself before loving anyone else is true for every single person in the entire world, Sheeran's "Save Myself" is an essential listen for women out there. And it's also such a meaningful message to end his third album on.