Saoirse Ronan Wants You To Know She Misspelled Ed Sheeran's Tattoo On Purpose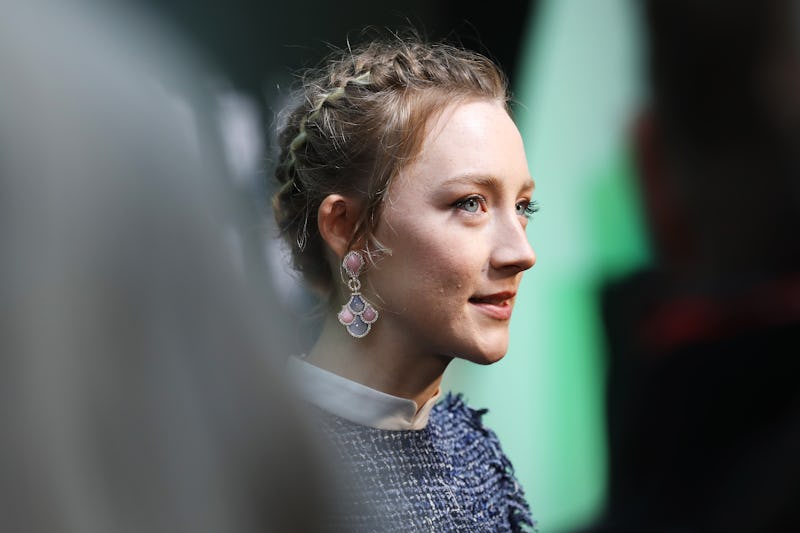 Tim P. Whitby/Getty Images Entertainment/Getty Images
When you have more than 60 tattoos, it's practically inevitable that something's bound to go wrong with at least one of them. Such was the case for Ed Sheeran, who revealed in April that a tattoo meant to say "Galway Girl," the name of his song, was misspelled as "Galway Grill" by Saoirse Ronan, the Oscar-nominated actor who starred in the track's music video. One hell of a prank, right? Well, not quite. According to Ronan, Sheeran was in on the tattoo's misspelling, in actuality — and she wants to clear a few things up about his version of events.
"He was the worst," Ronan, who stars in the acclaimed film Lady Bird, says about Sheeran with a big laugh while speaking to Bustle on the phone. "He got on stage a few days after we did the tattoo and he said that I just misspelled girl, which I didn't. I'm not illiterate. And I was like, 'what are you do telling everyone that I can't spell girl'?"
What really happened, Ronan explains, is that after the "Galway Girl" video finished shooting in Ireland, she, Sheeran, and the music video's director agreed that the singer should get a tattoo to mark the song's significance. "And we all said, including Ed, that it would be funny instead of writing Galway Girl that we should write Galway Grill," Ronan recalls. "So it is my handwriting, but I purposely wrote Galway Grill."
"Make sure the world knows that," she adds with a laugh.
According to Sheeran, things happened pretty definitely, to say the least. During a Glasgow concert this past spring, the singer told the audience that when he and Ronan were filming the "Galway Girl" music video, he wanted to get a tattoo of the song's title, in the actor's handwriting. But instead, Ronan went rogue, tattooing "Galway Grill" instead. "Like full on, full on she really took the piss out of me with this one," Sheeran said at the concert, according to People. "It actually says Galway Grill. G-r-i-l-l. I thought I'd tell you that — I haven't told anyone that yet."
Naturally, Sheeran's explanation for his misspelled ink caught many people's attention, leading the world to think that Ronan either made a pretty huge mistake or was playing a really intense prank on her friend. But if her version of the story is to be believed, the "Grill" was a group effort, not just Ronan's hilarious decision. But now she's clearing things up, and her laughs throughout the storytelling show that she clearly isn't too offended by what Sheeran said in concert. The duo's friendship is, thankfully, still intact — but don't expect Ronan to be following in the singer's footsteps anytime soon when it comes to getting inked. Currently, the 23-year-old actor doesn't have any tattoos, and while she's not ruling the idea out in the future, she's not rushing in to any major decisions.
"I think I will eventually," Ronan says, before adding, "I think I've always put way too much weight on a tattoo. But it has to be forever and it's gotta mean this and that." Still, she knows what she'd do if she ever did decide to take the plunge. "I think if I was gonna get one, it'd have to be related to Ireland or my mam or children that I have or something, because I feel like they're the three things I'll never feel any differently about," explains Ronan.
Sounds like a solid plan — let's just hope she doesn't decide to ask Sheeran to help her out with the design.