Eddie Redmayne Wants This OG 'Harry Potter' Legend To Join Him In 'Fantastic Beasts'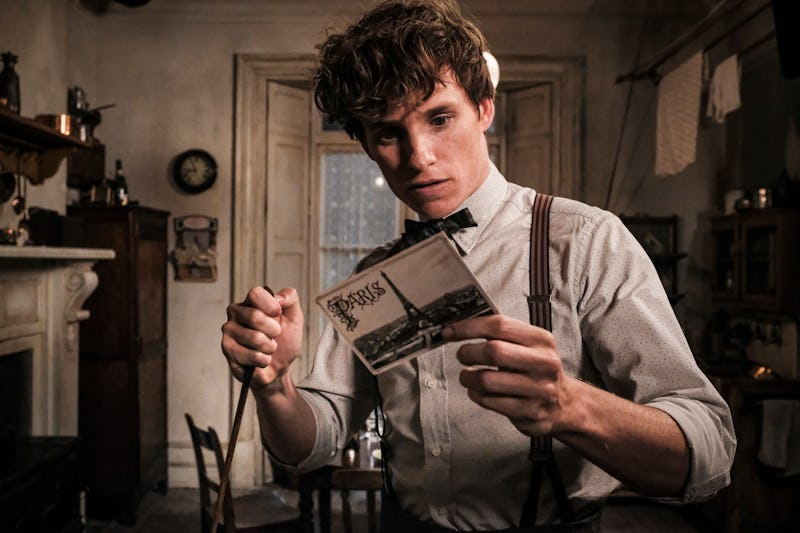 Fantastic Beasts: The Crimes of Grindelwald / Warner Bros.
The Harry Potter and Fantastic Beasts universe is big enough for two animal wranglers, or at least it will be if Eddie Redmayne gets his way. The actor who plays magizoologist Newt Scamander in the series was recently asked which OG Harry Potter character he'd like to see join the battle against Grindelwald. Although I personally would've thrown my lot in with Molly Weasley (Bellatrix Lestrange is still quaking), he chose a character after Scamander's own heart. Eddie Redmayne wants Hagrid in a movie and TBH, I'm here for it.
Redmayne and his co-star Katherine Waterston were speaking to CinemaBlend when the original franchise came up in conversation. Given that it's been recently revealed that a younger Professor McGonagall will join the crew alongside Jude Law's suave Dumbledore, the actor said he'd also like to see animal whisperer Rubeus Hagrid in the mix.
He told the outlet, "I'm secretly hoping that at some wonderful point, maybe if I say it enough times to J.K. Rowling, like a little mini Hagrid might arrive."
I never thought about teen Hagrid in the Fantastic Beasts films before, but now it's all I can think about. I know we got a quick flash of him during the Harry Potter and the Chamber of Secrets film, but in my mind he'd look exactly like any old Shoreditch hipster with a man bun and scraggly beard.
Can somebody see if Jeremy Irvine's doing anything and if he's down to grow a beard? If young Dumbledore can be hot, there's no reason teen Hagrid can't be.
Before I get too carried away fan-casting, CinemaBlend actually did the maths and figured out that it would be pretty difficult for Hagrid to exist in the same universe as the Fantastic Beasts films. Hagrid was expelled in his third year 50 years prior to the events of Harry Potter and the Chamber of Secrets, which was set in 1993.
A third year student would probably be the equivalent of a Year 9 kid, which means Hagrid would have been around 13 or 14 years old in 1928. According to Pottermore, the new Fantastic Beasts: The Crimes of Grindelwald is actually set in 1927 ("just a few months after Newt's first adventure") so Hagrid is about 12 — a bit too young to be joining any battles against dark magic. Am I right, Colin Creevey?
That said, there's a chance he could make an appearance further down the line. J.K. Rowling told Variety that although they initially had plans to make Fantastic Beasts a trilogy, they decided to make it five instead because the arc "spans nineteen years". That gives Hagrid some time to grow up and hopefully poke his head in.
So who knows, maybe we'll get to see Hagrid in a later instalment of Fantastic Beasts? I'd love to see soft-spoken Newt mentoring young Hagrid and putting him on the right path.
The upcoming film will be the second in the franchise and is called Fantastic Beasts: The Crimes of Grindelwald. It'll be followed by Fantastic Beasts 3 which is currently slated for November 20, 2020 according to Digital Spy but the director David Heyman revealed to CinemaBlend that he's hoping "it'll be every two years" or "two and a half years" between each release.
Let's not count our chickens — or dragons — before they hatch though and focus on the instalment already on the horizon. Fantastic Beasts: The Crimes of Grindelwald will be released in the UK on November 16, 2018.