Elisabeth Moss' Emmys Outfit Featured A Hidden Message To The Patriarchy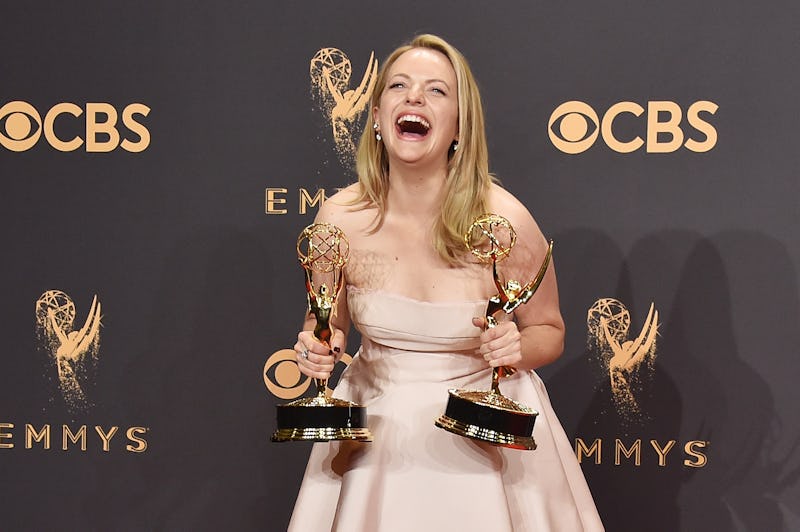 Alberto E. Rodriguez/Getty Images Entertainment/Getty Images
Down with the patriarchy. Newly-minted Emmy winner Elisabeth Moss wore a millennial pink, strapless Prabal Gurung dress to the 2017 Emmys. Moss' pretty pink ensemble featured an empowering, feminist message, which was tucked in the most unexpected place — the soles of her shoes. If her stylist Karla Welch didn't post about it on Instagram, we might never have known the hidden message existed.
Welch revealed Moss' secret, anti-patriarchy message by sharing an image of one of the soles of Moss' strappy pink heels, which featured the word "off" scrawled in black ink.
Welch's caption coyly states, "You'll have to guess what the other shoe says... our note to the patriarchy."
At first look, it's obvious that the other sole features a profanity that starts with the letter "F" and rhymes with "duck."
Or is it?
Not so fast! This true statement shoe is rich with double-entendre and open to interpretation. It certainly had fans guessing in the comments.
Moss picked up the statue for Outstanding Lead Actress in a Drama Series for her work as Offred on the Hulu series The Handmaid's Tale, which centers on a religious patriarchy that has taken over the U.S.
Therefore, one fan surmised that the other shoe featured the word "Red," resulting in her character's name. Since Offred battles the oppressive patriarchy, that theory is hard to argue.
The fact that this message is private, as opposed to being obvious or blatantly displayed on Moss' person, reflects her character's work to dismantle an oppressive patriarchy with quiet, quick-witted tactics. Ultimately, Moss' message was a beautiful execution of quiet but effective feminism.
Here are some of the main fan theories about the word that remained hidden on the other shoe.
There were a few more emojis and fan theories that were a bit more light-hearted in their interpretation of the message.
Have another look at Moss' entire presentation. Moss' dress was so ladylike and lovely, but her shoe soles boasted an additional edge that her true fans and followers were able to gain access to.
Once you know what's on the sole, Moss' pumps aren't just heels that match her frock anymore. They take on new meaning, beyond being delicate and strappy blush pumps. They are symbols of taking the power back from The Man.
On the bottom of a high-heeled shoe is a surprising place to put a message. As such, this commenter questioned the placement as too passive.
But many fans argued that change-makers don't always need to shout things from the rooftops in order to enact change. Overtness, they say, is not always the best course of action in dealing with patriarchy.
One user found deep meaning in Moss' tactics. As she says in her Instagram comment, the deepest strength manifests itself in the most subtle way.
Regardless, it's clear that fans appreciated this tiny touch that spoke volumes.
As it turns out, Moss' Emmys ensemble made multiple social and political statements. In addition to her anti-patriarchy shoe script, she boasted a more overt message. The actor proudly sported a blue ACLU ribbon to the 2017 Emmys, which was affixed to her matching square clutch.
The ribbon has been worn by multiple celebs at the ceremony and other red carpet awards shows this year. It supports the nonprofit's "Stand With ACLU" initiative, and ultimately supports the organization's efforts "to defend and preserve the individual rights and liberties guaranteed by the Constitution and laws of the United States" and to be a defender of people with marginalized identities.
Big ups to Elisabeth Moss and her style squad for shaking things up in the most unexpected way. Keep fighting the good fight.