Elisabeth Moss Just Dyed Her Hair A Totally New Color For Summer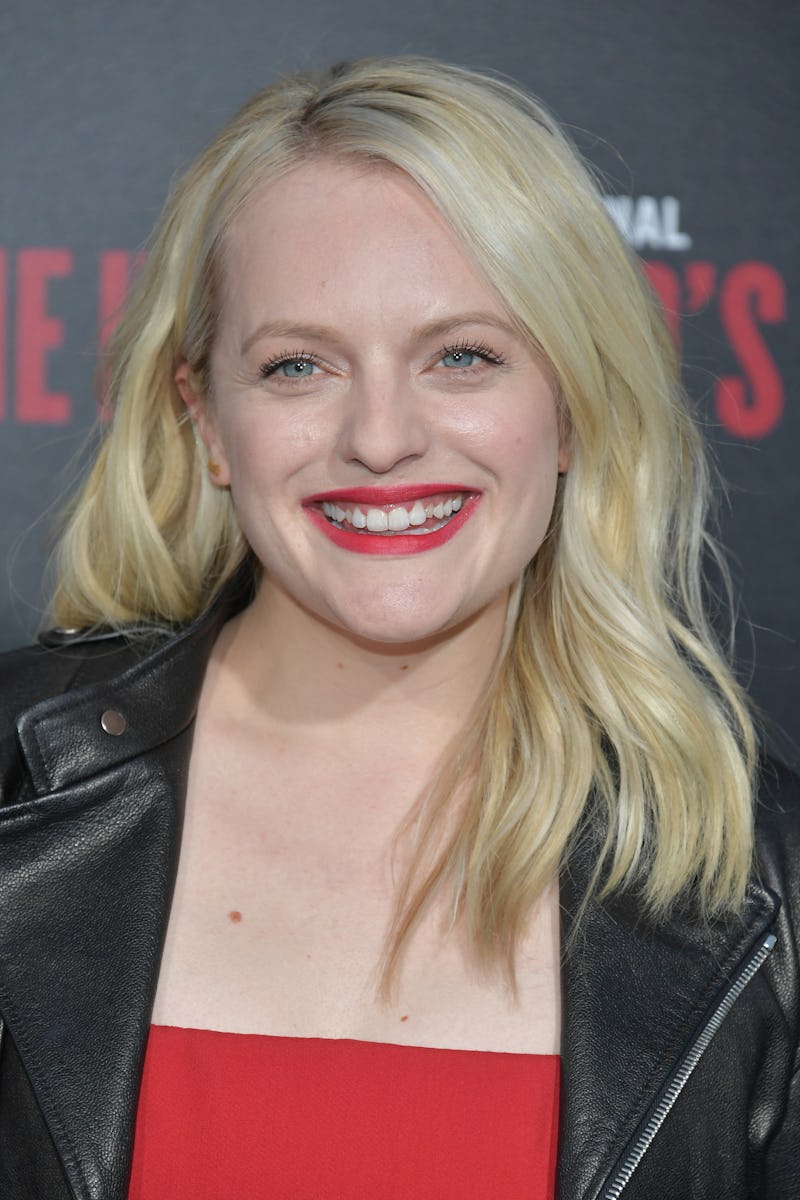 Neilson Barnard/Getty Images Entertainment/Getty Images
The season of celebrity hair changes in in full swing, but they are all not created equal. Proving that subtle is sometimes the way to go, Elisabeth Moss now has strawberry blonde hair. The color looks so great that you might just forget what it looked like before. If this look is any indication, you don't have to go drastic with your look to make a statement.
While some A-listed opt for bright colored locks for summer, Moss is doing things her own way. She showed off a brand new red tinge to get hair on Instagram at the end of May. It wasn't until her first red carpet appearance that people really started to take notice though. She stepped out in front of the cameras for a Handmaid's Tale in Beverly Hills in a black sequin dress, but not even that could take away from her new hue.
The slight red tint is the perfect way to change it up a little bit without fully committing to a new look. In case you don't remember, Moss' hair was bright blonde before she decided to switch things up. The new shade is absolutely gorgeous on the star. It's so good that you'll forget that she was ever brighter than this.
Moss didn't show off her new style in a dramatic way. She simple showed up on her Instagram with a brand new color. The actress did give a few hints to why she might have switched up her look though. She posed in front of her trailer on set of The Kitchen, according to her hashtags.
"Summer in the city on set 😉 ☀️💋 #TheKitchen," the caption reads.
There was no word of what hair stylist did the dying or why, but it's clear to see that she's rocking a more summery hue. According to Variety, The Kitchen is "classic gangter pic that follows a group of Irish mobsters sent to prison."
So there's a good chance that the slightly more red hue was to get into some Irish roots — literally. While Moss has posted more pics of the new hair on her Instagram, she has yet to comment officially on what inspired the new 'do. It does look like the style is here to stay though.
Moss isn't the only celebrity to go a little bit more bold with their hair for summer. Cardi B just showed off a magical unicorn style on Instagram, which was slightly more drastic than Moss' new look. Although it was also less permanent.
As far as red tints go, it seems to be quite the time for the color. Taylor Swift was just seen in a bright red wig for a music video. Some fans think that there was a hidden message in there. Ashley Benson also went bright pink for a hot second to celebrate the start of summer. None of the stars seem to be quite as committed to the color as Moss though.
In case you don't remember what Moss looked like, allow the below photo to refresh your memory. Because, although the star looks absolutely glowing with the new hue, you won't be able to tell until you see the side-by-side. After all, there's nothing better than a before and after.
JC Olivera/Getty Images Entertainment/Getty Images
Neilson Barnard/Getty Images Entertainment/Getty Images
If this doesn't make you want to go a little bit out of your comfort zone for the warmer months, then I don't know what will. Not all beauty transformations mean going super bold and drastic. Sometimes a little bit of color goes a long way, and Moss' hair brand new hair style is proof of that.