Elizabeth Berkley Wants Another 'Saved By The Bell' Reunion, Too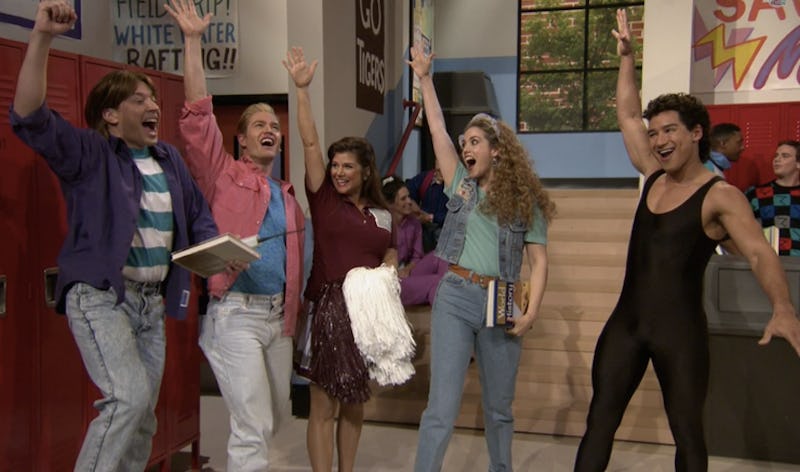 The Tonight Show Starring Jimmy Fallon on YouTube
It's pretty much undisputed that Saved By The Bell is one of the greatest TV shows of all time, so the world is always hopeful that one day Zack Morris will get the old gang back together. In 2015, thanks to Jimmy Fallon, the cast of Saved By The Bell reunited on The Tonight Show, giving fans a sneak peak of what a reunion of the series might look like. And now, Elizabeth Berkley wants another Saved By The Bell reunion like that one, which sounds like something the entire world could use right now.
The Showgirls actor, who played Jessie Spano on the show, spoke to Us Weekly at the Chrysalis Butterfly Ball in L.A. about the possibility of revisiting Bayside. And, according to her, the concept may not be as far off as it might seem to fans. "If something else presented itself that was as intelligent as the way Jimmy did it, I'm not saying we wouldn't consider, but we did what felt great for all of us at this moment." While her words are far from conclusive, it's clear that she enjoyed reuniting with her Bayside High alumni as much as we all enjoyed watching it.
Berkley explained that the former cast mates are all incredibly busy with work commitments: "We're actually fortunate that most of our cast consistently works and have been working actors since we were kids." While their busy schedules are bound to make any reunion challenging, the friendship between them has endured for decades, which is heartwarming to know. As she said, "We stay in touch. We love each other."
As for finding the right time to bring Saved By The Bell back again, Berkley pointed to other successful revivals that have taken the world by storm. She said, "Especially in light of the recent Full House success, same generation... There seems to be a resurgence or an appetite for a little more innocence again in a climate and culture that is not."
What would be more perfect than revisiting Bayside High for real in 2017? I'd love to see Jessie and the gang hanging out in The Max, and find out which couples stood the test of time. If Berkley's on board, maybe a reboot isn't totally out of the question.