This Video Of Kris Jenner Getting Scared By Ellen Is The Perfect Halloween Treat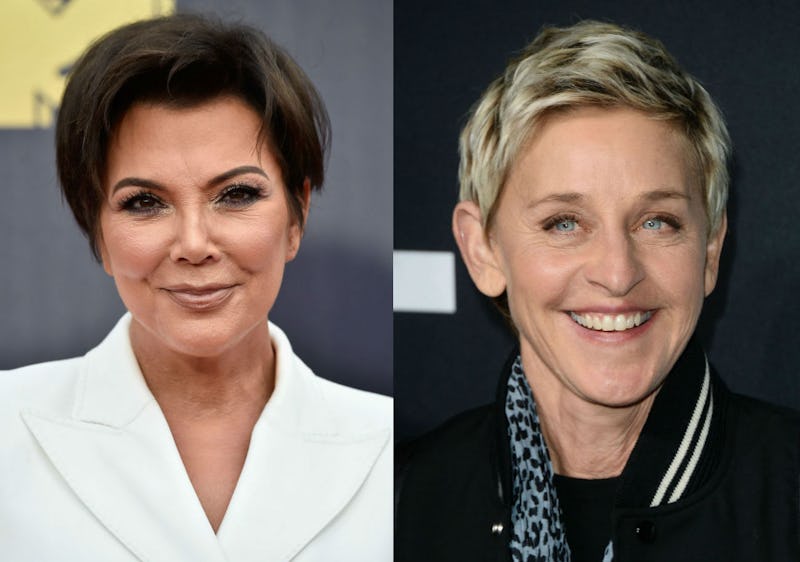 Matt Winkelmeyer/Getty Images Entertainment/Getty Images; Frazer Harrison/Getty Images Entertainment/Getty Images
This is going to be your new favorite Ellen DeGeneres Show scare. Ellen DeGeneres scared Kris Jenner and she got the reality star so good. During the daytime talk show host's Halloween episode that aired on Thursday, DeGeneres showed a video of her staff and two celebrities, Kris and Ciara, being scared by someone hiding in a TV box.
As the comedian explained to her audience, "One of my favorite parts of Halloween is scaring my staff. This year I set up some empty TV boxes backstage and waited for unsuspecting employees to walk by."
Well, the box wasn't so "empty," because as soon as anyone walked by, a person dressed up as Linda Blair's character from The Exorcist popped out and scared them. There were some really funny reactions, including one woman being frightened twice and literally crawling her way past the box. Of course, DeGeneres also scared her producer, Andy Lassner, the guy she repeatedly terrifies. FYI, DeGeneres had Lassner and Chrissy Teigen go through a haunted house together this year, too.
When it came to Ciara's turn to be scared, she jumped, but her reaction was nowhere near the level of fright Kris felt. Around the 1:45 mark, Kris, her boyfriend, Corey Gamble, and some other people turn the corner. Before she knew it, the Keeping Up With the Kardashians star was letting out a high-pitched scream and found herself on the floor.
Go ahead, watch it!
OK, let's break this down frame by frame, because it's too perfect not to relive in slow motion.
The Scare Began
Immediately, the momager was terrified.
She Literally Fell To The Ground
First, let's all applaud Corey for not wasting anytime whatsoever by immediately running to Kris' rescue. He tried to catch her before she hit the cart, but unfortunately he didn't save her completely. But, hey, he tried. And, thankfully she didn't hurt herself.
She Tried To Recover
It looks like Kris tried to catch her breath, but she was definitely overwhelmed by the surprise scare.
Finally, There's This
A classic Kris response. Who can blame her? If you're not expecting someone to jump out of box and scare you, then, yeah, you'd probably react like she did.
The Kardashian-Jenners definitely know how to celebrate Halloween, so Kris was just adding to the fun. If you didn't see, Khloé Kardashian shared photos of True's many Halloween costumes. Yes, they are even more adorable than you can imagine.
And speaking of costumes, Khloé, Kim Kardashian, Kourtney Kardashian, Kylie Jenner, and Kendall Jenner went above and beyond for a group costume this year. The Kardashian-Jenners dressed up as Victoria's Secret Angels. You can check it out below:
"Thank you @VictoriasSecret for sending us actual runway looks and real wings to borrow for the night!!!" Kim wrote on Instagram on Oct. 31. "OMG a dream come true! Got to be a Victoria Secret Angel for the night! And Kendall got good practice lol."
Kendall previously teased their costume to Vogue in a video shared on Oct. 24. "Me and my sisters are doing something amazing, but I can't tell you because that will ruin everything and I'm not gonna give Vogue that exclusive just yet," she said. Well, she definitely wasn't wrong.
Between the sisters' epic costume and DeGeneres scaring Kris, the KUWTK family definitely did Halloween right.