Ellie Goulding's Royal Wedding Outfit Was A Totally Unusual Look For The Singer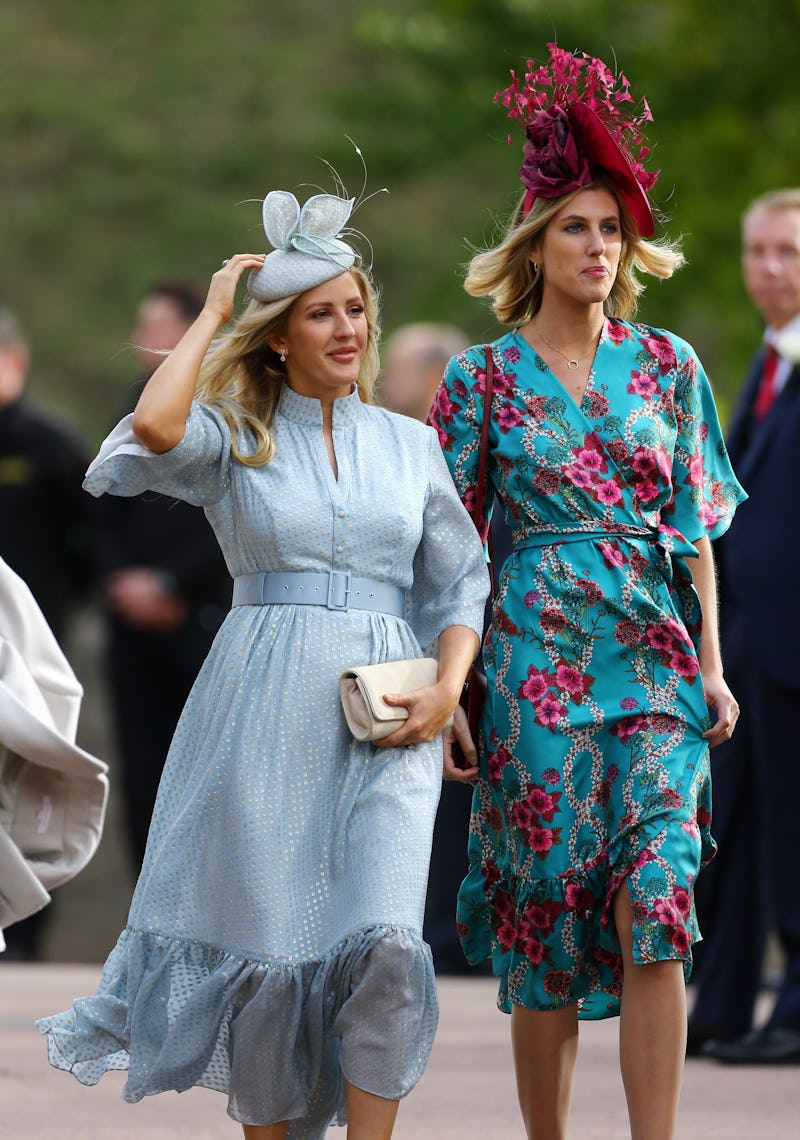 WPA Pool/Getty Images Entertainment/Getty Images
Royal weddings are huge historical events. Think bright lights, fairytale romance, VIP guests, and most importantly — fashion. So naturally, Princess Eugenie's wedding did not let anyone down, especially when it came to the looks. Young royals are mavericks in every sense, especially the sartorial sense, and so are their celebrity mates. Take Ellie Goulding's outfit at Princess Eugenie's wedding, which was nothing short of classic high glamour.
Goulding, a close pal of the princess, wowed onlookers in a pretty spectacular powder blue ensemble. The beautiful dress was a very modest cut that kept the singer's arms covered, and the skirt goes down past her knee. The loose fitting dress was belted, and Goulding paired the lovely, classic look with some dance floor-ready white heels.
But let's be real, everybody wants to know about the hat, right? Royal weddings really are all about acts of millinery that defy gravity, belief and occasionally, well, logic. As such, Goulding went for a hat in matching powder blue, a classic pillbox style with a fascinator-esque 3D element to it. The hat was presumably pinned onto the singer's perfectly blow dried blonde locks, which she was wearing down for the occasion. A brave choice on such a windy day.
This look is especially classic, modest and formal for Goulding who normally goes for more extra outfits. The star is not one to shy away from sparkle, but the only thing this outfit had in common with her normal threads is that it is a little bit shiny. The slightly more muted colour is also a little left field for the Starry Eyed singer, who has no problem bringing out wonderfully bright hues.
Goulding and Princess Eugenie have been friends for quite some time. Eugenie and her fiancee James Brooksbank, and Goulding with her fiancee Caspar Jopling, were even spotted at Madison Square Garden in New York City taking in a basketball game, on what appear to be an adorable double date. I know, OMG cute or what? It's a slight deviation from polo, but probably a little more fun.
Goulding has also shared snippets of the pair on her Instagram account and according to Elite Daily, Eugenie may well have actually introduced Goulding and her fiancee. The connection was apparently made owing to Brooksbank in fact working for one of Jopling's family members. So sweet!
Goulding is in no way unfamiliar to royal events. She actually sang at the biggest royal event of the generation, the nuptials of Prince William, second in line to the throne, and his wife Catherine, Duchess Of Cambridge. But will she be busting out a tune at her old pal Eugenie's big day? Perhaps some Beyonce? The Corrs? Nope. Eugenie chose to go for a bit of a classical vibe, with Andrea Bocelli set to be crooning all the attendees with his velvety notes.
With all of these glamorous outfits, beautiful music, and partying, the question is — what will they all look like/sound like after the party?