Elsie Fisher Responded To Criticism For Her Support Of 'Bohemian Rhapsody' In The Best Way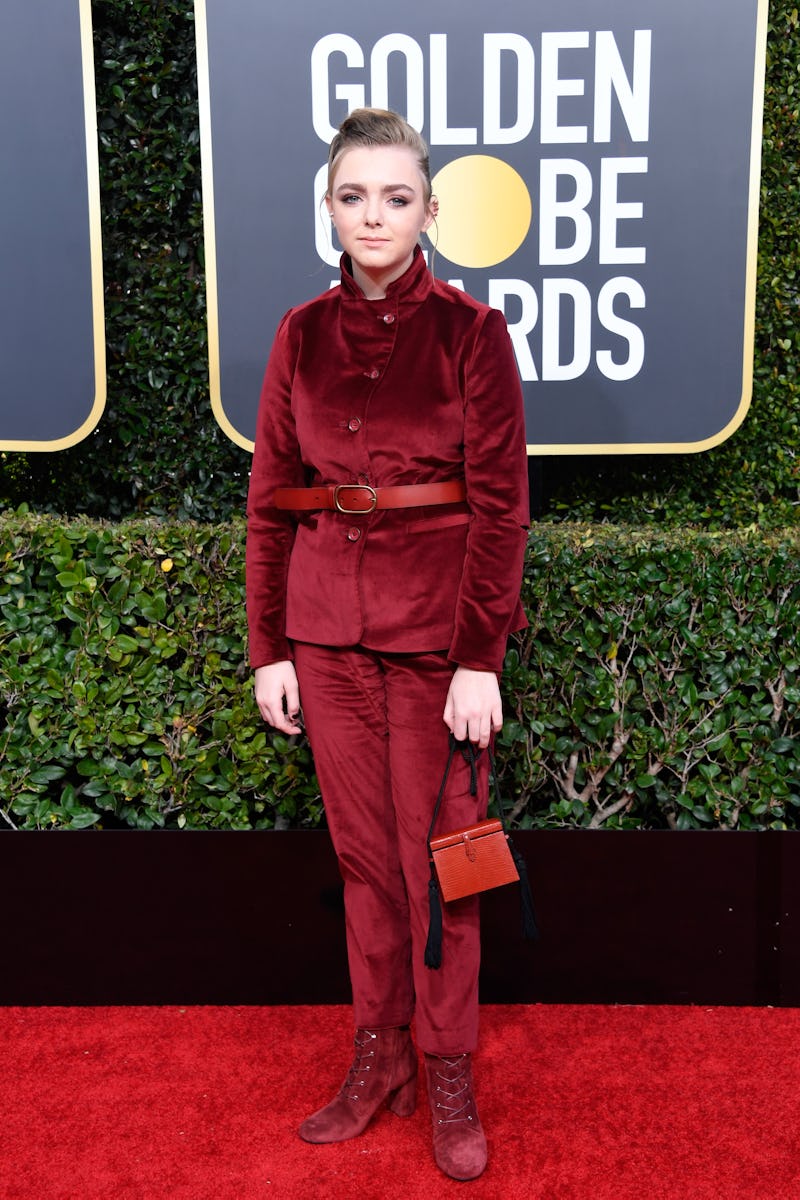 Frazer Harrison/Getty Images Entertainment/Getty Images
As the Golden Globes unfolded on Sunday night, Eighth Grade star and Golden Globe nominee Elsie Fisher found herself at the center of a minor Twitter controversy after she praised Bohemian Rhapsody and its star, Rami Malek, earning pushback from those upset that the film, directed by the controversial Bryan Singer, was so celebrated. Fisher responded to the Twitter criticism with grace. But it's misplaced anger that led to her followup tweet in the first place.
The incident began when Fisher, who was nominated for Best Actress in a Comedy for her breakout role in Eighth Grade, watched as Malek won the Golden Globe for Best Actor in a Drama film and Bohemian Rhapsody won for Best Drama. A fan of the film, 15-year-old Fisher tweeted about her excitement for Malek and the movie, writing in all caps,
"IM SO HAPPY RAMI MALEK AND BOHEMIAN RHAPSODY WON GOLDEN GLOBES IM THRILLED TONIGHT IS THE BEST NIGHT!!!!!!!!!!!!!!!"
But shortly after Fisher posted her tweet, people responded with their own opinions about the movie and its director, Bryan Singer. Singer has been accused of sexual misconduct with minors in the past, though he has denied all allegations against him. And a number of people online criticized Fisher for sharing her enjoyment of the film due to his involvement. "Elsie please no," @RyanDubbya responded to her tweet. Another user, @jungkooksbigf asked the actor to "reconsider" her support of the film.
Fisher responded to her initial tweet with one of confusion, writing, "Why is everyone being so mean about this? I'm genuinely sorry if I did something wrong." This tweet, it seems, prompted responses that informed her about the allegations against Singer, and the young actor promptly tweeted an update of two more tweets.
In Fisher's following tweets, she explained that she didn't know about the allegations before tweeting her support for Malek and the film. (Though it's worth noting that in the midst of Bohemian Rhapsody's production, Singer was fired from directing the film.) "My thoughts on this - please educate me in the future if I do something problematic. I want to better myself and grow," Fisher tweeted. She added another message to explain that she's still happy for Malek, writing,
"I'll continue to be proud of Rami and the supporting cast because they are incredible, but otherwise I will hold back. Understand this though; there are many problematic people in Hollywood, and as someone who is busy frequently I don't always have time to keep up. So tell me."
Fisher's response is incredibly mature, not just for someone her age, but for anyone. It's rare to find someone willing to admit that there are some things they just don't know. But though her response to the criticism has been admirable, it's frustrating that she was put in this position to begin with.
Fisher is not not responsible for Singer's alleged actions, and she shouldn't be taken to task for liking Bohemian Rhapsody. (After all, plenty of adults did, too, or the Hollywood Foreign Press Association's members wouldn't have voted for Malek and the movie in the first place.) And, even if the people who responded negatively to Fisher's initial tweet were well-meaning, she's still 15, and she doesn't deserve to be held accountable for a grown man's alleged actions.
It sounds like Fisher is more than open to learning more about the Hollywood controversies that have become public thanks to the Time's Up and #MeToo movements. And her mature response shows that she's not taking allegation reports lightly — but, really, she shouldn't have been criticized to begin with. It's time that audiences hold men accountable for their own actions, instead of teenage girls who just happen to like their art.