Here's How Emilia Clarke Is Making Sure She Doesn't Reveal 'Game Of Thrones' Season 8 Spoilers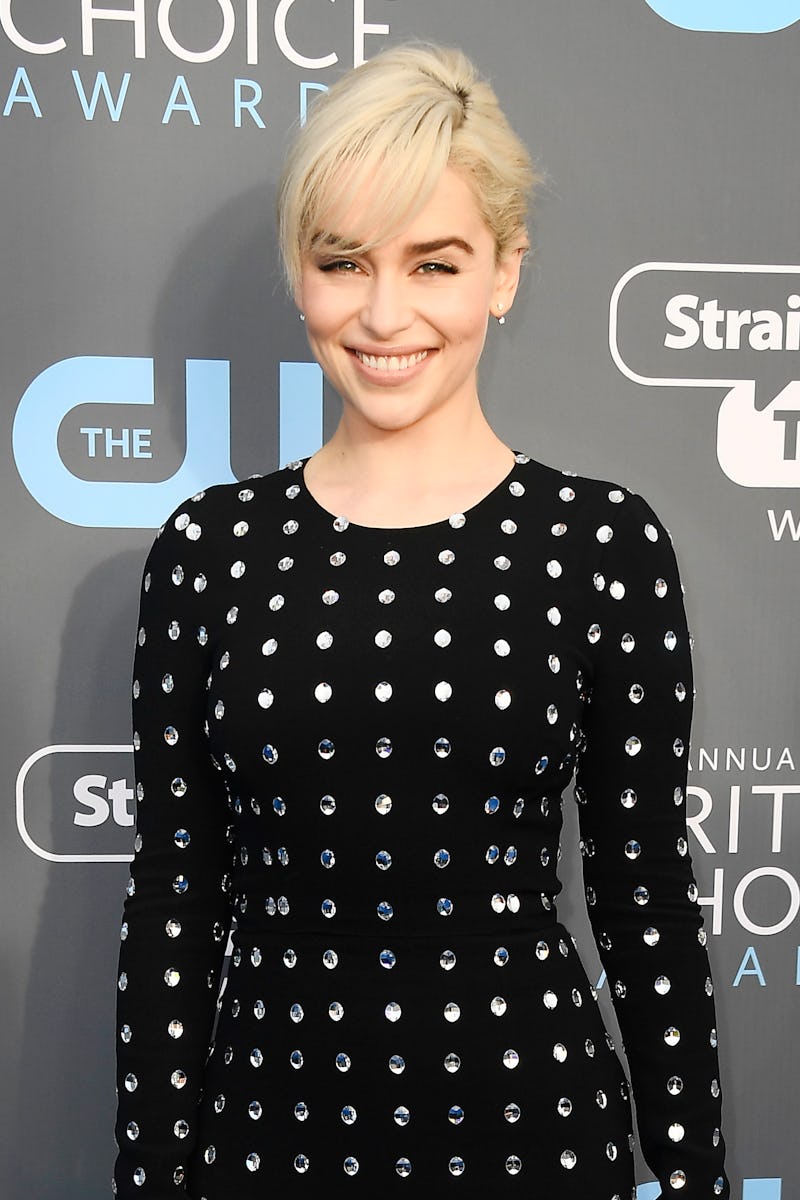 Frazer Harrison/Getty Images Entertainment/Getty Images
Emilia Clarke has starred in HBO's Game of Thrones since 2011, and regularly endears herself to the show's fans with her effusive love for her costars and self-aware social media presence. In fact, the actor understands the Game of Thrones fandom so much that Emilia Clarke has a second Instagram account to prevent fans from discovering spoilers, according to UK newspaper The Express. It turns out that being BFFs with Khaleesi's portrayer in real life might not be exactly how you dreamed it, though. If you're a diehard Game of Thrones fan and friends with the Mother of Dragons, your access to her personal Instagram account comes with a mighty spoiler risk for your favorite TV show.
According to UK newspaper The Express on April 26, Clarke said that the nature of her work makes her "a walking spoiler." To wit, she explains, she has "a public account" — the Instagram fans know and love — and "another, very secret" account as well. The actor explained:
I created another, very secret account in which post scenes from my life that are relevant or fun for me and my closest friends. I learned to live with the idea that secrecy is the soul of my business.
The Express added some context to the quote that read: "...she has to have two Instagram accounts to prevent hungry fans from learning any information about the show."
Of course, Clarke deserves to have her privacy and she definitely has the right to have a private IG away from the limelight. Clarke's public Instagram is mightily popular; the actor is closing in on 17 million followers as of April 28, 2018. And if she already posts pictures of herself at festivals, supports her favorite charities, shares her experiments with hair dye, and shares images of her and her costars goofing around on set, so what exactly could the full-on spoilers from the show be?
This is the first fans have heard of Emilia Clarke's second Instagram account, which means it's either a recent development, or her friends are super trustworthy. Or both. She wouldn't be the first celebrity to run more than one social media account — Lorde's onion ring rating Instagram comes to mind — but it's pretty cute that Clarke created one to protect her fans from possible spoilers.
Again, that begs the question: Just how dedicated is she to posting spoilers? Evidently, it's enough to merit a private, unnamed account. For the fans clamoring for a taste of Game of Thrones Season 8, though, Clarke's private Instagram must be the Holy Grail of information about the new season. After all, she uses her public-facing one pretty comfortably — selfies, dog pics, and so many other photos are all on there. This doesn't mean fans should go searching for it — again, Clarke absolutely deserves to have her privacy and fans will find out everything they need to know about Season 8 as the premiere date inches closer.
The same Express article revealed that actor Pilou Asbæk, who has played Euron Greyjoy since Game of Thrones Season 6, is not quite taking a page from his costar's book. He's already begun to drop hints about GoT Season 8. Not just that, but he's talking about the Game of Thrones series finale to the press. Per the Express, in an interview with IB3TV, a Spanish-language news station based in Mallorca, Asbæk revealed the following, along with assurances of a "satisfying ending" to the show:
Usually, when we record the series, we need six months to do 10 episodes. This time we needed 10 months to record six episodes. Honestly, I can promise that this season will be spectacular.
A lot to unpack there. Is he hinting that Game of Thrones has wrapped filming already? That would be the first time fans have heard that. It also indicates that Euron Greyjoy could make it to the end of the show. If that's the case, fans may need to adjust their predictions for who ends up on the Iron Throne.
Of course, there's a chance that Asbæk is just being playful. After all, Euron made a dramatic exit in the Game of Thrones Season 7 finale — only to have Cersei reveal that it was all part of a plan to retrieve the Golden Company and bring them to Westeros to do her bidding. Perhaps the Danish actor has learned a few tricks from his GoT character.
Here's hoping he's not entirely kidding, though. A satisfying ending to the Game of Thrones saga would be a dream.