Emilia Clarke's New 'GoT' Tattoo Proves She'll A Mother Of Dragons For Life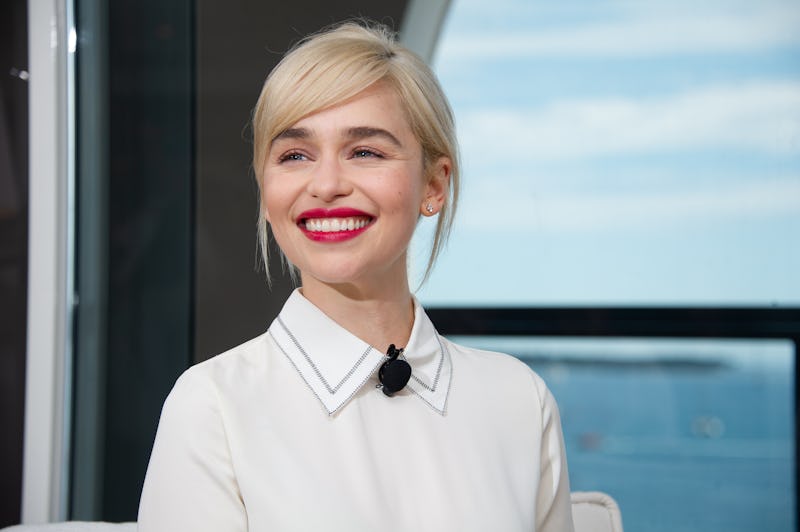 James McCauley/Variety/Shutterstock
Game of Thrones unsurprisingly picked up its third Emmy Award for Outstanding Drama Series on Monday, and what better way to celebrate than getting some permanent ink that could put even the Dothraki to shame? That's what the show's leading lady did. In case you haven't see it, Emilia Clarke's Game of Thrones tattoo is freakin' epic. In fact, I can already sense the influx of bookings being made by fans wanting to get a similar motif inked on their skin.
Clarke will forever be the OG mother of dragons thanks to her portrayal of Daenerys Targaryen for the last seven years (I know). And now, Drogon, Rhaegal, and Viserion will be eternally attached to their mother thanks to a beautiful, minimalistic tattoo etched on the actress' wrist.
On Thursday, the star took to Instagram to post a picture of her new GoT inspired tattoo. Flying in formation as black silhouettes, in the pic, Clarke seems as enthralled with the final design as I am. "MOD 4 LYFE!!!!" she captioned the cute social media post, complete with flame and heart eye emojis. "@_dr_woo_ made sure this mamma ain't NEVER forgetting her babies..."
You can check out the first pic of her new inking here:
As contagiously ecstatic as Clarke looks in her Insta post, she is obviously as wrapped up in feels regarding GoT''s end as fans are. During a Facebook Live interview with Variety at Cannes earlier this year, she opened up about the series ending. She said: "It really feels like preparing to leave home, is how it feels. So that's exciting, but it's sad and scary all at the same time […] It has been my entire life. It was my entire twenties, and then some. It's been my everything."
The actor continued: "I've been writing a diary entry for every day of filming, so that when I'm an old lady I can look back and remember what I was really feeling. The majority of my diary entries, are, 'My feet hurt! I'm tired! It was raining!' I'm gonna look back and be like, 'I complained a bunch!' None of it's like this wistful thing I hope it would be."
Clarke's hasn't been the only cast member to dedicate her skin to GoT, as on-screen sisters Sophie Turner and Maisie Williams are now amassing quite the collection of tattoos related to their fictional heritage. Back in 2017, Turner revealed that the pair got matching tattoos of the date they were hired during a break in filming, according to Hello! magazine.
The actresses were actually planning on getting a matching dire wolf design if both their characters made it through the show, but were put off due to the uncertainty that GoT gives its cast and fans. "With Thrones, we were like, if we could all get a matching wolf but we don't know if we're going to make it," Turner told E! News. "So Maisie and I were like, 'Let's get this before anyone kills us."
Turner did eventually get a dire wolf tat in the form of the House of Stark's sigil, but not without slight controversy. This was all thanks to the quote underneath which read "The pack survives", which many fans took as a spoiler for the show's final series.
"It's just a quote from last season," Turner told James Corden during an appearance on The Late Late Show. "But everyone figures the pack really does survive, but it's just a moral that I like to live by."
It was then Williams's turn to add some more ink, and she went all out by getting three tats in one session. First teasing on her Instagram story a pic of red ink with the caption: "Guess who's getting 'No One' tattoo", the actor then went on to post the three designs in one Insta post.
"No One" — a quote from Season 7 — adorns her neck, with a delicate daisy on her upper arm (possibly in reference to her new social media app Daisie), and "little rascal" on her forearm.
All in all, if you too are struggling to cope with the lost of GoT, the women of Westeros have got you covered. I never knew how much I needed a dragon tattoo until now.