Only 'GoT' Superfans Will Get Maisie Williams' Awesome New Arya Inspired Tattoo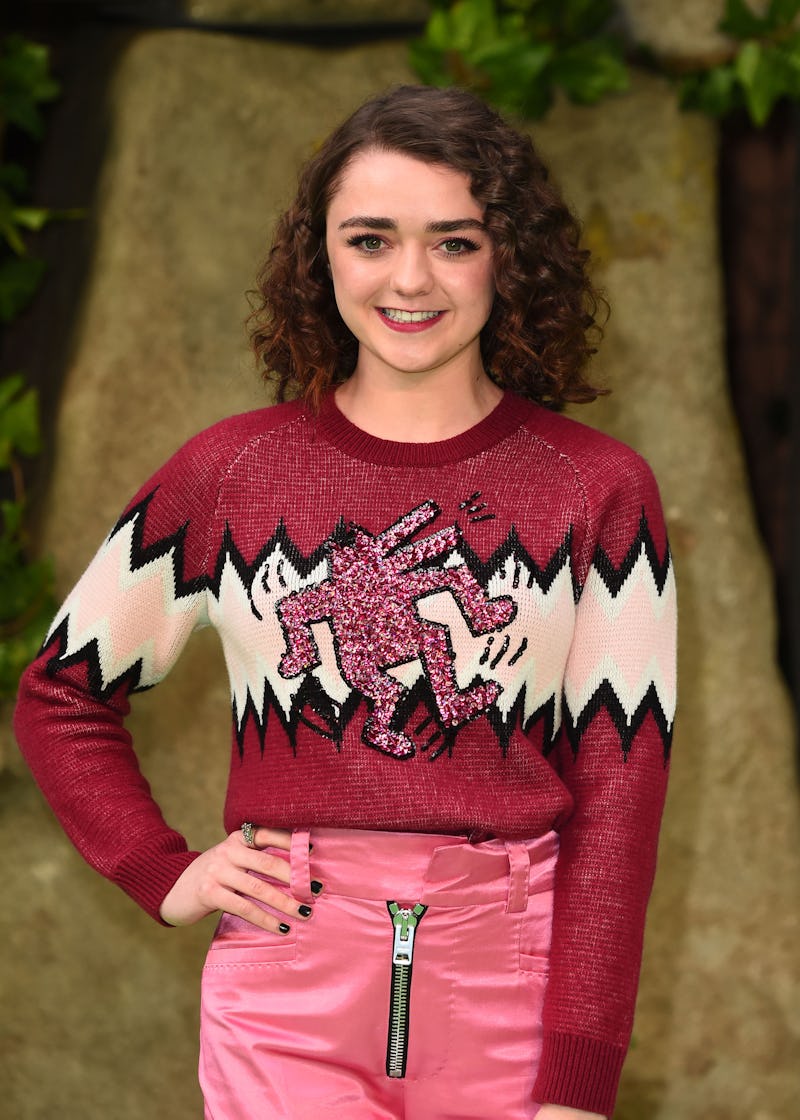 Eamonn M. McCormack/Getty Images Entertainment/Getty Images
The last season of Game of Thrones has officially wrapped and all any of us can do is wait. For potentially another year. Until then, the cast members have been posting clues on social media and commemorating their time on the world-famous show with a tattoo or two. While some have been more cryptic, Maisie Williams' Game of Thrones tattoo is an subtle reference to her character, Arya Stark.
The 21-year-old actress posted a photo on her Instagram stories on Thursday night, appearing to show that she was getting a red tattoo reading "No One" from Bang Bang tattoo artist Mr. K. While Williams hasn't shown off the finished result just yet, it seems safe to say that she's now walking around with a fresh piece of GoT ink.
Any major fan of the series will understand the reference. During Stark's time at the House of Black and White, she was trained to be a Faceless Man. In other words, a cold-blooded killer who would be known as "no one."
This involved her having to renounce her former life and spend a considerable amount of time blind. But in the end, she seemed to eventually become no one before returning home to Westeros (if Littlefinger's death is anything to go by, it doesn't look like she'll be giving up the whole killing thing any time soon).
Williams' tattoo choice has garnered some positive responses on Twitter.
Ranging from emotional to "go girl", it seems everyone is a fan of Arya Stark (and of Williams too, obviously):
Williams' new tattoo isn't the first inking she's got that references Game of Thrones. In September 2016, the actress got a matching tattoo with close friend and fellow cast member, Sophie Turner, which showed off the date on which they were both hired for their respective roles.
"We always said that we wanted them so we got the date 07.08.09 on our arms because that's the date that both of us found out we'd got our roles in Game Of Thrones," Turner, who plays Sansa Stark, told Elle. "So when we had a day off from filming in Belfast we just went to a tattoo place and got it done."
Williams seems to have followed in Turner's footsteps with her second tattoo. Turner caused a controversy with her recent inking which simply read: "The pack survives." Obviously, everyone was convinced that this meant that all of the remaining Starks will survive the final season of the show.
However, the 22-year-old was forced to admit that her design choice wasn't giving away any spoilers. On a recent episode of The Late Late Show with James Corden, she admitted that she was told not to get the tattoo "because it looked like I was giving everything away. But I wasn't. Everyone figures that the pack really does survive, but it's just a moral that I like to live by."
So is Williams' new piece a potential spoiler too? Will she leave her family once again and return to the world of Jaqen H'ghar? Or will Arya Stark not make it until the very end? Or is she simply trying to remember a good few years of her life with one of her character's most memorable quotes? So many options.
I guess all of us will find out when Game of Thrones returns some time in 2019. Until then, I'll be watching closely for any more tattoo-related drama because I just can't resist a good old spoiler. Someone, somewhere, is guaranteed to give the game away, right? Keep your eyes peeled, folks.