Emilia Clarke Is Just As Distraught As You Are About 'Game Of Thrones' Ending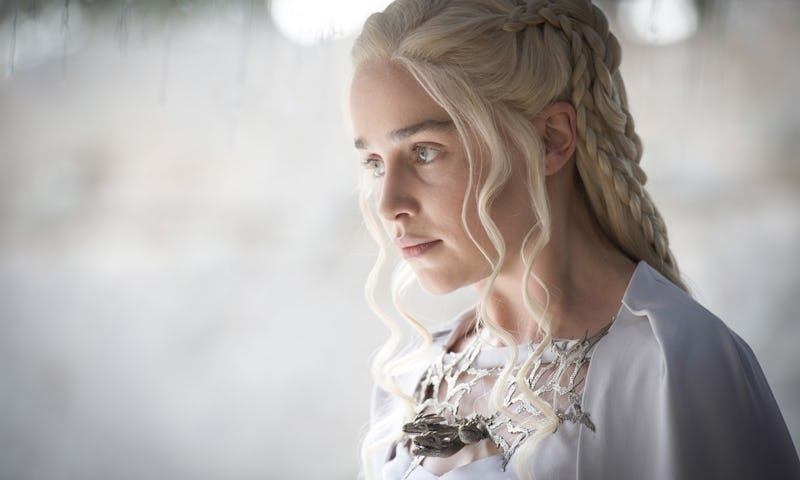 Macall B. Polay/HBO
OK, so Game of Thrones is ending. Anyone else finding it hard to cope? For all those fans who've been having trouble coming to terms: At least you're in good company. Emilia Clarke's Game of Thrones finale comments are a pretty comforting reminder that, when it comes to the imminent end of GoT, the series' cast is just as distraught as its fans. "We've all done a lot of crying. There's been a lot of crying on set," Clarke candidly told E! News on the Emmys red carpet Monday evening, where she represented the long-running HBO drama alongside fellow GoT costars Nathalie Emmanuel and Jacob Andersen. (And was there to accept GoT's award for Outstanding Drama Series.)
And while Clarke ultimately described her feelings about the upcoming series finale as "bittersweet" during the trio's recent interview, it sounds like the journey toward acceptance has been a relatively lengthy one. That shouldn't come as much of a shock to fans of the show, who — much like the series' veteran cast members, it seems safe to assume — know firsthand what it's like to fall head-over-heels obsessed with the bizarre, fantastical land of Westeros and its oftentimes equally bizarre residents.
During their conversation with E!, Clarke and her cast mates (well, technically former cast mates) circled back to the comparatively more emotional stage of GoT finale grief, not long after the series finished up filming for Season 8, its upcoming, and final, season. Fans on social media might remember the outpouring of nostalgia from various members of the GoT cast — Clarke and Emmanuel included — that cropped up on social media after filming wrapped over the summer.
"@gameofthrones you're kicking my emotional butt," Clarke wrote, captioning an Instagram photo of herself and Emmanuel wielding prop swords during the GoT wrap party, which took place in Belfast back in July.
And while the gals look like they're having a grand ol' time in Clarke's IG photo, their respective comments to E! Monday night suggest the process of letting go might've been a little less cheery than it appeared on social media. "The week after we finished was a really weird week," Emmanuel told the outlet, explaining that the whole experience left her feeling mentally "disjointed" and generally out of whack.
Suffice to say, Emmanuel was not alone. "Oh my god," Clarke chimed in, before adding that she too suffered a "genuine" existential crisis in the week that followed the end of filming. "Like, legit, where you're like, 'What?'" she finished, with a bewildered look in her eye. Emmanuel, for her part, seemed to be hurdling straight toward existentialism herself right then and there.
"What does my life mean without Game of Thrones?" Emmanuel asked jokingly. (Though, if the actors' earlier comments are any indication, perhaps there's a little truth to that last sentiment.)
Of course, even though filming for GoT's eighth season has finished up already, audiences still have a ways to go before they'll actually have to say goodbye. HBO has yet to issue an official release date for Season 8, but it looks like fans will be waiting on the so-called beginning of the end until at least the beginning of 2019. Hopefully any and all emotional crises — especially those of the existential variety — from the likes of GoT's talented cast and crew will have subsided by then.