Here's Definitive Proof Emma Stone Is Raking In That Moola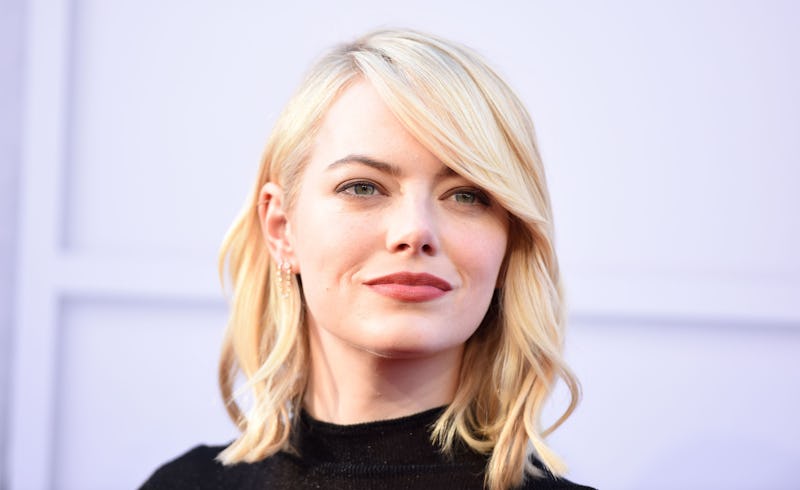 ROBYN BECK/AFP/Getty Images
It's official: 2017 really is Emma Stone's year. On Wednesday, it was announced that Emma Stone tops Forbes' 2017 highest paid actress list. According to the business magazine, before taxes, the 28-year-old made $26 million in Forbes' 12-month scoring period. That big sum of cash is mainly due to La La Land doing so well at the global box office and earning $445.3 million. Per the outlet, this is Stone's "largest ever annual take-home and is the biggest dollar and percent gainer, year over year, of anyone on the list."
The other highest-paid actresses on the list include Jennifer Aniston in the No. 2 spot, who made $25.5 million, and Jennifer Lawrence in third place for banking $24 million. In 2016, Lawrence topped Forbes' list after making $46 million that year. Melissa McCarthy also made the 2017 list at No. 4 for earning $18 million and Mila Kunis is at No. 5 for raking in $15.5 million. Like Lawrence, Aniston, McCarthy, and Kunis, also made the 2016 list.
Stone previously made the list in 2015, but the fact that she worked her way to the top spot speaks volumes. There's no doubt she's had a fantastic year and claiming the first spot for income is further proof. And if you need more evidence that 2017 has been Stone's year, here you go.
She Won An Oscar
Her role as Mia in La La Land scored her the win in the Best Actress category. As she said during her acceptance speech, "I still have a lot of growing and learning and work to do, and this [award] is a really beautiful symbol to continue on that journey, and I'm so grateful for that."
She Won A Golden Globe
She also took home a Golden Globe for La La Land, because Stone is a boss. Once again, she made a powerful speech while on stage accepting the award:
"This is a film for dreamers and I think that hope and creativity are two of the most important things in the world and that's what this movie is about so to any creative person who's had a door slammed in their face, either metaphorically or physically, or actors who have had their auditions cut off, or anybody anywhere really who feels like giving up sometimes but finds it in themselves to get up and keep fighting, I share this with you."
She is such a gem — and a true talent.
She Made The TIME 100 List
In April, Stone, among many other noteworthy individuals, was named on the TIME 100 list. Her friend and fellow actor, Brie Larson, wrote a piece in honor of her achievement and explained just how fantastic of a friend Stone is. "But Emma takes on significant roles off-screen as well," Larson wrote. "The selfless friend. The wise psychiatrist. The fearless leader. The coolest girl at the party." The Room star added, "I know that she has played all of these roles in my life. And for that I'm lucky to call her my friend." This just goes to show you that Stone is as real as she appears.
Ever since Stone began her acting career, it's been clear that she would be huge due to her talent. Plus, the fact that she's a hard worker has influenced her success even further. She is absolutely deserving of her achievements.