Brie Larson Praises Emma Stone For 'TIME's 100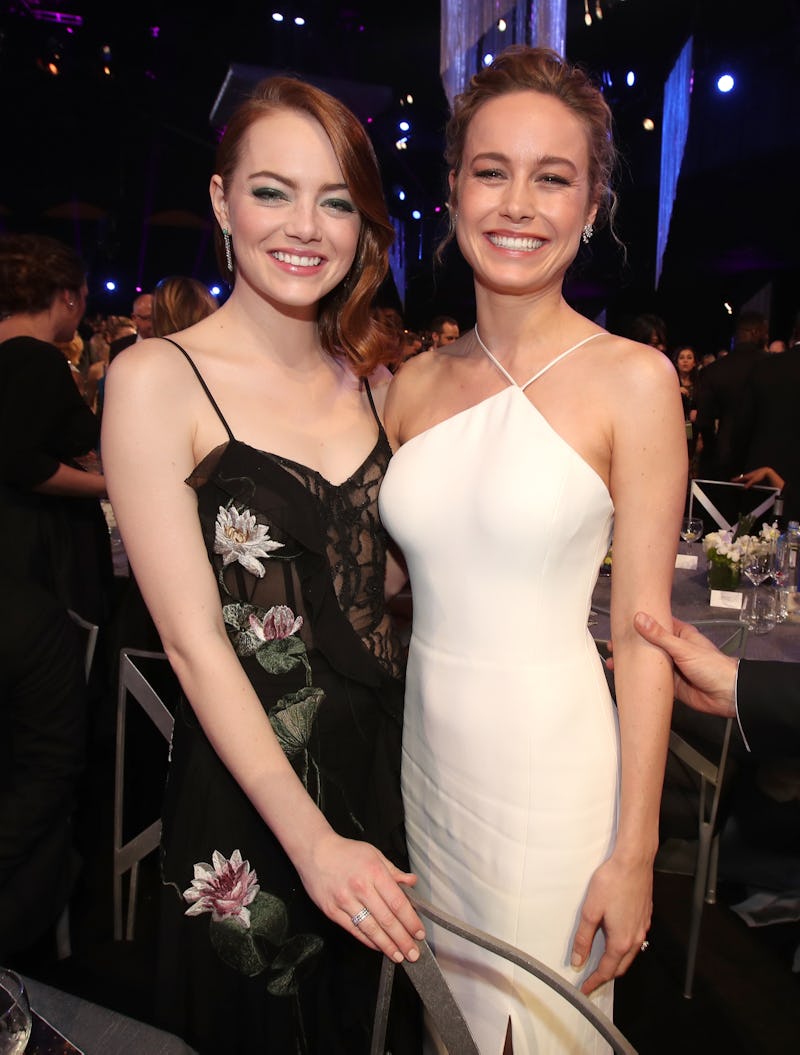 Christopher Polk/Getty Images Entertainment/Getty Images
There are a slew of individuals who deserve to be on this prestigious list, and one star is the leading woman of La La Land. Brie Larson wrote about Emma Stone for the TIME 100 and her words speak volumes. It makes sense that Stone is on the 2017 list, including the fact that she's had quite the year. She did win an Oscar in February for Lead Actress due to her outstanding performance in Damian Chazelle's hit film. But, there is so much more to the 28-year-old than her acting abilities, which is something Larson also recognizes.
Granted, the Room star did take time to reflect on Stone's acting and even described it as "...brave, devastating, hilarious, real, complex, charming, and so much more." Anyone who is a fan of the Birdman actor probably agrees with Larson's sentiment. However, when Stone isn't acting, she is being a fantastic friend. That's exactly the type of person who deserves to be honored as one of the "most influential people in the world."
What makes Stone so magnificent and a huge inspiration is her realness. That is why Larson admires her friend and fellow actor. "But Emma takes on significant roles off-screen as well." Larson continued about who Stone is, "The selfless friend. The wise psychiatrist. The fearless leader. The coolest girl at the party." Apparently, the Golden Globe winner at times even takes on the role of "intense soccer mom," because as Larson wrote, Stone is a supportive person to those she cares about deeply. The Kong: Skull Island actor added, "I know that she has played all of these roles in my life. And for that I'm lucky to call her my friend."
I think many will agree with Larson, who also went onto say what makes Stone so influential is her realness. She isn't one to hide her true self or her feelings regarding a particular situation. For me, one of the things that makes Stone so fantastic is when she opened up about suffering from anxiety. In a December 2016 Rolling Stone interview, the actor revealed how she dealt with anxiety as a child. Her words were beyond relatable to anyone, like myself, who knows what it's like to have anxiety. To me, that is the kind of celebrity I'm proud to be a fan of.
And that is just one of the many examples showing why Stone is held high by many. She's real, and that's not easy to find in Hollywood. "But what I really admire about Emma the person — as well as Emma the actor — is that she is never afraid to show us the most difficult thing you can show the world: yourself." Larson concluded, "What that entails is not always pretty. But with Emma, it is real, and it is beautiful."
I couldn't have said it better myself. Stone shows time and again that being yourself is what counts. So, yeah, she's absolutely earned the TIME 100's title.