Emma Stone's Terrifying Story About Wearing A Corset Will Warn You Off For Life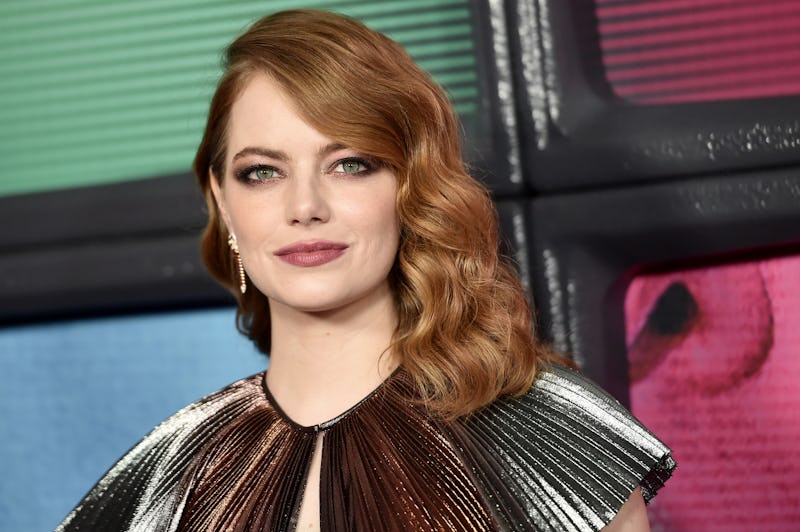 Steven Ferdman/Getty Images Entertainment/Getty Images
I have to say I unabashedly adore a bit of period drama. I mean who doesn't? And it certainly seems to be a rite of passage for all great actors. However, for female actors, starring in a period drama can be less than fun. Star of The Favourite, Emma Stone says wearing a corset was awful. Yes, it is easy to drool over period costumes but what lies beneath is less than fabulous I can assure you.
She is currently promoting dark, comedy, period drama (OMG I love all of those things) The Favourite, which is set in the 18th century, meaning corsets all day, every day. And with all that corset wearing comes all of the associated and not-so-pleasant effects. Yikes that is not the one. Speaking candidly on The Graham Norton Show (Friday Oct. 26), she was super clear that it is not fun to be holed up in one of those things.
She said:
"I couldn't breathe and I would smell menthol and it would make me think I was in a wide-open space and could breathe for a moment in time. After a month, all my organs shifted - it was gross and if you don't have to, don't do it!"
The Favourite is going to be the dark AF, laugh-out-loud period drama you never knew you needed. Starring alongside Olivia Colman as Queen Anne, Stone plays Abigail, a young woman fighting for the affections of the pretty intense Queen Anne. Colman's portrayal is so excellent that the film has already been quite successful and also, shivers, there is Oscar buzz.
Set during the war torn time of Queen Anne's reign, the fictionalised account will have you rolling in the aisles. Something that is easy enough for you because you don't have to wear a corset every day.
So what about those corsets. What exactly makes them so darn uncomfortable? According to The Corset Centre, the tight fitting undergarments had a very specific design.
"In 18th century, corsets were designed to raise and shape the breasts, tighten the midriff, support the back, improve the posture of a woman to help her stand straight".
The corsets were often made stiff with whale bone and wiring.
The more well-known and torturous style of corsetry is the tight, lacing method that became popular a little later. Think of a sausage being squeezed into far too small a casing. Ouch. Yes, this method left wearers basically unable to breathe, the effects of which were revealed in 1908 via X-Rays, as CNet reports.
The whole experience of wearing one means Stone has gained a newfound, deep empathy for women of the past who had to wear a corset as a part of their daily routine. "Women existed like that for such a long time, which gives you a lot of sympathy for that time period and what they were going through," she told Norton.
Sadly for fans of this trio of talented actors, you will have to wait until January 1 to see this in the cinema. Well, let's be honest more like January 2. #newyearshangover