This Regal Photo From 'The Crown' Season 3 Gives Fans Their First Look At The New Queen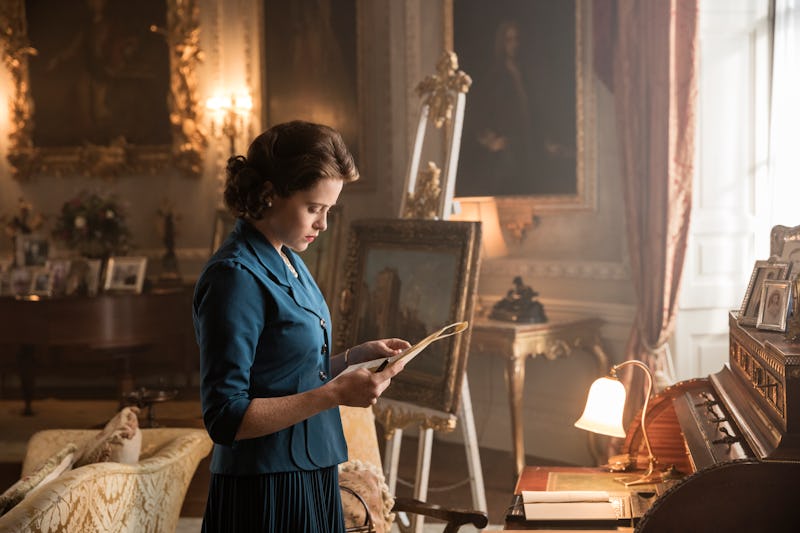 Stuart Hendry / Netflix
You've waited, you've watched, you've dedicated your life to the service of the monarchy, and finally it's paid off: the first photo from The Crown Season 3 is here. Fans are getting their first look at Olivia Colman as Queen Elizabeth II, courtesy of a Monday morning tweet from Netflix, and even though it comes with no other details save the word, "Patience" — a note simultaneously reassuring and scolding fans for clamoring for the premiere date — it was more than worth the wait. (Although next time, Netflix, feel free to throw the premiere date in there too, just while you're at it. No one would be mad.)
In the photo, the Broadchurch star sits alone in the frame, much like the Queen often finds herself in the series, making decisions on behalf of the country. Seated at a table in what is likely a room in Buckingham Palace, she grips a teacup in her right hand, raising it ceremoniously, while her left hand remains clutched at her side, supported by the chair's armrest. Whatever the monarch is looking at is offscreen, but the expression on her face suggests apprehension or concern, which is likely what fans are feeling coming in to Season 3 as well.
And that apprehension isn't entirely unwarranted, to be fair. The first look at a new season is always exciting, but it's especially so in this case due to The Crown's unique structure. Each season is meant to cover roughly a decade, so series creator Peter Morgan had pledged to completely recast the series every two seasons rather than aging the actors up with makeup and prosthetics. As he told Variety in a November 2016 interview:
"They would look ridiculous. It would be wrong. What's so beautiful about Claire [Foy] is her youth. You can't ask someone to act middle-aged. Someone has to bring their own fatigue to it. The feelings we all have as 50 year olds are different than the feelings we all have as 30-year-olds. That informs everything we do."
Claire Foy starred in Seasons 1 and 2 of the series, and her performance was widely heralded as transformative. The 34-year-old was nominated for a slew of awards for the role, including two BAFTAs, two Emmys, and two Golden Globes, one of which she won. So this is a heavy mantle that the 44-year-old Colman is stepping up to take onto her own shoulders. Luckily, she's more than up to the challenge.
For one thing, Colman looks absolutely stunning in the role. She truly looks like a naturally — and gracefully — aged version of Foy. And even from a single photo, it's clear that the two women have more in common than the mere physical. Colman appears to be matching that same steely-yet-vulnerable focus and rigidity of the body introduced by Foy, which bodes extremely well for her performance.
There's also the fact that Colman was Morgan's first choice to succeed Foy, and the series creator was delightfully surprised that the actor was so willing to sign on. "We've got Olivia, which is fantastic," Morgan told Variety in February, adding:
"I think we all felt Olivia had something that corresponded [to what we wanted], that ability to be both plain and dazzling, and to be both knowable and unknowable. And then we rang her up, and she said yes on the phone."
In other words, she was their Dream Queen, and they got her, so the series is in very good hands. While photos of the rest of the cast have yet to be released, it's been confirmed by Netflix that Colman will act alongside Game of Thrones actor Tobias Menzies, who will replace Doctor Who's Matt Smith in the role of Prince Philip, and Helena Bonham Carter, who will succeed Vanessa Kirby in the role of Princess Margaret.
In short, there's a great deal to look forward to, and even without a set premiere date, the release of the first image of Season 3 proves that the series is at least taking baby steps in the right direction.