Emma Watson's Pro-Choice Letter Is The Most Emotional Thing You'll Read Today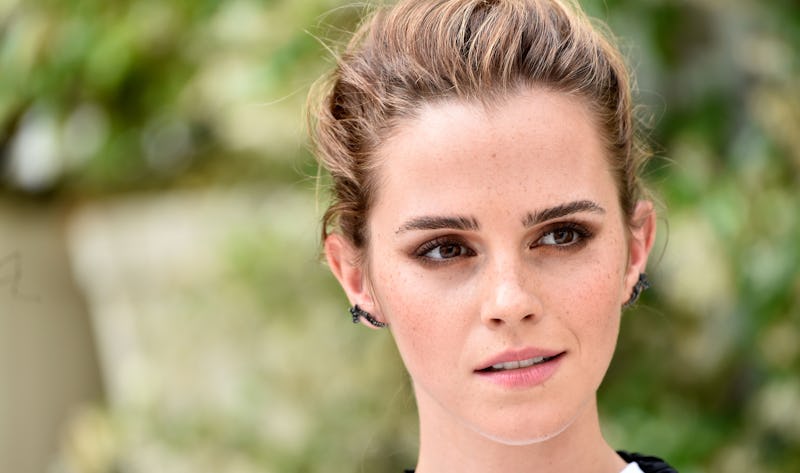 Pascal Le Segretain/Getty Images Entertainment/Getty Images
Earlier this May, in a truly historic moment, the Republic of Ireland's eighth amendment, which made abortion illegal, was overturned after a landmark referendum. Many people came together to show support for the repeal, and arguably, none harder than the family of Dr. Savita Halappanavar — a woman who tragically died from a septic miscarriage after she was denied a life-saving abortion. Touched by her heartbreaking story, campaigner Emma Watson has written a pro abortion letter to pay tribute to Dr. Halappanavar, and honestly, it is probably the most moving message you'll read today.
Dr. Halappanavar's story started in 2012 when started suffering from back pain whilst pregnant, and realised she was miscarrying. In order to protect her own health, she asked for an abortion but was denied one by doctors. Shortly afterwards, she "contracted sepsis and died of multi-organ failure and shock," as reported by the Irish Times.
According to PORTER, this was the "catalyst for Ireland's historic referendum." The website detailed how there had been "13 opportunities to save Dr. Halappavar's life over the seven days...she would not have died if she had been allowed to abort the 17-week-old fetus."
Six years on, Watson's heartfelt letter, which was published this week on PORTER, focuses on the spirit of the pro-choice revolution that was ignited after Dr. Halappanavar's avoidable death in 2012. She wrote:
"Dear Dr. Savita Halappanavar, You didn't want to become the face of a movement; you wanted a procedure that would have saved your life. When news of your death broke in 2012, the urgent call to action from Irish activists reverberated around the world — repeal the Eighth Amendment of the Irish Constitution."
Watson added: "That the eighth amendment enabled valuing the life of an unborn fetus over a living woman was a wake-up call to a nation. For you, and those forced to travel to the UK to access safe, legal abortion, justice was hard-won. From Argentina to Poland, restrictive abortion laws punish and endanger girls, women and pregnant people. Still, Northern Ireland's abortion law predates the lightbulb. In your memory, and towards our liberation, we continue the fight for reproductive justice."
Following the letter, Watson provided a link to two abortion funds charities that "provide confidential, practical and financial support to Ireland and around the world"; the Abortion Support Network and Women Help Women.
According to The Irish Post, Dr. Halappanavar's death in 2012 came after the University Hospital Galway "refused to terminate her pregnancy because the unborn baby still had a foetal heartbeat". The BBC reported that she had asked "several times for her pregnancy to be terminated" as she had "severe back pain and was miscarrying."
Following her death, Dr. Halappanavar's husband Praveen Halappanavar told the BBC that there was "no doubt" that she would still be alive today if hospital staff had granted her an abortion.
Dr. Halappanavar's death became a rallying point for pro-choice campaigners, as on the Saturday following her passing, "20,000 people marched in Dublin, with simultaneous demonstrations across the country," according to the Irish Times. Orla O'Connor, the co-director of a major pro-choice campaign organisation called Together For Yes, claimed that Dr. Halappanavar's unnecessary death "changed the whole conversation about abortion."
Watson wrote, "Your family and friends were gracious and galvanizing in their sharing of your memory. They told us you were passionate and vivacious, a natural-born leader."
"Sharing their mourning and hope with the world, your family publicly supported the Together for Yes campaign. Celebrating repeal, your father expressed his "gratitude to the people of Ireland". In reciprocity, I heard Ireland's 'repealers' say that they owe your family a great debt," she continued.
After a referendum took place in the Republic of Ireland regarding the eighth amendment, those in favour of the right to abortion won by a staggering 66.4 percent. People paid their respects to Dr. Savita at a mural dedicated to her in Dublin, with one message reading, "Sorry we were too late. But we are here now. We didn't forget you." Following the historic result, crowds cheered Savita's name to honour the woman whose tragedy changed the lives of women all over Ireland.
Although Dr. Halappanavar's legacy inspired a revolution and has potentially saved countless lives in the process, it makes me unimaginably sad that it took such a terrible tragedy for such meaningful change to come about. However, the words of Dr. Halappanavar's father Andanappa Yalagi will always stay with me when I think about the impact she had on the world.
He told The Hindustan Times after the successful vote to repeal: "I am very happy today. We've got justice for Savita. What happened to her will not happen to any other family."
You can donate to the Abortion Support Network here and to Women Help Women here.