Emma & Maggie Have A New Challenge On 'Playing House'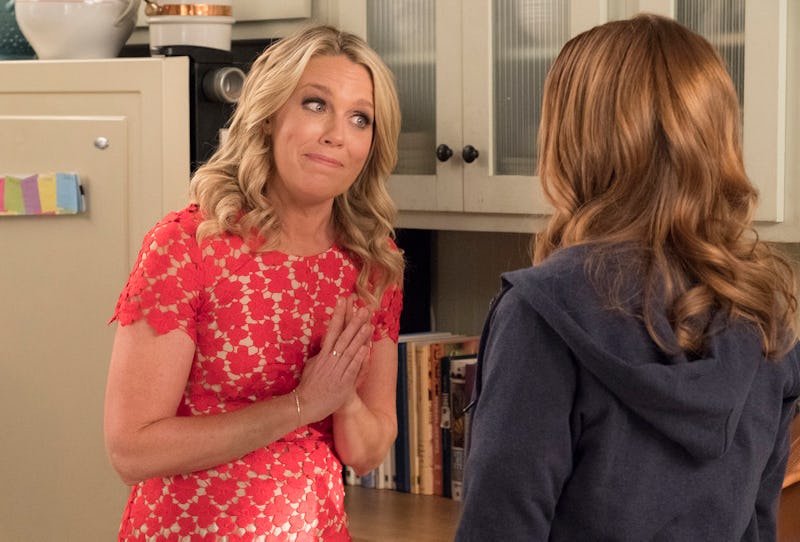 Nicole Wilder/USA Network
Many Playing House fans already know that Season 3 would fictionalize Jessica St. Clair's real life triumph over breast cancer. That said, there are minor spoilers for Playing House ahead through the first four episodes, which are only available on the USA Now app at this time. What I found perfect right off the bat is that when Emma is diagnosed with cancer on Playing House, she only finds out because she's such a good friend. Being there for Maggie lead to that discovery and might have saved her life, which is such a good example of what makes this show special.
The arc begins in Episode 4. While Zach is teaching Bruce how to ride a bike, as one does, Emma visits Maggie at the hospital and discovers the tension building between her friend and Dr. Ericson, also known as Dr. Popsicle — her cold, British, Darcy-esque boss.
She goes into wing woman mode, Maggie and Dr. Ericson awkwardly star in a corporate video together, and the flirtation is refreshingly short. Is that woman kissing him on the mouth his girlfriend, or his wife? Nope, just an overly-friendly producer from New Jersey who was confusing him as much as she was all other interested parties. They clearly like each other and the show gets on with it.
Emma's romantic meddling and investigating culminates in her checking herself in for a physical — something she hasn't had since high school. Turns out, having "lumpy boobs" isn't something to brag about, and Dr. Ericson delivered the bad news. The good news is that they were able to catch the cancer early, proving that sometimes it definitely pays off to be up in your BFF's business.
The episode ended with Maggie and Emma united, and panicking less than they were initially. It's a quiet moment. I definitely got some Gilmore Girls vibes. In case you were wondering, the character in Terms of Endearment (also named Emma) does get cancer, but not breast cancer specifically. In beaches, Hillary has a heart condition that worsens. I did Google it.
Of course one of Emma's big worries was not getting to see baby Charlotte grow up and facilitate her teenage choices. That's what this show is about. Maggie and Emma are family, the best kind of found family out there. I can't think of a better, or a funnier, support system to take on this kind of storyline. "Cancer picked the wrong duo to mess with," said Maggie at the end of the episode, and she's right there.