Eric & Angela's "Miracle Suite" Date Was The Stuff 'BiP' Dreams Are Made Of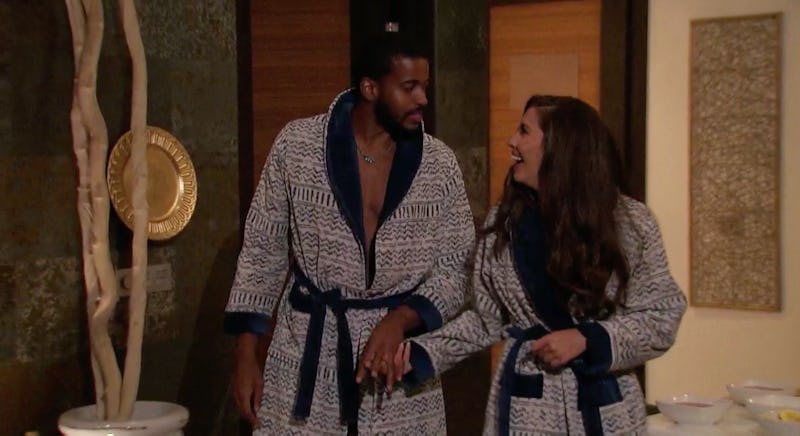 ABC
Some Bachelor In Paradise couples get to go, like, sky-diving and yachting and whatever, but on this season of Bachelor In Paradise, Eric and Angela went on the best date ever. Eric and Angela's Bachelor In Paradise date involved robes, ice cream, cheese, and champagne — AKA the stuff that an introvert's dreams are made of. Or a very well-established couple who hates going out (hello!).
Angela and Eric haven't been the focus of much discussion as of late — that drama has been reserved for the Benoit/Jenna/Jordan triangle and the ongoing Tia/Colton relationship rollercoaster. And Leo screaming about kissing other girls, which was a thing this week. But these two, Eric and Angela, are seriously cute, and, if we're being honest here, they had possibly the best date that anyone in Paradise has ever had. Sorry, Evan and Carly and your Guinness world-recording-breaking date. You're out!
Why, you ask? Eric and Angela's Bachelor In Paradise date was in a hotel with air conditioning. And ice cream. And room service. And a real shower and not an outdoor stall. Seriously, how are these people not constantly sweating? I would have said goodbye to my date and hello to the jetted tub.
First, Eric and Angela rolled into the suite, and they were just happy to be in cooled air instead of the humid subtropics of their outdoor abodes. But then, it just kept getting better and better — the softest robes and slippers on the bed. A ton of champagne. A cheese plate. An ice cream sundae that would make Kevin McAllister quiver with joy. Does it get any better than that?
Truthfully, this sort of date is much better attuned to a couple that's been together for a long time. Do you want to eat that much dairy in front of someone you're afraid to fart in front of? A huge TV, comfortable loungewear, plenty of snacks, and maybe a little bubbly is my husband and my favorite way to spend a weekend evening now that we're shacked up and over 30. Why go out when you can stay in? Being able to sit in silence and enjoy your fancy cheese during a date like that is key, and being on a first date, maybe you're not quite ready to say nothing to each other for hours at a time. Being married is the perfect foundation to eat a pound of cheese each and rub each other's bellies afterward. But I digress.
That said, Eric and Angela are pretty sweet together. Bachelor In Paradise has been so focused on the messy, ugly relationships and the infighting that it's not letting the beautiful, fun love stories emerge. Let's see more Eric and Angela! Astrid and Kevin are lovely, especially when they talk about therapy and anxiety and, you know, other real stuff. Joe and Kendall, Leo notwithstanding, are pretty sweet, too. I guarantee you that if Bachelor In Paradise promised everyone air conditioning and a giant sundae, the couples would bang down the door to act right and go on a date like that, too.