Euron Suddenly Looks Like Your Hot Topic Crush From The Early '00s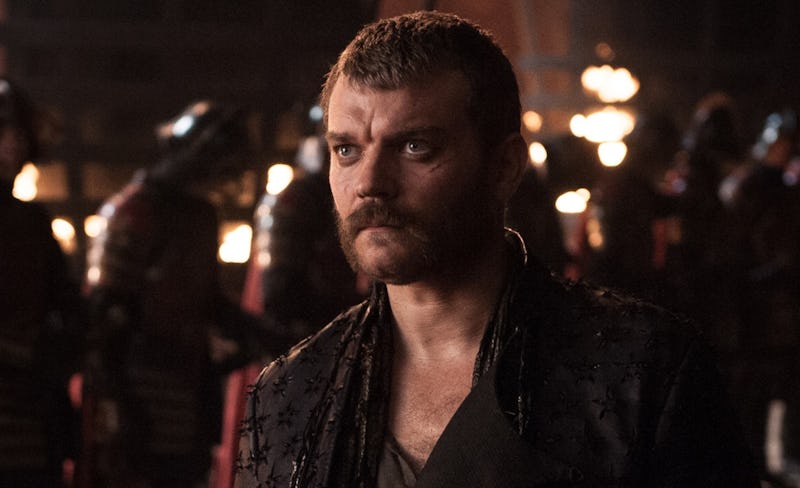 Helen Sloan/HBO
Just as actor Pilou Asbæk promised to Entertainment Weekly earlier this year, Euron Greyjoy treated himself to a makeover before Game of Thrones Season 7. However, Asbæk did not prepare us for Euron Greyjoy, the '00s Hot Topic goth dreamboat. (Er, after what happened on last Sunday's episode, "dreamboat" might not be the best word?)
Sometime between his last appearance on Season 6 and "Dragonstone," Euron took some clippers to his beard, chopped off his mane, tossed out that twee crown of branches, and emerged an edgy hunk. (For fun, let's pretend like it happened the day before he swung by Cersei Lannister's place, and he was still feeling the post-makeover high when he boldly promised to bring her a gift that would make her change her mind about the proposal.) Yeah, he's an evildoer, and yeah, he's not the easiest character to root for, but dang, dude looks good. May Theon Greyjoy's ruthless uncle never stop shopping at King's Landing's answer to everyone's favorite counterculture clothing retailer.
The black jacket with the stars and the leather ties at the wrists. The black drapey striped undershirt. The black leather pants. The smudged black eyeliner. His love of doom and gloom. His wish to marry Game of Thrones' baddest villain, Cersei. His phantom-like watercraft. If you close your eyes, you can almost smell an entire wall of band T-shirts, just waiting to be purchased, washed, and worn.
What's next? Will Euron yank up one of those leather sleeves to reveal a spiked cuff bracelet, change into a mesh pull on a three row pyramid belt, get "What is dead may never die" inked onto the inside of his forearm, and invite Senses Fail to play a birthday party on his spookily quiet ship?
"OK, that was a fun meeting," Euron probably said to one of his cronies as he exited Cersei's throne room. "And now, off to Yacht Shopic. Please ready the Silence. Make room in the hull for all of the fresh duds I'm about to buy. Gotta look my best for when I present Cersei with her gift — and yes, I think the gift might be a Yacht Shopic gift card. Only the best for my goth queen."
Could you imagine Euron gnawing on a Wetzel's Pretzel while he thumbs through a rack of black and red cargo pants? That would be divine television. Whew, Euron the '00s Hot Topic goth dreamboat sure is a... hot topic.