Eva Longoria Got Candid About What It's Like To Balance Motherhood & Going Back To Work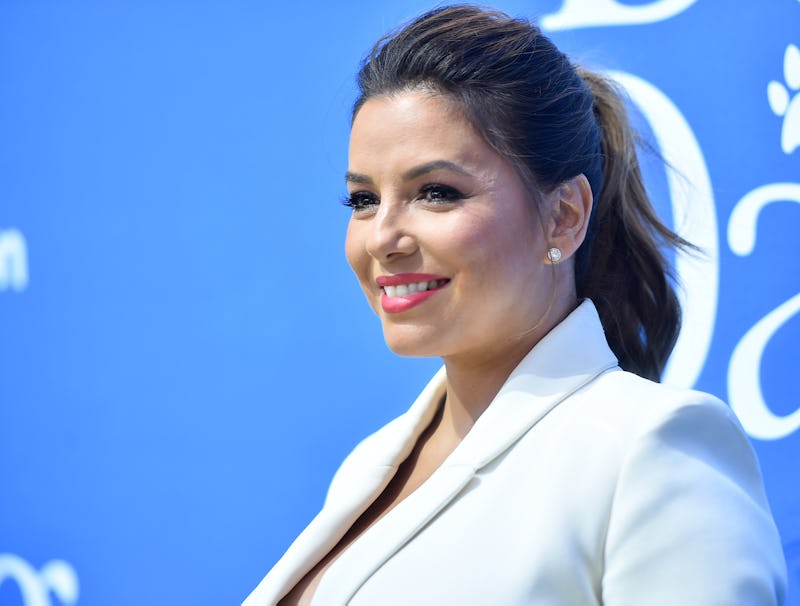 Alberto E. Rodriguez/Getty Images Entertainment/Getty Images
Back in June, Eva Longoria gave birth to her first son, Santiago Enrique Bastón. On Sunday, Longoria talked balancing being a new mom and returning to work in an interview with Us Weekly at the premiere for her new film Dog Days. The actor has been open about motherhood in the past, and she was honest about the feelings of having a newborn baby at home while returning to work.
While she was grateful to attend the event, she also noted it was the longest she'd been away from her baby's side. "I've been with him 24/7 since he was born," Longoria said. "Being here at work, that's probably the most difficult thing. Leaving him for four hours. I'm like, 'What?!'"
It might be difficult to step away from her newborn, but the actor returned to her job by attending with the premiere of her romantic comedy. Sure, Santiago will be able to attend his mother's movie events someday, but since he's just a few months old, his parents kept him at home with a nurse. According to Entertainment Tonight, Longoria joked that it'd been such a long time since she'd dressed up that her son didn't recognize her. She said,"Today was the first time I've had hair and makeup in seven weeks and I was breastfeeding him this morning and I think he was like, 'Who are you? Where's my mom?'"
Longoria attended the event with her husband, José Bastón, and took a moment on the red carpet to talk about his parenting skills as well. "He's amazing. My husband's been so amazing. And he's just been, I mean, I don't know how to do this alone," she told Us Weekly. "I've been so grateful that I have an amazing partner who supports me emotionally, taking the baby, helping with the baby, giving the baby a bath. I mean, you need this partnership. It takes a village."
Ever since her son was born in June, Longoria has been candid about motherhood. In July, she posted a picture breastfeeding and captioned it: "Hey Chrissy Teigen is this the official hairstyle of breast feeding? I feel like I'm always in a messy top bun! Too hard to do anything else! #MomProblems" with a laughing emoji. It wasn't the first pics of her son she shared, and the actor also posed for the cover of Hola! magazine with her new baby.
She also discussed being grateful for her post-partum body with Us Weekly, and why she felt it's important to shut down messages that women need to be back in shape right after giving birth. "I am very grateful and thankful for my body for making this amazing human being," she told the publication. "So immediately putting it through the ringer to get back into shape is not a priority. Every time I breast-feed, I say 'thank you' to my boobs. I'm like, 'Thank you for giving me a child! Thank you, boobs, thank you, body, for doing all of this for my son."
In a post from before she gave birth, Longoria also discussed raising her son as a feminist. In March, she shared a video to Instagram on International Women's Day discussing the importance of raising men who believe in equality and who are surrounded by women role models. She said in the video,
"We have this wonderful wave of future feminists coming into this world with a different view of what this global community we live in should look like. I'm so excited that I'm having a boy because I think the world needs more good men. This boy, my son, will be surrounded by very strong, educated, powerful women and I think it's important that he sees those types of role models in his life so he knows how to support it, how to applaud it and how to honor it."
It seems like Longoria is on top of things in her both her personal and professional life. Dog Days isn't her only recent project — in May, she appeared alongside Anna Faris in the comedy Overboard, and has a new film titled All-Star Weekend in the works. She also is a leader of the Time's Up Movement, and has been a major advocate for women in Hollywood.
Balancing being a mom and returning to work can be a challenge, but it seems like Longoria is embracing both parts of her life. It's clear that she loves both roles and will continue to give them her all.