Eva Jumped Into 'RHOA's New Season "Full Speed Ahead," According To The Reality Star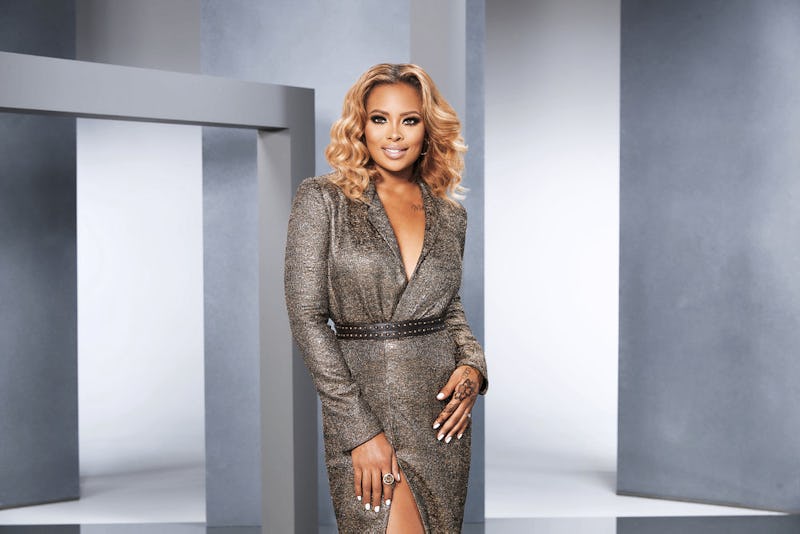 Alex Martinez/Bravo
It's been a little over six months since new episodes of the Real Housewives of Atlanta aired. The good news is the eleventh season premieres on Sunday, Nov. 4, so fans don't have to wait that much longer. Better yet, they can get an idea of what's ahead head from Eva Marcille, who teased RHOA Season 11 details while recently chatting with Bustle. Not only did she open up about the show as a whole, but she discussed what viewers can expect from her, personally.
"My first season, I was just getting my feet wet," she says over the phone. "This season, I jumped all the way in."
If you haven't heard, Eva is now a full-time Housewife. She made her Housewives debut in Season 10 as NeNe Leakes' friend, but The America's Next Top Model Cycle 3 winner was ready for more this time around, including fully committing to another season of Bravo fun.
Fans will see somewhat of a different Eva when RHOA returns, especially since she is now a mom of two (she gave birth to her second child, Michael Sterling Jr., in April) and married Michael Sterling. Eva is also mom to 4-year-old Marley Rae from a previous relationship.
Being a new mom again to a 6-month-old is the "biggest growth" for her, Eva says, before explaining married life has also been an adjustment. "We've been committed to each other for quite some time, but being married is a little bit different. So acclimating to married life, and being a mom of multiple children, and having all these businesses I'm working on full-time, I'm just trying to figure out balance more than anything."
For part of the season, fans will even watch Eva plan her wedding to Sterling. She reveals, "This year, I decided to sign on and to truly give Bravo and the viewers my life. So you get the good, the bad, and everything in between."
As for wedding planning, the former Young and the Restless star says viewers will get to see how "frugal" she is, along with a glimpse into reception details and wedding dresses. When it came to filming the wedding, Eva admits she hired her own videographers and photographers, in addition to the cameras that were already going to be there.
"I, honestly, didn't know the difference between my cameras, the TV cameras, the Daily Mail was there, so we had quite a few people with cameras." She continues "There was definitely a point where all of that kind of just faded away and it was just about the moment."
Changes in her personal life aren't the only differences fans will see. Eva teases she went into this season "full speed ahead" and dove deeper into her relationships with her castmates, adding that she "found myself comfortable with certain women and let my hair down a lot more."
One reason she could have a bit more fun this season was because she wasn't expecting a baby. "I wasn't pregnant, so I was able to drink alcohol and really hang out," Eva says. "I had no morning sickness. I wasn't the newbie, so there was a level of comfort that I had this season, for sure, that I didn't have my first season."
In addition to how much Eva has grown, there's also a lot ahead regarding her relationships with the cast. For example, in the RHOA Season 11 trailer, Eva appears to have quite the argument with Marlo Hampton. Eva dishes about she and Marlo fighting, "Well, I can tell you you can get used to that being a common trend."
As for the anticipated drama, Eva says there are multiple people at the center of the drama and no one has taken over Shereé Whitfield's self-proclaimed job as "bone collector." In Season 10, Shereé said she was collecting bones, aka what her costars were saying about each other. For her, she preferred to divulge everything, rather than be caught in the middle of the women and their drama. (FYI, Shereé will not be part of this season.)
Eva teases, "I cannot just pinpoint one person that's bringing the drama." She adds, "Everyone has bones, everyone's collecting, everyone's dishing, it's a free for all."
Minus the drama, it sounds like there will be some nice moments in Eva's friendships with NeNe and new Housewife Shamari DeVoe, who was in former R&B group Blaque, starred in Bring It On, and married New Edition's Ronnie DeVoe.
"NeNe has a lot of her own personal struggles this year, and I just try to be the best friend that I could be by supporting her through her times," Eva says. For those unaware, NeNe's husband, Gregg Leakes, was diagnosed with cancer, the couple announced in June. "Trying to figure out how to be a friend to NeNe during this time was definitely important to me," Eva adds.
As for Shamari, Eva predicts she will easily become "one of the fan favorites this season." Between her energy and being the "girl next door," Eva says Shamari's transparency and willingness to be open is "very endearing." Also, Eva wants everyone to know, "[Shamari is] the newbie, and she's small, yet mighty. Little mama can hold her own, that's for sure."
It definitely sounds like fans have a lot to look forward in Season 11, including getting to know Eva even better.