Kenya & Porsha Took A Photo Together That's Bringing 'RHOA' Fans So Much Joy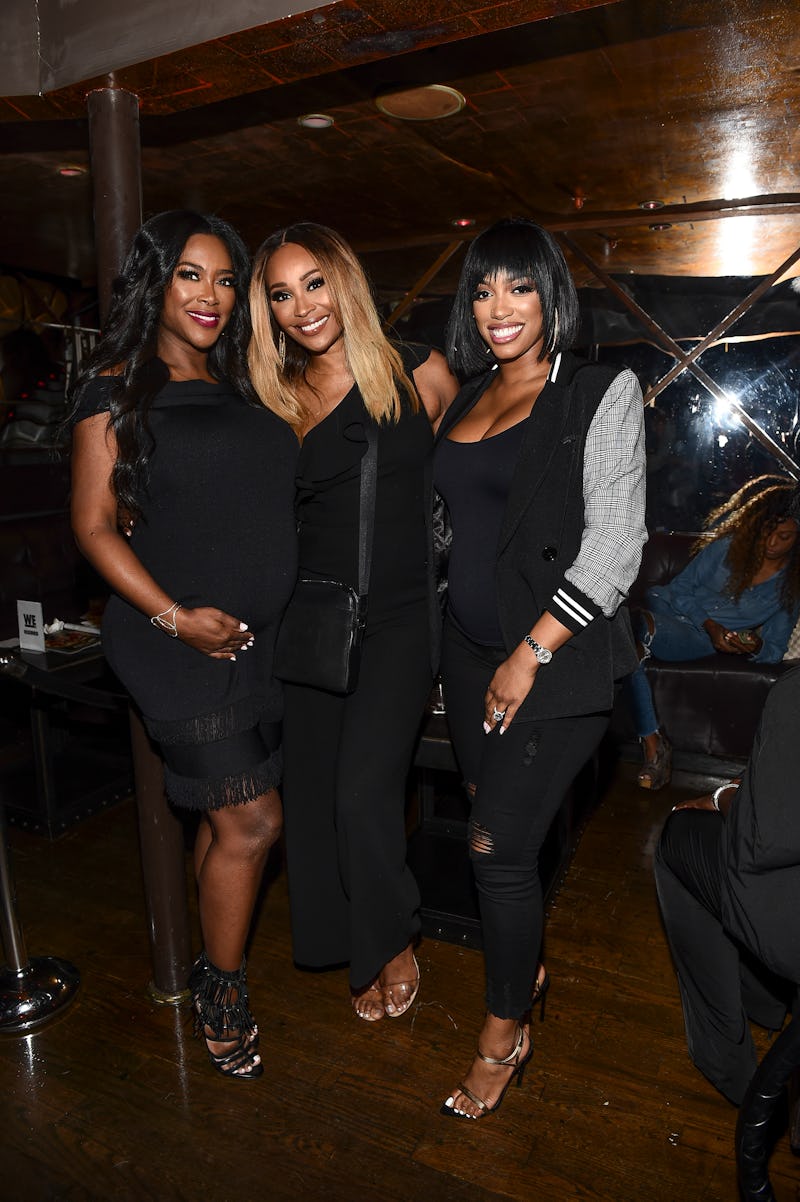 Marcus Ingram/Getty Images Entertainment/Getty Images
Even though they both joined Real Housewives of Atlanta in Season 5, Kenya Moore and Porsha Williams have pretty much never gotten along — and that's putting it mildly. That's why it's so nice to see Kenya and Porsha unite during their pregnancies in a photo they both shared on Instagram on Wednesday. Viewers have seen these two go through a lot over the years. They've both been very adamant about their desires to start a family and find the man they were meant to be with.
Now, it seems like Kenya and Porsha are finally on the same page in life, and their bond appears to be the best it's ever been. They were even spotted hanging out on Tuesday night, and no, it wasn't them standing at opposite sides of the room. Kenya posted a photo of the two moms-to-be showing off their growing baby bumps and beaming with happiness at an event for the WeTV show Growing Up Hip Hop Atlanta.
In the caption, Kenya wrote,
"#about last night @porsha4real and me #hotmamas #babybump #growth #happiness #love #guhhatl @wetv"
Porsha shared the same photo and wrote, "Mommas out on the town!" Sure, those aren't the most verbose captions, but these two willingly in a photo together — just the two of them — is something RHOA viewers probably never expected to see.
Kenya is enjoying life as a newlywed after marrying Marc Daly in June 2017. Porsha just announced her engagement to Dennis McKinley earlier this week. They both have babies on the way. They really have a lot in common these days, so it makes sense they would be able to get along and enjoy each other's company.
Unfortunately for the fandom, Kenya will not be on Real Housewives of Atlanta with Porsha next season. Kenya officially confirmed her exit from the show in a statement to Bravo's The Daily Dish. She declared, "I have decided to take this season off to focus on my high risk pregnancy in a healthy and drama free environment."
She added, "I thank Bravo for this amazing platform that has allowed me to grow, flourish and appreciate the value of what is truly important in life." That's fair enough. Her husband lives and works in New York and they're expecting their first child together, so it wouldn't make the most sense for Kenya to film a show about living in Atlanta.
Nevertheless, the photo of Kenya and Porsha getting along sparked an emotional reaction from viewers on social media. It was just so shocking, since these two argued and relentlessly shaded each other throughout the years.
One Twitter user shared a screenshot of the Instagram and remarked, "Wow never thought I would see the day...Kenya and Porsha bonding over their baby bumps." Just imagine the Season 11 that could have been.
That photo was really quite the plot twist, even if it did happen away from the Real Housewives cameras. As one fan tweeted, "Look at Kenya and Porsha. A few years ago, you couldn't've told me a photo like this would've been taken."
As the tweets below point out, it would've been so nice to see these two find peace on camera. Many fans are wishing their bonding experience could've been captured on Bravo.
Or you know, the storylines could've gone in a more dramatic direction. As the fan below suggested, maybe they would've had had rival baby showers, thrown shade about nursery decor, and so many other potentially amusing moments.
Aside from comments about the show, RHOA viewers are just happy to see Kenya and Porsha at this point in their lives. One fan tweeted, "Really happy for Porsha and Kenya on their pregnancies."
Years of watching Kenya and Porsha on RHOA have made viewers emotionally invested in their lives, whether they're both on the show or not. Thankfully social media can fill in the gaps when it comes to stories that will not be told on-screen. It's so nice to see Kenya and Porsha thriving in their personal lives and enjoying each other's company after all these years.