This Memoir Chronicles The Grief Of Losing A Family Member To A Drug Overdose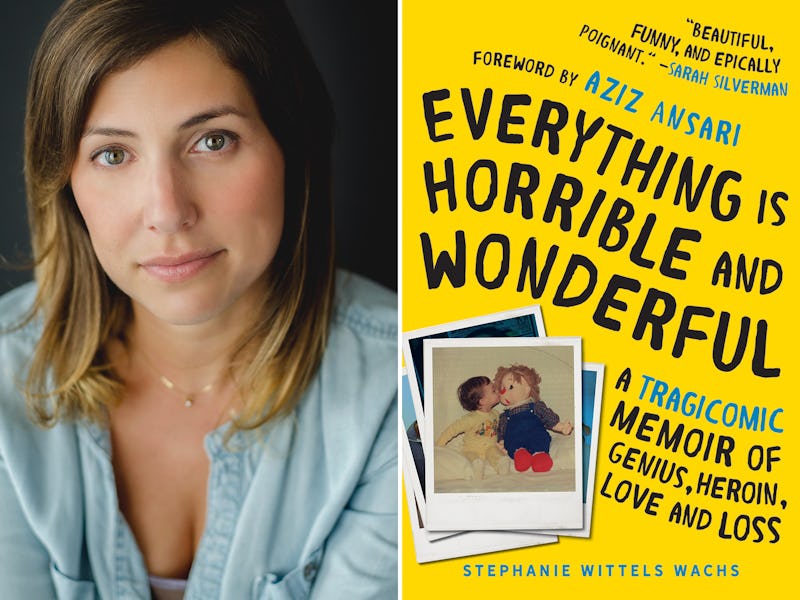 Author Stephanie Wittels Watts, photo courtesy of Natasha Gorel
When comedian, writer, and actor Harris Wittels died of an overdose in 2015, the comedy world publicly mourned the loss of such a talented artist. For fans of his work on Parks and Recreation, The Sarah Silverman Show, and Comedy Bang! Bang!, it was a shocking blow. For his colleagues like Amy Poehler and Aziz Ansari, it was an unexpected tragedy. For his sister Stephanie Wittels Wachs, who writes about the heartbreaking experience of losing her brother in a poignant new memoir, Everything Is Horrible and Wonderful, it was like a bomb went off.
"When a bomb drops on your house, you literally cannot live there anymore, you can't. There is no structure. It's gone, what was there is no longer there," Wittels Wachs tells Bustle of her loss. "You have to rebuild, you don't have a choice. That is what happened to me: I literally could not go back to the way I was, because I was different."
In her searing memoir, Wittels Wachs brings readers along with her on a harrowing journey through her brother's addiction, overdose, and the aftermath of his death. The narrative alternates between two timelines: before the tragedy, which includes the Watts's shared childhood, Harris's rise to fame, and his ongoing drug abuse, and after the tragedy, which traces the year after Harris's death and the ways in which his sister struggled to cope. In the latter parts, Wittels Wachs speaks directly to her brother.
Everything Is Horrible and Wonderful: A Tragicomic Memoir of Genius, Heroin, Love, and Loss by Stephanie Wittels Wachs, $17, Amazon
"I wanted to talk to him. I just really wanted to talk to him, and I ended up using it as a writing style," Wittels Wachs says. "It was therapeutic, and I kind of hate that word in a lot of ways, but that is really what it was."
In the aftermath of her brother's death, writing became an unexpected outlet for Wittels Wachs. With encouragement from her husband, what started as little notes she typed on her phone while she let her newborn nap in the car morphed into a series of essays about her grief that eventually became Everything Is Horrible and Wonderful, the memoir Wittels Wachs never meant to write, and the one that practically saved her life.
"I found it to be a therapeutic exercise, and not much was at that point. I just felt like I wanted to die, I was truly in the most agonizing depths of depression, and nothing was making me okay. The only thing that made me feel — I'm not going to say better, but made me feel like I could continue, was to write it down," says Wittels Wachs. "So it became an act of preservation in a couple ways: self preservation, just making sure I was continuing to wake up everyday, and then it became this act of trying to record what was going on and remember why we had gotten there and process how it all happened."
Like so many other family members of addicts, Wittels Wachs was driven by an intense desire to understand what her family had been through, "I was on this detective mission to figure out what had happened, and to get it all down." With her memoir, it seems Wittels Wachs did just that. From the most hilarious details of Harris's career and the heartwarming birth of Wittel Wachs's daughter, to the earth-shattering moment she found out her baby had permanent hearing loss and the devastating call where she learned her brother was dead, Everything Is Horrible and Wonderful takes readers along for every moment of the author's heart-wrenching journey.
"It was such a crazy time: it was birth and death on top of each other," Wittels Wachs says. "When you have a baby, it is all this hope and promise and possibility, and then to have death so closely tied into this moment just made all of that more acute. I was just on the rollercoaster."
For Wittels Wachs, writing this memoir was cathartic and utterly necessary to her survival, but Everything Is Horrible and Wonderful isn't just for her. It's for families like the Wittels who are grieving from a drug-related loss, and for siblings like Wittels Wachs who struggling to cope with their loved one's addictions. It's also for those other people, like the trolls who claimed Harris deserved to die because he was a heroin user, who still don't see addiction as a disease, or addicts as people.
"An addict should not be villainized. It's like any other human struggle: it is a struggle. It is a really painful, painful struggle," Wittels Wachs says. With her story and Harris's narrative, she hopes people can start to truly understand that.
"It's not a black and white issue. None of it happens the way you think it should happen. There are so many layers to it, to grief and to loss and to addiction and to families," says Wittels Wachs. "It is very complicated, and I just hope people can start to see those dimensions."