Fan Reactions To Mac Miller's Death Show The Rapper Will Be Missed Dearly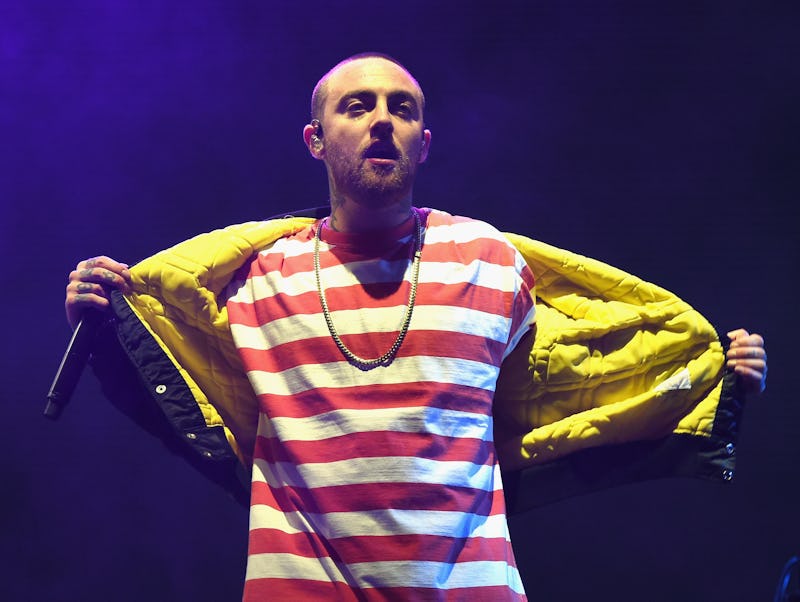 Kevin Winter/Getty Images Entertainment/Getty Images
In devastating news, the world reportedly lost Mac Miller on Friday, Sept. 7. Shortly after the reports of his untimely passing broke, fans reacted to Mac Miller's death on social media, noting his impact, mourning the tragic loss, and expressing disbelief. The rapper, whose real name is Malcolm McCormick, will be — and is already — greatly and deeply missed.
UPDATE: On Friday evening, Miller's family released a statement to E! News, which reads as follows:
"Malcolm McCormick, known and adored by fans as Mac Miller, has tragically passed away at the age of 26. He was a bright light in this world for his family, friends and fans. Thank you for your prayers. Please respect our privacy. There are no further details as to the cause of his death at this time."
EARLIER: On Friday, TMZ reported Miller died at age 26. E! News and Variety also confirmed the news. (Bustle reached out to reps for Miller for comment, but did not receive an immediate response. Bustle also reached out to the Los Angeles Police Department.)
An LAPD spokesperson told E! News that officers "responded to a death investigation" near Miller's residence in the San Gabriel Valley on Friday, but did not confirm the deceased's identity. TMZ reported their law enforcement sources claimed Miller was found dead in his Studio City home on Friday around noon.
Once the sad reports surfaced on Friday afternoon, Miller's fans shared their reactions on social media. Many tweeted that they hoped the story was not true, countless wished he rest in peace, and great number of fans opened up about what Miller and Miller's body of work mean to them.
It is such a heartbreaking report.
Miller's catalog means so much to so many, and the tweets that went up on Friday show just how major his impact is.
A lot of fans posted about listening to Miller during their formative years.
Fans' connections to Miller and his music run deep.
And this loss runs deep.
Fans feel empty in the wake of this awful news.
It's all so incredibly sad.
Miller's cause of death has not been confirmed, but TMZ did report it was an apparent drug overdose.
Miller was forthcoming about his struggles with addiction, regularly opening up about the subject in both interviews and his music. After Rick Rubin helped him get sober in 2015, Miller told Rolling Stone,
"This planet has a certain gravity, man – it rises in the morning, it sets at night, and I never really followed that. But now I go to sleep at night and wake up in the day, and that's been a beautiful balance in my life. Along with not feeling like sh*t."
And in 2016, he told Nylon,
"The idea of being 100 percent clear-headed was something I realized I had never done. As soon as I felt what it felt like to wake up every day and feel good every morning, I realized how important that was for me. You can do so much with a day. I spent so many days just waiting for the next one to come. Now, I'm excited for every day, which is really great. As soon as I learned that I could do things creatively sober, then it was good. As long as I can still be creative, I'm geeked. It's even better because before, my every other aspect was destruction. Now I can do both which is important because they feed off each other."
Again, the details surrounding his death are not yet confirmed, but the following is abundantly clear: Miller is a revered artist who means a great deal to a lot of people, and his legacy will live on.
All of the condolences to Miller's loved ones, and all of the love to Miller.
If you or someone you know is seeking help for substance use, call the SAMHSA National Helpline at 1-800-662-HELP(4357).