After Demi Left 'The Bachelor,' Fans Are Really, Really Rooting For Her To Head To 'Paradise'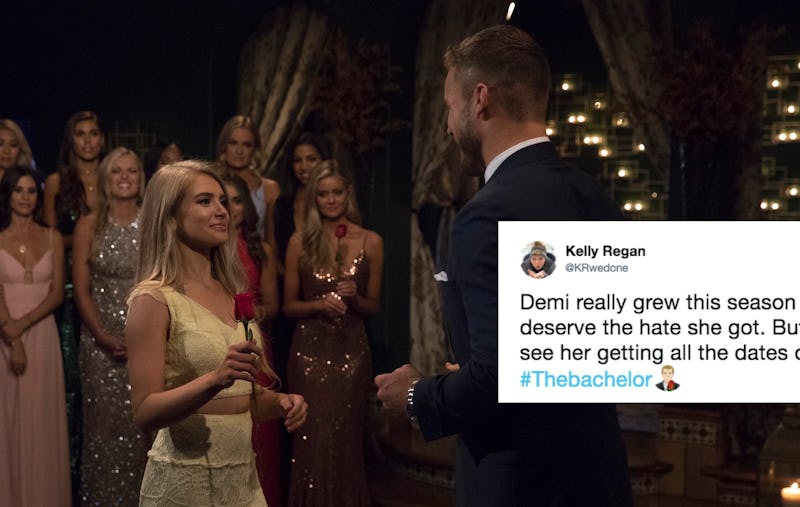 Rick Rowell/ABC; Kelly Regan/Twitter
Even though she was dubbed the villain of the current Bachelor season, Demi Burnett was also beloved. She always blessed the fandom with some premium entertainment. So when she got eliminated on Monday night, many watching wondered, "What is Demi going to do next?" Well, if you ask Twitter, fans really want Demi on Bachelor in Paradise. Colton who?
To quickly recap, Demi made every group date fun. She provided laughs throughout the episodes. Her hair was always perfectly curled. She not only brought a lot to the table, but she really brought the table itself. And when she got eliminated, viewers lost out on some prime Demi footage. Demi on a hometown date would've been golden. Nevertheless, the fandom is looking for the silver lining in her heartbreaking elimination. She's bound to be the queen of Bachelor in Paradise, right?
No more group dates. Plus, she will have multiple guys to choose from. Most likely, her perfect curls will hold up in the humidity. And, of course, she will have an opportunity to call the shots herself instead of always waiting around for a rose. If anyone is meant to thrive in Paradise, it's Demi. And the fans are so ready for it. Is it summertime yet?