Fans Are Taking To Twitter To Voice Their Love For Luke Perry After His Death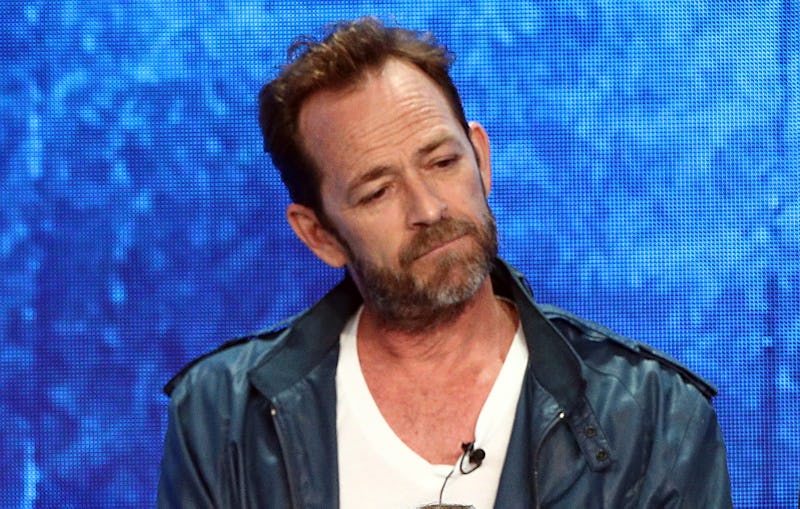 Frederick M. Brown/Getty Images Entertainment/Getty Images
Earlier today, TMZ reported that Luke Perry had died after suffering a massive stroke late last week. The 52-year-old actor first gained notoriety back in the '90s for playing brooding loner Dylan McKay on Beverly Hills, 90210, but these fan tweets about Luke Perry's death show that he had an impact that went way beyond the long-running teen soap.
Perry was admitted to a hospital in Burbank, Calif. on Feb. 27, but now it's been reported that the damage done to his brain from the stroke proved too traumatic for him to recover. Perry's rep confirmed his death in a statement to Bustle that read:
"Actor Luke Perry, 52, passed away today after suffering a massive stroke. He was surrounded by his children Jack and Sophie, fiancé Wendy Madison Bauer, ex-wife Minnie Sharp, mother Ann Bennett, step-father Steve Bennett, brother Tom Perry, sister Amy Coder, and other close family and friends. The family appreciates the outpouring of support and prayers that have been extended to Luke from around the world, and respectfully request privacy in this time of great mourning. No further details will be released at this time."
As Archie Andrews' father, Fred, on the CW's Riverdale, Perry's talent recently became apparent to a whole new generation. Whether they knew him from Riverdale, 90210, or something else entirely, though, fans of all ages took to Twitter to mourn his loss.
There was certainly no shortage of people who best remembered Perry from his iconic '90s heartthrob status. "So sad to hear about Luke Perry, he literally was my first crush .... and when you think of the 90's you automatically think of Luke/Dylan Rest in Peace," one fan, @ilovetodreamat3, wrote. "Rest in Peace Luke Perry. You were part of the history of our youth," another fan, @ChrissyMT67, lamented. "RIP Luke Perry - you were the epitome of cool in the 90s to this 90s kid," yet another mourner, @MissAusten, shared.
In referencing his role on Riverdale, the new generation of Perry fans shared their sadness about his passing as well. "Luke Perry - such an incredible, emotional, passionate actor," tweeted one admirer, @kieralou_x. "I cannot believe life has been taken from you so early, you will be incredibly missed. Riverdale won't be the same without you. Rest well x." A second fan of the show, @bieberxmarvel, added, "Fred Andrews, forever my favorite Riverdale dad. Thank you Luke Perry for being our Fred. You'll be missed."
Another fan, @A1Rizzy, poignantly mused on Perry's widely-spanning career, writing, "I think the one thing cool thing about Luke Perry's passing is that one generation knows him from 90210 and another from Riverdale which speaks volumes about is talent that he can leave a solid impression on 2 seperate generations RIP."
The star was also remembered by fans for the animated characters he voiced as well. Of his role on Johnny Bravo — in which he played himself —  one fan, @AllieRX, tweeted, "R.I.P. Luke Perry. Your guest appearance in Johnny Bravo will always be one of the funniest episodes in the series." Of the character he voiced on The Simpsons, another fan, @Karudo_D, wrote, "R. I. P. Sideshow Luke Perry. Trying to bring a bit of laughter today."
Perry's impact as an actor was undeniably wide-reaching. His legacy will live on through his many memorable roles, but he will no doubt be very, very missed.