A $45 Replica Of Meghan Markle's Reception Dress Exists— And It Goes Up To 3X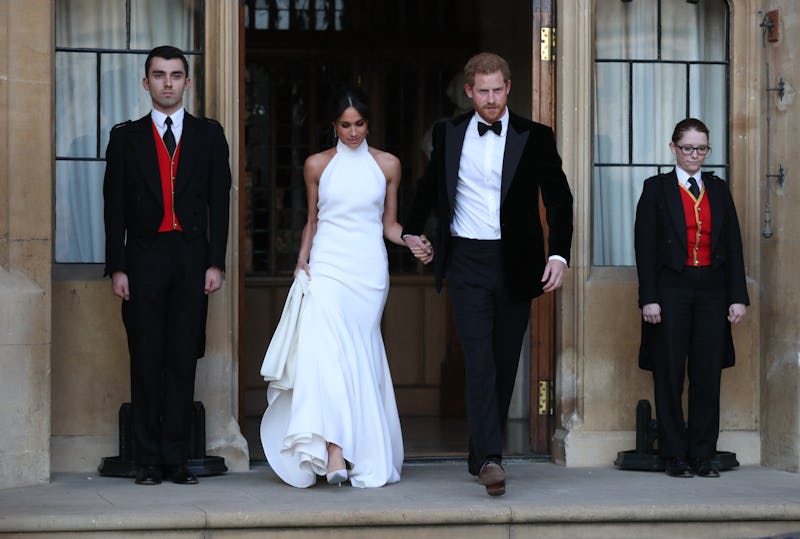 WPA Pool/Getty Images Entertainment/Getty Images
At some point in a fashionista's life, there will be a time when they crave to dress like the stars. Fashion interns and influencers alike save their coin to muster up enough courage to splurge on the looks donned by their favorite celebs. Thankfully, Fashion Nova's remake of Meghan Markle's wedding reception dress won't force fans into frugality.
When you bore witness to the shots of Meghan and Harry exiting their wedding reception, you probably couldn't help but retain your attention to Markle's all white turtleneck dress designed by Stella McCarthy.
The Instagram famous brand lists the dress as The Royal Debut Dress that comes in an off white shade. While this (much) more affordable version is nowhere near the same glam Markle sported, it's a look that's clearly favored among shopaholics.
The dress itself is fully lined and made out of polyester and spandex, which thick hipped babes will appreciate as the dress is offered in sizes XS-3X.
If you were hoping to snag the original high fashion design, you may have been late on delivering your rent check. The dress was only offered in limited amounts to the general public, but also cost a whopping $4,657. Your couch cushions could hardly store that much change.
Although Markle's dress featured a little more flare (for she did just become part of the royal family), Fashion Nova's version of the reception dress appears to be a lot tamer for the purpose of wearability. But who knows? It may just make the perfect look for eloping.
The Royal Debut Dress
The dress is selling fast though, so if your eyes have hearts over this gown, you should add it to your cart ASAP as sizes have already sold out. On the bright side, if you do log on and find your size is out of stock, Fashion Nova will notify you if and when it comes back in stock.
As the weather gets colder and the white winter that's bound to come for us appears, every fashion guru needs a winter white dress in their closet. This royal remake is coming to shoppers just in time. It may be just be the one for a special holiday occasion.
For the hard-core fans of the Instagram-bred brand, you probably already know that this isn't the first time Fashion Nova has robbed and recreated a celebrity look.
For Kylie Jenner's 21st birthday celebration, the brand came out with replicas of both Kylie's hot pink dress and her bedazzled jumpsuit. And just for added value, Kim's hot pink bodycon dress to the outing was also remade.
Not to mention, almost as soon as Bruno Mars came out with his music video for "Finesse", there was a Cardi B copycat to reflect the rapper's 90s ensemble. You have to admit, that was serving all the TLC feels.
It may feel as though this knockoff is coming to you super late, since Markle has debuted some quite gag-worthy looks, but it's being sold just in time for the holiday. And it doesn't hurt that it acts as an excuse to attend a super cool Christmas party.