Thursday's Partial Solar Eclipse Is Gonna Bring Good Vibes For ALL Signs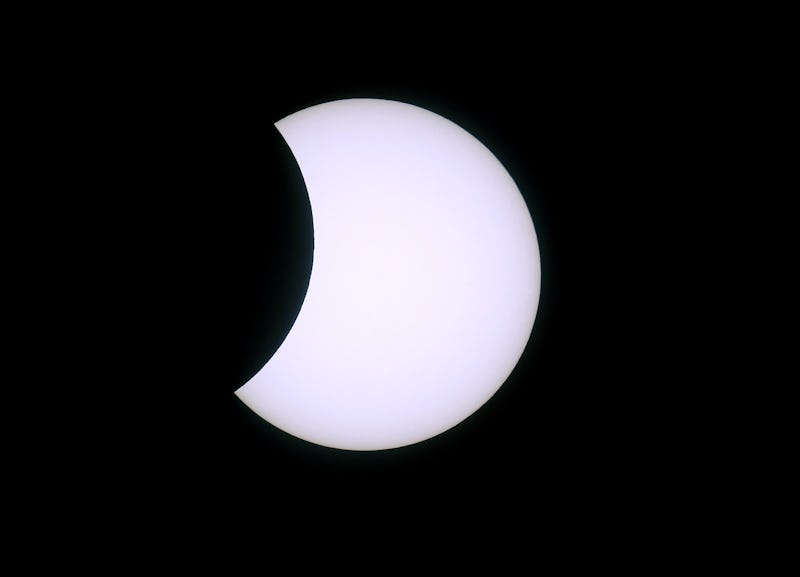 Peter Macdiarmid/Getty Images News/Getty Images
Thanks to Bonnie Tyler's 1983 hit, it's total eclipses (of the heart and other things) that we're most familiar with, but there are other kinds too. Partial solar eclipses are also a thing, and they can impact our lives here on Earth just as much as their more complete counterparts. We'll experience a partial solar eclipse on Feb. 15, and I have all of your February 2018 partial solar eclipse astrology predictions right here. The good news? It's basically all positive.
During a partial solar eclipse, the moon, sun, and Earth don't quite line up perfectly, which means that the moon only casts the outer part of its shadow on Earth, according to Time and Date. From our perspective, it looks like the moon has taken a bite out of the sun. (Note that, during a total solar eclipse, the moon more fully blocks the sun from our view.) The next partial solar eclipse will start at 1:55 p.m. EST, per Time and Date, and will be visible primarily in southern South America and Antarctica, and from some areas of the Atlantic and Pacific oceans.
While the visual impact of the partial solar eclipse might be somewhat diluted, the same can't be said for its astrological impacts. "A partial solar eclipse is just as potent as a regular full blast solar eclipse," NYC-based astrologer Lisa Stardust tells Bustle. "In the sign of Aquarius, it's really focused on how we relate to the collective through action and communication. It will force us all to step outside our comfort zones."
Read on to find out how this partial eclipse will affect your sign more specifically.
Aries
You're a natural at kickstarting projects and campaigns, Aries, and the partial solar eclipse offers prime conditions for you to start bringing people together for a cause that matters to you. You may feel even more inclined than usual to initiate something important or to help others.
Taurus
According to Stardust, "new career goals and a promotion are in the stars for you." (Pause for celebration dance.) Brace yourself for positive feedback from your colleagues and supervisors, and give yourself license to really lean in to your professional pursuits while the opportunities are available.
Gemini
Is the daily routine bringing you down, Gemini? The partial eclipse may have you feeling stir crazy in your own life, which means it's an ideal time to plan a spontaneous adventure. Request a personal day or throw together a quick weekend getaway. Wait 'til you see how much better you feel after some time off from the usual grind!
Cancer
Cancer, Stardust advises you to "step into your power" and "be a boss in both your personal and work life." Stop waiting for directions from everyone else and take control of your finances, your workload, your relationships, and your schedule.
Leo
Now is a time for you to focus on partnerships. You might find yourself coming to a new understanding about the give and take that's required in all kinds of successful relationships. If you can take these lessons to heart, you'll experience a new depth in those relationships.
Virgo
Virgo, this eclipse will offer you a much-needed opportunity to get to the root of your personal issues and focus on your own needs. It probably doesn't come naturally to you to table the expectations of others and take care of yourself first, but it's important that you do just that right about now.
Libra
You can expect to feel positively overflowing with creative ideas and artistic visions come the partial eclipse. Celebrate those good vibes with your friends, but exercise caution in jumping in to the actual execution of all of those ideas too quickly.
Scorpio
"Home is where the heart is," Stardust advises all the Scorpios out there. "Simple home and personal renovations can change both your dwelling and your outlook on life." Channel your inner Joanna Gaines and grab yourself some new throw pillows!
Sagittarius
Prepare to have your phone totally blowing up around the time of the partial solar eclipse. You'll have a full dance card and lots of opportunities to catch up with family and friends.
Capricorn
Your hard work is about to pay off. Stardust tells us you can except a boost of confidence and money during this partial eclipse. Don't spend it all in one place!
Aquarius
It's a time for you to be in the spotlight! Stardust tells us that the eclipse is on your sun sign, which will expand your ego. It's a great time to really believe in yourself and go after what you want.
Pisces
Expect to find yourself doing some soul searching, Pisces. If it all feels a little overwhelming, meditation will give you the peace of mind you need.