Female-Led Action Movies Are Finally Allowed To Be Bad — And That's Actually A Great Thing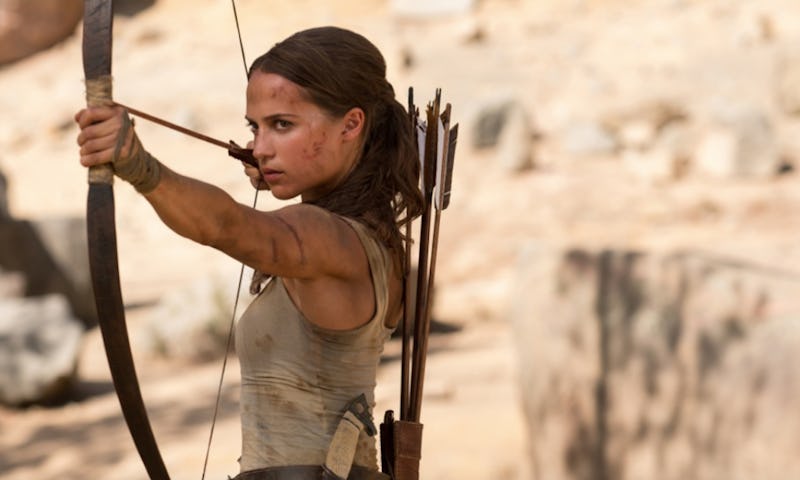 Warner Bros. Pictures
It's the worst kept secret in Hollywood — that men can lead movies that bomb and live to star in another, while women whose films fail become cautionary tales as to why studios should never fund another female-led movie again. In recent years, however, a new genre led by films like Atomic Blonde, Red Sparrow, Annihilation and more has emerged that could change that truth: the mediocre, female-led action movie. Slowly but surely, action films starring women, like the newest release, March 16's Tomb Raider, are no longer being held up as test subjects indicative of female worth at the box office. In other words, female-led action movies are finally allowed to be bad, and that's actually a really great thing.
You see, in the past, the ability to fail in Hollywood was a privilege traditionally saved for men. Just look at Armie Hammer, who survived the badly-reviewed The Lone Ranger and The Man from U.N.C.L.E to become a movie star. Or follow the career of Taylor Kitsch, who anchored Battleship and still on to star in the reboot of John Carter. Or, most glaringly, check out Ryan Reynolds, who starred in a handful of doomed action films like Green Lantern, R.I.P.D., and Criminal, but was given a second chance time and time again.
Female action stars, though, haven't historically gotten the same treatment. One box office misstep, and the future of the entire genre becomes in jeopardy. Take the nearly 13-year gap between the release of the disastrous Catwoman and Wonder Woman, or the fact that, in 2015, the lukewarm reception of Terminator Genisys, the film meant to propel Game of Thrones' Emilia Clarke into action movie stardom, seemingly led to the actor only being given supporting roles in later action films like Solo: A Star Wars Story and Above Suspicion. The downgrade from lead to supporting role might seem pretty innocuous, especially given the fact that Clarke has yet to prove herself at the box office, but it becomes less so when one considers the fact that Solo star Alden Ehrenreich has similarly failed to carry a movie to blockbuster status.
Then there's the story of Charlize Theron. The actor had to wait almost a decade after her action film Aeon Flux flopped at the box office before being given the chance to take on another similarly-themed film, Snow White and the Huntsman — and even then, she shared top billing with Chris Hemsworth and Kristen Stewart. "We've had moments like this, where women really showcase themselves and kind of break glass ceilings. And then we don't sustain it," Theron said about the situation in a 2017 interview with Variety. "Or there's one movie that doesn't do well, and all of a sudden, no one wants to make a female-driven film."
For Theron, it wasn't until 2015's hugely successful Mad Max: Fury Road, a movie whose marketing relied heavily on male star Tom Hardy, that she was allowed to finally claim the action heroine crown again; she'd go on to headline Atomic Blonde just two years later. And that's the movie that might've changed things for good when it comes to female-led action films. Atomic Blonde wasn't a huge success, but it wasn't a full failure, either, earning a 77 percent fresh rating on Rotten Tomatoes and an underwhelming $95.78 million worldwide. The movie was, essentially, average. And yet, unlike what happened with Theron and other female actors' earlier action films, the movie didn't cause an industry-wide panic on the potential of the genre to succeed.
In the months since Atomic Blonde, other female-led action movies have, happily, followed similar paths. 2018 has already brought us two mediocre female-led action films: Red Sparrow and Proud Mary. Not only were both films disliked by critics, they also did poorly at the box office, proving that even bankable stars like Jennifer Lawrence and Taraji P. Henson can headline a stinker or two. And yet, aside from an immediately criticized piece in The Hollywood Reporter titled "If Jennifer Lawrence Can't Open a Movie, Who Can?," the pushback against female-led action movies has been minimal. It's almost as if we've entered a time in which female led action movies are allowed to be just OK.
This shift is likely thanks to the recent surge in female-driven content which reflects audience demand and box office success. In 2017, the top three grossing films featured female leads, and two of them — Wonder Woman and Star Wars: The Last Jedi — were action movies. Having these tried and true examples of successful female-led action films made it clear to studios that people want to see these movies, and that message is louder than the handful of box office flops.
Fans can see the change in the upcoming wave of female driven action movies heading our way. Jennifer Garner, for example, is set to star in Peppermint, her first major action role since the 2005 action movie flop Elektra. Then there's the next Transformers movie, Bumblebee, which will focus on a female protagonist played by Hailee Steinfeld. Meanwhile, in May of this year, Gabrielle Union will headline Breaking In, a home invasion thriller. Some of these upcoming films will be good. Others might not be. But what makes all of them exciting regardless of quality is that they will exist, and movies like them will continue to exist.
And that includes Tomb Raider. Without the groundbreaking buzz of Black Panther or A Wrinkle In Time, and with a huge video game legacy to live up to, the movie is undoubtedly under a lot of pressure. But absent from those pressures is, for once, the duty to represent all female-led action movies. No matter how good or bad the movie is or how high or low its box office numbers end up, Tomb Raider does not have the fate of all future movies in the genre resting on its shoulders.
The age of the mediocre female action film is here, and with it will be groundbreaking standouts and horrific bombs, just as it has always been for male driven action films. As said by Reese Witherspoon said in an interview with Marie Claire, "It shouldn't just be about financial success. We should have as many opportunities to fail as we do succeed." It's about time that women in action films get every chance to do just that.