Hollywood's Sorry Excuse For Its Lack Of Female-Led Films Is Officially Busted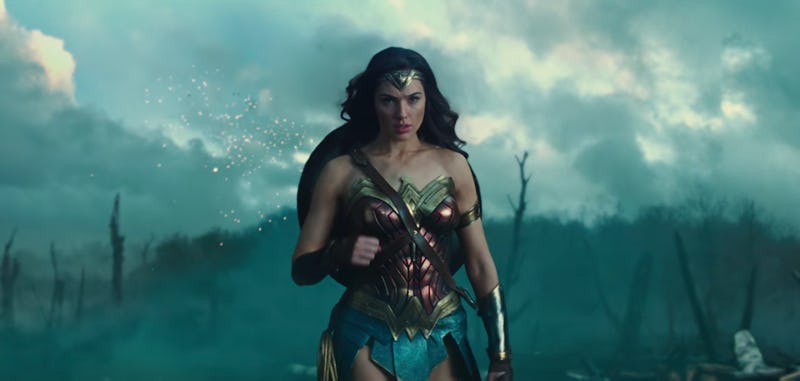 Warner Bros. Pictures
The era of female-led blockbusters is officially upon us. In 2017, movies with women as protagonists broke record upon record, and Wonder Woman, Beauty and the Beast, and Star Wars: The Last Jedi ended December at the top of the domestic box office. This marks the first time women-led films have held the top three spots since 1958, according to The Wrap, and with female-driven and targeted movies earning such historic and unambiguous success, Hollywood can stop asking whether or not these films are profitable. Instead, it's time for studios to start asking how they can make more.
For years, Hollywood studios have abided by the myth that male audiences don't see female-driven films. The fact that the three highest grossing movies of 2017 each featured a female protagonist, however, proves that this is simply not the case. And the rest of the stats don't back up that claim, either. In 2016, the Motion Picture Association of America asserted that 52 percent of all moviegoers are women, and while this proves women are a huge economic force who shouldn't be discounted, it's also true that men will and do spend money to see female stories.
Women-led films have been hovering at the top of box office charts for years. In fact, the last time the top three grossing movies of the year did not include at least one female-led film was in 2009, when Avatar, Transformers: Revenge of the Fallen, and Harry Potter and the Half-Blood Prince reigned supreme. Since then, female-driven films have been among the top three domestic earners of the year.
And they're damn good movies, too. Both Wonder Woman and The Last Jedi are among the top 10 highest rated films of 2017 on Rotten Tomatoes. In fact, certified fresh with a 92 percent rating, Wonder Woman is largely considered one of the best superhero movies of the modern genre. And that's based on an overwhelmingly male opinion. According to the Center for the Study of Women in Television and Film at San Diego State University, 73 percent of critics on Rotten Tomatoes are male, meaning that the opinions moviegoers and Hollywood use to gage a film's success are skewed. Despite the disparity between male and female critics, many female-led films of 2017, including Lady Bird, The Florida Project, and The Shape of Water, have all earned scores in the 90s on Rotten Tomatoes, in addition to serious Oscar buzz.
We are now well past the point of having to prove that films starring female protagonists a) make money, and b) are critical hits. And yet, women make up little more than one quarter of protagonists in Hollywood's biggest movies. According to a study by the Center for the Study of Women in Television and Film at San Diego State University, just 29 percent of protagonists in the top 100 grossing films of 2016 were women — up seven percent from 2015, a bittersweet victory if there ever was one.
Based on Box Office Mojo's top 100 grossing films of 2017, the number is holding steady for 2017. Hopefully, having the top three grossing films feature female leads will inspire this percentage to grow in 2018. (Women do make up half of the population, both moviegoing and not, after all.) But even if these new numbers do encourage Hollywood studios to get women closer to that 50 percent female protagonist mark, there still remains a few glaring problems.
Firstly, despite the increased success and number of female-driven films, women still account for far less on-screen speaking roles than men. According to USC's Media, Diversity, & Social Change Initiative report in 2017, the percentage of female speaking roles in top grossing fiction films has remained relatively static since 2007, hovering between 28.1-32.8 percent. Women might be getting more lead roles in big Hollywood films, but it's clear based on the stagnant percentage of speaking roles available to women that studios are still questioning whether movies with more than one lead female character are a good investment.
It's telling, for example, that the second half of Wonder Woman features barely any scenes with two women, a trend echoed in The Last Jedi and Beauty and the Beast. Furthermore, neither of the three films starred women of color in the lead role, though The Last Jedi came closest thanks to Kelly Marie Tran's Rose. (It's worth noting that all of the top 10 grossing films of 2017 starred white protagonists, male or female.)
For years, female audiences have been reminded that showing up at the movie theater and making a dent in the box office is how we make Hollywood change. It's part of the reason Wonder Woman did so well at the box office — because women knew that the only way to convince studios to make more female-led action movies was to support them.
Well, 2017 has proven that we've done our job, and we've done it well. Now it's time for Hollywood to listen. We don't just want more female-led films, we want movies with multiple female leads. We want movies featuring diverse casts of men and women. We want to see more diverse stories on screen. Put simply: we want more, and we will pay to see it. Hollywood studios might want to think about that during their next development meetings.