Feminism Was The Biggest Trend At NYFW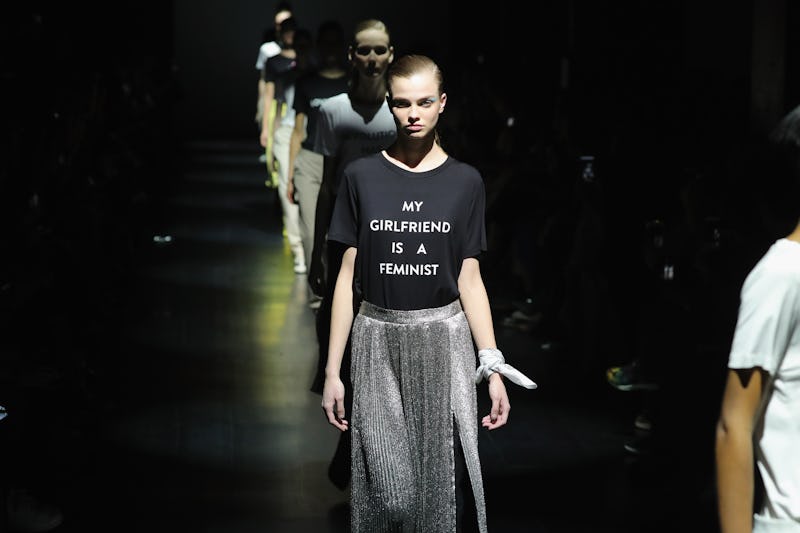 Neilson Barnard/Getty Images Entertainment/Getty Images
Designer Mara Hoffman's New York Fashion Week show this year opened with four women. None of them are models. In fact, they're not in the fashion industry at all. They're the founders of the Women's March On Washington. They (and Mara Hoffman) weren't alone in highlighting feminist activism at this year's shows. From Prabal Gurung to Milly to Jonathan Simkhai, feminist messages were everywhere during A/W 2017 Fashion Week. You could liken this to the general trend of more people talking about feminism now than ever, but here's where it gets tricky: If you're using feminism to sell clothes, is it still as powerful?
The line between doing something because it is popular and because it is necessary is so fine it's practically impossible to navigate. Seeing things like feminism being front and center at NYFW (an event that isn't exactly known for its political activism) on Instagram is cool. But if you zoom out and realize that a brand wasn't doing this until it was popular, it can seem a little less cool. When you realize that the same brand promoting the importance of feminism doesn't make clothes for women of all sizes (the average size range for brands that show during fashion week is the industry standard 0 to 12), it can feel even more cringe-y.
Making feminism an everyday word is important. When a brand like Prabal Gurung sends "Girls Just Want To Have Fundamental Rights" shirts down the runway, at the very least it normalizes a concept that is very loaded, and often misunderstood. This normalization can be ultimately positive and influential — regardless of what the motives are behind it. Celebrating feminism on a large scale is great. But there is a difference between dedicating your brand to the mission of propagating equality for all genders and using a watered-down, non-intersectional version of feminism to sell clothes or gain Instagram followers. After all, this season's runways featured 31.5 percent models of color, which is actually a slight decrease from 2016, according to a report by the Fashion Spot. If diversity and inclusivity of all women aren't there to begin with, that's inherently a problem.
It's then up to consumer to try to decipher what a brand's true motives are when giving away a "Steinem AF" T-shirt at a show (Milly) or using an anti-Trump song during a runway show (Chromat) — is it to seem cool and play into a trend, or to really push for the progression of feminist values? If it's both, does it make the latter less legitimate?
For an example of something that arguably could have been done better, take Chanel's protest-themed runway in 2014, which received fair amounts of criticism. Lagerfeld responded to those critics by telling Fashionista, "I like the idea of feminism being something light-hearted, not a truck driver for the feminist movement."
This brand of "light-hearted" feminism is not only hard to get behind from an activism standpoint, but dismisses the idea that feminism is nothing without action.
There are designers who are doing feminism closer to the right way, however. When Christian Siriano, who has made diversity and dressing women of nearly all sizes a priority for most of his career, sends a political or feminist message down the runway, it fits. For his A/W 2017 show, the designer featured a bold, black-and-white T-shirt that read "People Are People." Siriano tells Bustle that NYFW was the perfect opportunity to make a statement as a designer, even though it wasn't "about being specifically political" as much as it was about "humans giving love back to each other."
"As a designer there are not tons of OK opportunities to voice your opinion except show day during fashion week. It's the one day that we get to really speak our minds in a visual way for the world to see," Siriano says. "With everything thing going on in the world I felt a simple statement could speak volumes and remind us all that people really are just people and that in itself should be enough to celebrate one another. Because even though we are all different we are all the same in so many ways."
All the sales of Siriano's "People Are People" T-shirts will be donated to the ACLU, "[which] is fighting hard for basic human rights every day," Siriano says.
Similarly, Jonathan Simkhai, who wore a "Feminist AF" shirt to his show, added an action to his message by donating $5 to Planned Parenthood for every seat at his show, according to Allure. Simkhai has raised "over $8,000" for Planned Parenthood as of Feb. 24, according to Simkhai's reps.
In a comment to Bustle about the show itself, though, Simkhai says that to him, it isn't quite accurate to call feminism a trend within the fashion world.
"I think it is an oversimplification to call this 'a trend.' While I have always been in support of women's rights, I was very moved by the energy and emotion I felt when I went to the Women's March in DC. This is a movement that has affected the whole country and as a designer, I am doing what I can to show my support and make a small impact," Simkhai says. "That's why the proceeds from my 'Feminist AF' T-shirts will go to Planned Parenthood."
Prabal Gurung, who sent dozens of feminist messages down the runway via graphic tees this season, is making a moves outside of fashion week to prioritize size inclusivity (Gurung's Lane Bryant line comes out Feb. 27). In a statement to Bustle, Gurung says that for him, including feminist messages was a "responsibility."
"As a designer with a platform, I feel a responsibility to speak up and be a part of this conversation in a way that can bring about change. That was also our goal with the tees on our Fall 2017 runway," Gurung says.
Things like this — actual actions rather than gimmicks happening outside of the social media spotlight of fashion week — give the idea of supporting feminism seem a little more authenticity.
This isn't to say definitively that other designers' motives this season were wrong, or that Gurung and Siriano don't think about the "trendiness" of feminism when making decisions, too. But if a brand can't back up what it's saying (or selling) with action, then it loses some of the potential it has to be truly influential. Being truly influential means being an impetus for more action — inspiring consumers to donate money or attend a protest. And if being truly influential and inspiring such actions isn't the goal, then what is?
"We wanted to challenge the notions of what fashions' role can be in our society," Gurung says of the feminist T-shirts in his collection. That is to say, just because fashion has been notoriously apolitical in the past doesn't mean it has to be now — designers like him, Siriano, and Simkhai proved that this season. But it also doesn't mean that we don't have to hold them to certain standards. Like most of us, fashion can do better. It can take a small thing (like a feminist T-shirt or hashtag) and let them build into bigger actions. More money donated, more outspokenness about organizations and people doing important things, more inclusivity (this is a biggie), and more activism.
Because ultimately, the standards we hold these brands to should be the same we hold ourselves to. And, like myself and many of us have probably had to learn in the last year, if they've had the privilege of not talking about feminism actively until now, it's important to acknowledge that, too.