Twitter Is Thanking Fifth Harmony For Teaching Them Feminist Lessons Before Their Hiatus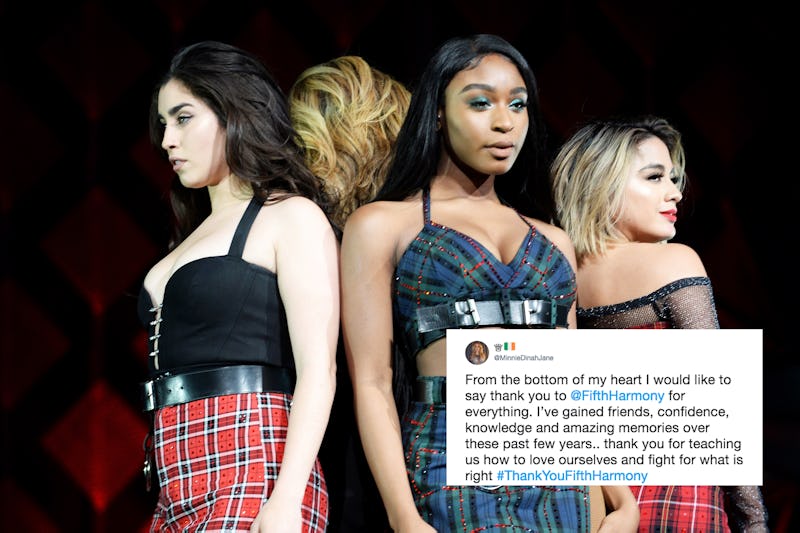 Getty Images/Twitter
If you were wondering how the Harmonizers were going to react to Fifth Harmony's hiatus announcement, then you should have seen this coming. Fans of the band are thanking Fifth Harmony for empowering them with their lyrics and their actions, and that seems about right for one of the most staunchly feminist bands in the game right now. The hashtag #ThankYouFifthHarmony has become the main way for fans to express how much the band has done to inspire them, to make them more confident, and to give them something to believe in over the six years that the girls have been together. And if you can make it through these tweets without crying, well, you're an emotionally stronger person than most.
The band announced their separation with a tweet they posted on Monday morning. "After six years going hard, non stop, we also realized that in order to stay authentic to ourselves and to you, we do need to take some time for now to go on a hiatus from Fifth Harmony, in order to pursue solo endeavors," read their full statement.
So the bad news is that the band is breaking up for now, but the good news is that we'll be getting more new music than ever before from individual artists Normani Kordei, Ally Brooke, Dinah Jane, and Lauren Jauregui. Fans are all up in their feelings, and, once you read their tweets, you'll be all up in yours, too.
1. Thanks For Making Me A Fighter
This fan is thanking Fifth Harmony, in part, for their activism. The band has always been devoted to promoting feminism however they can and have taught their fans to stand up for their own believes, too.
2. Thanks For Giving Me A Voice
For this fan, Fifth Harmony taught them to celebrate all the things that make them who they are — and take strength in their own voice.
3. Thanks For Teaching Me Confidence
This fan wrote a touching and heartwarming tribute to the band, promising their support forever.
4. Thanks For Teaching Us Respect
It really is a beautiful thing that the Harmonizers have come together to celebrate all that made Fifth Harmony great, even as they say goodbye.
5. Thanks For Showing Us Sisterhood
Aside from a few PR kerfuffles when Camila Cabello left the band, the women have always been tight and supportive of one another, and that sent a great message to Harmonizers.
6. Thanks For My Friendships
This fan credits Fifth Harmony with helping them form some of the most important friendships in their life.
7. Thanks For Teaching Me To Love Myself
And this fan is crediting the band with teaching them to love themselves first and for getting them through some really tough times.
8. Thanks For This Decade Of Girl Groups
Along with Little Mix, there can be no doubt that Fifth Harmony is one of the first names that comes up when discussing modern girl groups.
9. Thanks For The Love
No matter where Fifth Harmony goes from here, there can be no doubt that the Harmonizers will be walking with each of them. They've given their fans love, and they're getting it right back.
10. Thanks For Creating A Safe Space
There's nothing more important than a safe space, and the band has created that with their music and with their interviews and with the joy they take in their fan base.
11. Thanks For Everything
The band is so important to so many people that words don't even do it justice.
If there's one thing that Fifth Harmony will leave behind as they pursue their own solo endeavors, it's the positivity and love that's radiating from their fandom right now. They've touched so many lives and inspired so many women to be the best versions of themselves, so is it any wonder that their fans want to watch them blossom, too?