Here's Why Fifth Harmony Is Taking A Hiatus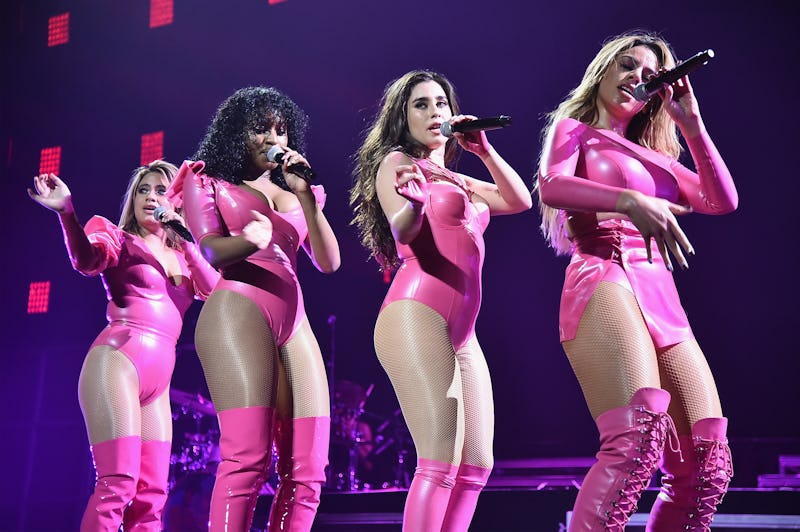 Theo Wargo/Getty Images Entertainment/Getty Images
The fan base that is still reeling from the loss of Camila Cabello a little over a year ago was just dealt another blow. Fifth Harmony is taking a hiatus, as revealed in a Twitter post from the girl group that went live on Monday morning. The missive is signed by all four remaining members — Ally Brooke, Normani, Dinah Jane, and Lauren Jauregui — so fans can rest easy that it does seem to be a group decision, at the very least. But why is Fifth Harmony taking a hiatus? And why now?
The short answer seems to be because the pop stars have been pushing nonstop ever since 2012, when they signed a record deal hot off a third-place finish on Season 2 of X Factor. And while they make sure to mention right up top how grateful they are to their fans, these four young women are ready not just for a break, but also to find themselves as individuals.
"After six years going hard, non stop, we also realized that in order to stay authentic to ourselves and to you, we do need to take some time for now to go on a hiatus from Fifth Harmony in order to pursue solo endeavors."
They refer to the break as an opportunity to "learn and grow creatively and find [their] footing as individuals," and to "gain new experiences, strengths and perspectives" that they promise to "bring back to [the] Fifth Harmony family."
But for all the optimism and gratitude evident in the post, the phrasing is still markedly final, which has given some Harmonizers cause for concern. Since the Miami-based performers don't give any indication of how long said hiatus might be, it's easy to read the statement as a "goodbye" instead of a "see you later." Nobody wants the 7/27 singers to be disbanding forever, but it's a slippery slope between taking a break and calling it a day, and one that many groups have slid down before.
If we're talking hiatuses, the most obvious comparison to draw is One Direction, who announced their impending "short hiatus" in Summer 2015. Shortly after losing their own fifth member, Zayn Malik, the group went their separate ways for what they reassured fans would be just 18 months off. But over two years and a roller coaster of changes later, there's still no end in sight. Harry Styles, Liam Payne, Niall Horan, and Louis Tomlinson have all released their own solo material to varying degrees of success, and the band's touring company quietly folded last month, making any reunion highly unlikely.
While we aren't quite to that point with Fifth Harmony, fans are understandably nervous about the announcement, no matter how it's being framed.
But that's not to say that anyone was particularly blindsided by the Mar. 19 post. Fifth Harmony has been rumored for years now to have issues with their U.S. label, Epic Records. In a July 2017 cover story for Billboard, the lawyer that the ladies retained in late 2015 described their original contract with Epic as "the worst I've ever seen in the music business." That contract was retooled to give them more control, but after the lackluster album sales from 2017's Fifth Harmony, which sold less than half as many units as 7/27, the writing was on the wall.
These days, Epic has been accused by outlets like The Sun of putting more effort into Cabello's burgeoning solo career than to the success of the group she walked away from. So is it any wonder that the remaining members have turned their gaze to solo work as well? Jauregui reportedly signed with Columbia Records in January, and the rest of the women likely aren't far behind her.
Fans can't possibly know in advance how this will turn out, though, so the best thing to do is hope for the best and prepare for the worst. Best case scenario, Fifth Harmony takes this time away and it makes them stronger and more talented than ever, leaving fans with an embarrassment of riches that includes group material and great solo stuff. Let's all cross our fingers for that.