Fifth Harmony Releases Their First Single Without Camila Cabello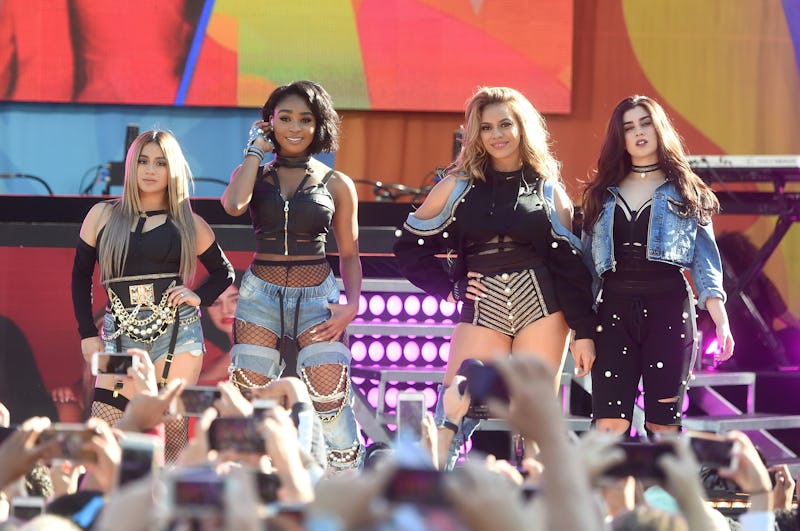 Jamie McCarthy/Getty Images Entertainment/Getty Images
I hate to be the bearer of bad news, but Fifth Harmony's first single without Camila Cabello is lacking that extra something, in my opinion. "Down" was released on Friday, and, while it does have that same signature 5H sound, it's definitely missing something in my ears. Maybe what's missing is Cabello, who departed the group in December after four years years and two albums. Just hear me out.
The track, which features Gucci Mane, starts out encouragingly, but never quite gets going. An early lyric pledges, "There ain't no kinda situation / where I wouldn't cross a line for you," but it's a promise that goes largely unfulfilled. The song never quite crosses over into banger territory, instead staying safe in the middle. The melody is fun but not memorable, the lyrics just so-so, and, all in all, I'm not blown away.
Which, to be honest, makes perfect sense, because Fifth Harmony has set the bar high. It's tricky to replicate the success of smash hits like "Work From Home", "That's My Girl," and "Bo$$" on a normal day. And then it only gets tougher when the group dynamic changes, so I get it. Not every song is going to knock it out of the park. But part of what Fifth Harmony has come to be known for is irresistible beats and messages of empowerment, and unfortunately "Down" has neither.
It's definitely danceable, don't get me wrong; I'm not actively worried about the group. It's clear that Ally Brooke, Dinah Jane, Lauren Jaregui, and Normani Kordei are going to be just fine without their former bandmate. But what's also clear is that there's going to be a period of transition, and we appear to be in it right now.
Someday soon, the foursome will find its way back to the kinds of tracks that get stuck in your head and that you turn all the way up on the radio. Maybe there will be a hidden gem on the new album, or even in the next single. So don't give up hope. But when it comes to this moment and this song? "Down" isn't it.