Rachel Lindsay's New TV Gig Will Bring Her Closer To Her OTHER True Love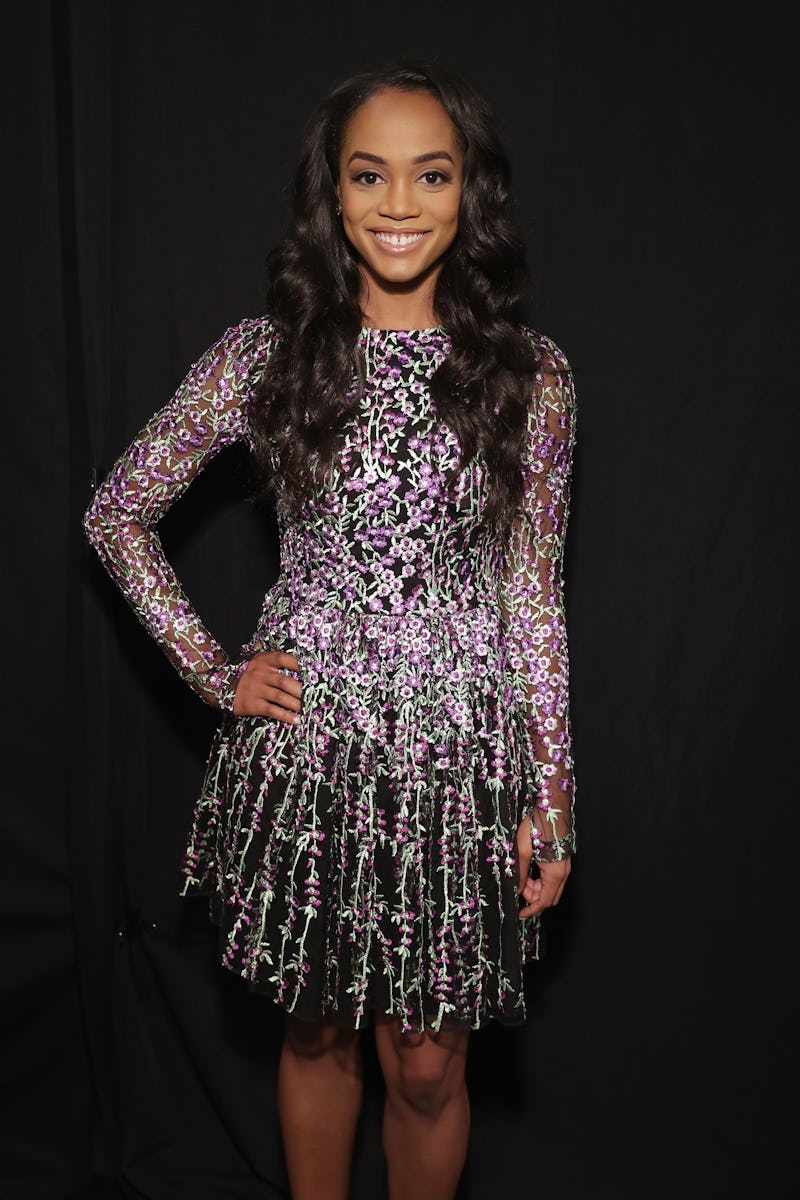 Cindy Ord/Getty Images Entertainment/Getty Images
Rachel Lindsay is headed back to the small screen — and no, she is not going back to The Bachelor franchise. Starting Monday, July 2, diehard sports fan and former Bachelorette Rachel Lindsay will guest host ESPN series First Take for a week. And it's not just any week. Rachel will guest host First Take right after the 2018 NBA free agency starts.
The Bachelorette star shared the news on Instagram earlier this week, writing,
"But today is an exciting day for me because this week I will be returning back to a first love…as I will be guest hosting on @firsttake next week (July 2nd) on @espn 2, talking all things #NBA free agency, countdown to #NFL camps and much much more."
NBA free agency kickoff day is one of the most thrilling times of year, and 2018's free agency is destined to be one for the history books. Superstars like Paul George, DeMarcus Cousins, Chris Paul, and J.J. Redick are just some of the pro ball players who will free agents as of Sunday, July 1. Oh, and once again, King James will be a free agent. On Friday, ESPN reported LeBron James, one of the greatest players the sport has ever witnessed, will opt out of his final year with the Cleveland Cavaliers.
And one of the greatest stars Bachelor Nation has ever witnessed will go on TV every day next week and unpack all of the madness that happens during the first few days of the 2018 free agency. It really is the stuff of a basketball-loving Bachelor fan's wildest dreams. Sure, other sports topics will come up during Rachel's time on the ESPN program, but uh, it will probably be tough to focus on anything else when some of the biggest names in professional basketball could be signed by any team once the moratorium is up.
Next week's guest host gig will not be Rachel's First Take debut. The Bachelor alum appeared on the sports-focused talk show in September 2017. Here is a clip from that episode where Rachel talks about her beloved Dallas Cowboys.
Before Rachel became a civil defense litigation attorney, she had her sights set on a different field. She explained in the aforementioned IG post,
"You may or may not know this, but one of my dreams I originally set out to achieve in life was to work in sports. I studied sports management at #universityoftexas before getting my juris doctorate at Marquette University Law School. Over time, I continued in the footsteps of my father to become an attorney, which I also am very passionate about and I still practice."
Rachel touched on this career switch up in a May 2017 interview with espnW. She told the site that she went to law school to study sports law, an area that — duh — combines her interest in sports and her interest in law. She eventually adjusted her path a bit and became a trial attorney.
Rachel explained,
"Honestly, it's very hard to find a job in sports. At the level that I had gone, getting a law degree, everyone assumed that I wanted to be an agent, and I did not want to be a sports agent. The number of jobs, especially in management, are so few and far between and the firms that have sports law were hard to get into, so I figured I would perfect my craft and learn the law in other areas as well as I could. That led me to being a trial attorney and doing litigation."
Hey, it looks like she ended up finding a job in sports after all.