Twitter's Reaction To Fran Drescher Wanting Cardi B To Be On 'The Nanny' Reboot Is Spot On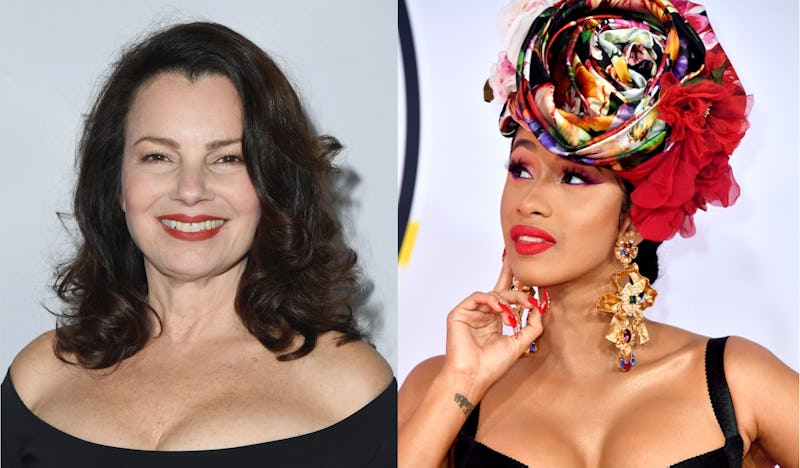 Jon Kopaloff/Getty Images Entertainment/Getty Images; Frazer Harrison/Getty Images Entertainment/Getty Images
Nearly two decades after The Nanny ended in 1999, Fran Drescher says she's totally down to participate in a remake or reboot of the series that made her a star, according to People. Not only is the actor ready to bring back her beloved character Fran Fine, but Drescher also wants Cardi B. to play her daughter in The Nanny reboot, and fans have so many feelings.
For those who may not be familiar, The Nanny was a sitcom that followed the life of the eccentric and wise-cracking, Fran Fine who, after being fired from her job and going through a major break up with her boyfriend, ends up becoming the nanny of three children belonging to a successful British widower in New York City. Drescher was twice nominated for a Golden Globe and an Emmy for her role as the nasal-voice and boldly dressed salesperson-turned nanny who hailed from Flushing, Queens. Upon the show's debut in 1993, the character quickly became a pop culture phenomenon with many tuning in to view her non-stop antics and over the top wardrobe selections.
During a recent interview with PeopleTV's Chatter, the 61-year-old actor discussed a potential revival of the series. Pointing out the show's pop culture relevance, she explained:
"I'm totally down with doing it. I don't know what is going on with some of these networks out there because they do not seem to be hip to the fact that there's an obsession amongst millennials for the show and moi!"
Despite the seeming lack of interest from TV networks, Drescher has some big ideas for the show's second-coming. Among them: bringing a famous rapper on board. She continued, "I wanna do a sitcom with Cardi B. Wouldn't she be great as my daughter?"
Drescher's comments come almost a year after an appearance from Cardi on The Tonight Show With Jimmy Fallon featured the "I Like It" entertainer donning a hairstyle and outfit reminiscent of the show's lead character, launching an online campaign to get Cardi B to star in a Nanny reboot.
After catching wind of Drescher's idea, Twitter fans couldn't help but to share their feelings about a possible reboot starring the world's most sought after hip-hop star, and these are by far the best fan reactions out there:
1. Fun for Everyone
One fan thinks pairing Drescher and Cardi together would make for highly entertaining TV. And given Cardi's recent mesmerizing performance at the America Music Awards, it would be impossible to disagree.
2. Potential Plots
Another commenter already has the reboot's synopsis all planned out, complete with the backstory of how Cardi could play Drescher's daughter. And they weren't the only ones with a new narrative in mind.
3. Perfect Pair
This person thinks that putting Drescher and Cardi together would be a stylish match made in television heaven.
4. Something Needs To Happen
Seemingly down with the idea of a revival, another fan would take any Cardi-Drescher collab they can get.
5. Legendary
Calling the idea "iconic," this person thinks Cardi would be the perfect person to play Nanny Fine's daughter.
6. More To Love
Revealing their love for the 90s sitcom, this fan thinks bringing Cardi on board would make things that much more "spectacular."
7. Lights, Camera, Action!
One fan is so ready, they may pull out their own camera to film the show.
8. Nanny Duties
Another person feels that Cardi should just step into the role of the nanny herself. It might be her destiny.
9. We Want Cardi!
Meanwhile, this fan used a quote from a founding father to emphasize who badly they wanted Cardi in The Nanny. (Same, TBH.)
Last month, Cardi made reference to Drescher while taking on Milan Fashion Week for Dolce & Gabbana's Spring 2019 show. The entertainer posted a photo of herself wearing head-to-toe animal print along with the caption, "Fran Drescher in @dolcegabbana." So, although there are no official plans in the works yet, the rapper definitely seems open to the idea. And, clearly, the fans are too.