Free Things To Do On Memorial Day This Year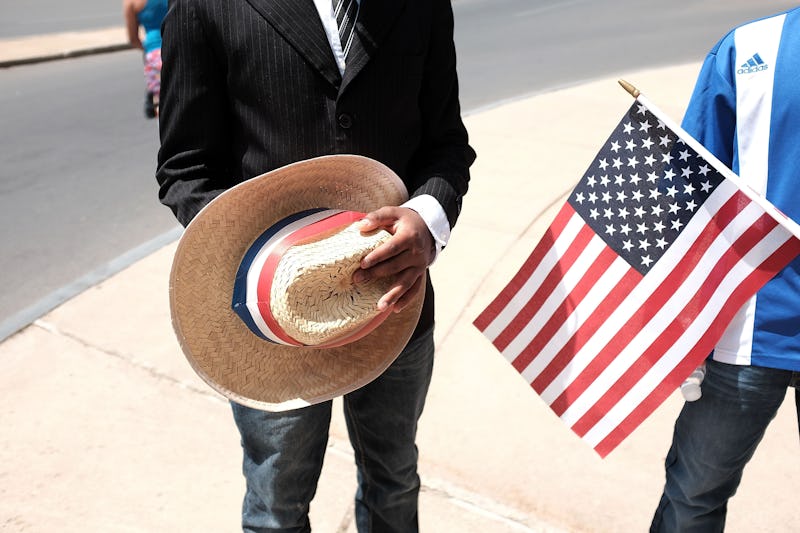 Spencer Platt/Getty Images News/Getty Images
Looking to celebrate Memorial Day appropriately? If you're coming up short on ideas, I don't blame you — celebrating Memorial Day respectfully is a lost art these days. With so much of the focus of Memorial Day being on pool parties and barbecues, it can be tough to find ways to celebrate while keeping the reason for the holiday front and center. And when you add in all the Memorial Day weekend sales, it becomes even harder to enjoy the day off without breaking the bank. Thankfully, I've rounded up a list of free things to do on Memorial Day to keep your wallet full, and you feeling festive.
As with any national holiday, you'll want to plan accordingly to make sure you're setting yourself up for a good day. Scope out locations ahead of time, stock up on supplies, get your friends and family together, and take some time to celebrate the simple pleasure of freedom. The National Moment of Silence is a great way to make time for reflection during a busy Memorial Day, so whichever free activity you choose to participate in, be sure to leave room for a little quiet time, too. And after you're finished, settle in for one of these activities, all budget-friendly and perfect for Memorial Day.
1. Have A Picnic
If you've got food you need to clear out of the fridge, pack it up picnic style, grab a blanket, and eat outside.
2. Watch A Firework Show
Many cities celebrate Memorial Day with commemorative firework shows. Check your city's website to see if something like this is in the works.
3. Attend A Parade
Attending parades are a great way to celebrate veterans. Many parades invite decorated vets to ride along and wave from the floats, so if you're wanting to feel festive without dropping a ton of cash, make plans to attend and wave back.
4. Attend Fleet Week
If you're in a port city like NYC or LA, check out Fleet Week. The annual tradition welcomes active sailors back to dry land, and offers free events like tours of the ships, ceremonies, and celebrations all week long.
5. Attend A Memorial
Many places have city-wide memorials dedicated to honoring soldiers and hometown heroes who have served in combat. They're usually pretty moving, and a great way to visit with friends and neighbors.
6. See A Movie In The Park
Stake out a spot, roll out a blanket, get comfy, and enjoy some community cinema in the park — bonus points if it's something patriotic! Memorial Day weekend usually serves as the kick-off for most movie-in-the-park programs, which also pack the added benefit of being free.
7. Get A Classic Coney Island Hot Dog
Nothing pairs as well with an All-American holiday like Memorial Day as an all-beef frank. This year, you can get a free Coney Island hot dog from Feltman's as they celebrate 150 years of their original Coney Island dogs. Beginning at noon, the first 150 guests get free dogs, so get there early!
8. Visit A Cemetery
Have flowers in your yard? Snag a few from the vine and head to a local memorial cemetery to participate in the #FlowerOnEveryGrave movement. Leave flowers on undecorated gravesites to celebrate Americans who served in combat for a Memorial Day activity that's respectful and free.
9. Attend A Local Music Festival Or Outdoor Concert
Most cities offer some kind of outdoor music event to ring in the advent of summer, and usually for the low, low price of nothing. If you're in New York, check out the opening day of Governor's Island. If not, a quick Google search should bring up plenty of options.
10. Head To The Water
Whether you set up on a beach, lake, river, or pool, find a free body of water and plant yourself firmly on the edge. Grab one of the books you've been meaning to read from your shelf, then settle in and work on your tan.
11. Work Out For Free
If you're looking to relax a bit and give some thanks to your body on Memorial Day, why not treat with a little workout? From Zumba to yoga or HIIT training, many cities have adopted free outdoor fitness programs in the warmer months. As with movies in the park, free outdoor fitness classes usually start around this time, too.