This 'Nightmare Before Christmas' & 'Hocus Pocus'-Themed Halloween House Is '90s Kid GOALS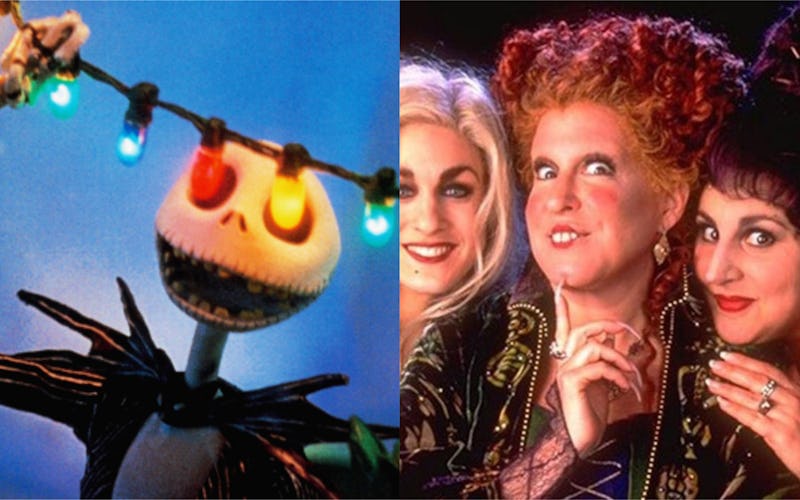 Warner Bros
Attention all you ooky spooky lil goblins and ghouls: you'll soon be able to take your love of Freeform's Nights of Halloween TV programming to the streets. In honor of the start of everyone's favorite Halloween movie marathon, Freeform is creating an actual Halloween House inspired by Hocus Pocus, The Nightmare Before Christmas, and more of your go-to creepy classics. This is what you've been preparing for since you first locked eyes on your TV screen with the human version of Thackery Binx.
Freeform's Halloween House will be located in Hollywood, California, transforming the historic Lombardi House into the experience of your Halloween dreams...er, nightmares. Lest you get too preemptively spooked, the house is being dubbed a "Halloween House" rather than a "haunted house." The activities seem more celebratory of Halloween rather than set out with the intention to scare your yabos clean off.
Open to the public Thursday, Oct. 4 until Tuesday, Oct. 9, guests will enter a scene that is essentially a Halloween movie come to life. "A pair of skeleton hands will welcome guests straight into Mr. Oogie Boogie's Lair, Dr. Finklestein's Lab, and an interactive graveyard with 31 spooky tombstones," a press release for the Halloween House states. All your faves will be there: the Sanderson Sisters' cottage, Winifred's boOOOook, even the purity-testing black-flame candle. There's word that Thackery Binx may also be roaming around. No word as to whether we should be looking for black fur and a tail or extremely 90s, perfectly coiffed blonde hair.
You'll also get the Instagram opportunity of a lifetime with the chance to recreate iconic scenes like Jack Skellington on the Spiral Hill from The Nightmare Before Christmas and the original film poster of from Hocus Pocus. Better start deciding which of your friends is a Winifred ASAP.
How much will it cost to enter the Freeform Halloween House? Your youthful soul? Decades spent trapped inside a cat's body? None of the above because admission is free. As in, for zero human American dollars, you can live out your dreams of being '90s Thora Birch and enter the Hocus Pocus universe.
You'll need to reserve a spot, though, and tickets will likely fill up quickly. Claim your spot by registering on Freeform's Halloween House site. Just pick a day and a half-hour time slot and you're well on your way to fulfilling out your ooky, spooky dreams. You're limited to one time slot and two tickets per registration. In other words, what are you doing still reading this? Go claim your spot.
The Halloween House isn't the only way Freeform is extending its Halloween celebration this year. This October, Freeform is launching 31 Nights of Halloween, stretching out its typical 13-night programing to the full month. As per usual, the television programming event will be extremely Hocus Pocus focused (as all television should be, always). Announced during their program line-up earlier this month, Hocus Pocus will be played a total of 29 times during the month of October in addition to the full-day marathon event that'll take place. The increase in airtime is in celebration of the 25th anniversary Hocus Pocus. Our spooky offspring a quarter of a century old! Basically, you have no excuse not to watch Hocus Pocus in preparation for All Hallow's Eve.
Hocus Pocus isn't the only Halloween film with a milestone is anniversary this year. Tim Burton's The Nightmare Before Christmas is also celebrating 25 years of existence. Freeform will be paying proper respects to the classic with back-to-back showing of the movie on October 29, the films official birthday.
In the meantime, you can start your Halloween preparation by reserving a spot at Freeform's Halloween House. If you need me, I'll be practicing my Come Little Children harmonies and letting my Halloween spirit run amuck, amuck, amuck.