Freeform's 'Harry Potter' Marathons Are Ending, So Crack Open The Butterbeer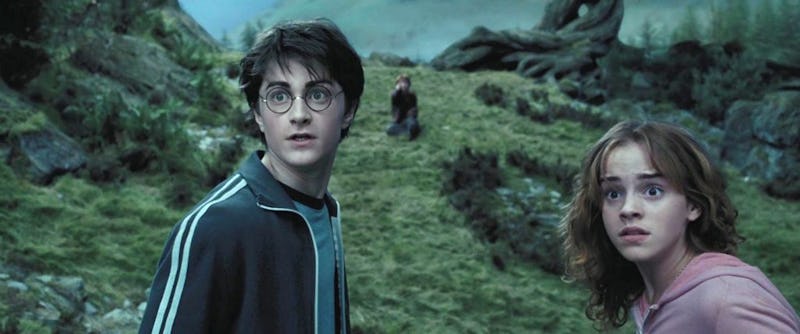 Warner Bros. Pictures
Sorry, Potterheads, but we're reaching the end of an era; Freeform will no longer air Harry Potter marathons. While this is disappointing, the reason is actually pretty simple: the network no longer has the exclusive rights to air the movie series. You don't have to mourn these marathons the way you mourned Sirius Black, Fred Weasley, and Nymphadora Tonks, though, because happiness can be found even in the darkest of times.
By which we mean that HBO has picked up the rights to Harry Potter, so you can have your own marathons any time you like. See? Albus Dumbledore is almost, kind of, sort of right.
It's true that weekends with Harry, Hermione, Ron and the rest of the Hogwarts gang has become a staple for Freeform. It seemed like every Saturday and Sunday, the network was just playing the movies on repeat, not to mention on Harry's birthday (July 31) and during its "25 Days Of Christmas," which helped make Harry Potter a holiday staple. Watching all eight Harry Potter movies with commercials was basically the perfect way to procrastinate. But, unfortunately, all this will officially end on January 1, 2018.
Still, before you start thinking 2018 will be the worst year ever because it's destined to be Harry Potter-less, know that HBO will immediately add the films to its movie list. Yes, when the clock strikes midnight, you can crack open a Butterbeer and celebrate the fact that you no longer have to wait another day to have your own Harry Potter marathon. Thanks to HBO Go and HBO Now, which will have them on demand, you can have one any time you want.
For those that are nostalgic for their marathon days, HBO has announced it will also air the movies in straight blocks. In fact, HBO's first Harry Potter marathon is New Year's Day 2018. Even better? Your marathon can now be commercial-free. Just think about how much quicker you can get to the end so you can do it all over again. But, for those that really want those commercials, The New York Times reported in 2016 that NBCUniversal obtained the rights to Harry Potter and plans to air the films on its cable stations including USA and SyFy in 2018. They'll hold these rights until 2025, which means marathons that will include "director's cut versions of the first two Harry Potter films and 3D versions of the last two."
There's also an added bonus to Harry Potter heading to HBO. In 2015, Freeform didn't have the rights to Goblet Of Fire — HBO actually did — which meant some of those marathons always had a Cedric Diggory-sized hole. Last year, Freeform didn't have the rights to Order Of The Phoenix, which meant the network would have to skip right over it. According to Hello Giggles, this will the the first time ever that fans will be able to see all eight films — plus the prequel, Fantastic Beasts and Where To Find Them — in their entirety, completely unedited, on the same network.
While it's sad to see Harry leave Freeform behind, this does open the network up to new marathon opportunities. Since Freeform is a sister network of ABC, and ABC is owned by Disney, you might be able to spend a little time in the Marvel Universe on the weekends. After all, there are already 17 Marvel movies, with many more — like Black Panther, Avengers: Infinity War, and Captain Marvel's first movie, starring Brie Larson — slated for release in the coming years.
Freeform could also decide that its weekends are better spent in a galaxy far, far away. The Star Wars films are also owned by Disney, making them a possible option for a multi-day marathon. Already, there are nine official Star Wars movies to watch — yes, I am counting the spin-off, Rogue One — with many, many more to come including The Last Jedi, out December 15.
This is all to say that this news might seem sad, but it's really not. Now there are a lot more options to view Harry Potter at any time, on any day, without having to buy the DVDs. (Though, you will need a subscription to HBO or, at the very least, someone's HBO Go password.) And there's still time to spend one last weekend with Harry Potter. After all, Entertainment Weekly reported that Freeform will have its final Harry Potter marathon starting Dec. 28 and ending New Year's Eve. Which means you can close out and ring in the new year with The Boy Who Lived.