Candace Cameron Bure Just Addressed THOSE 'Fuller House' Cancellation Rumors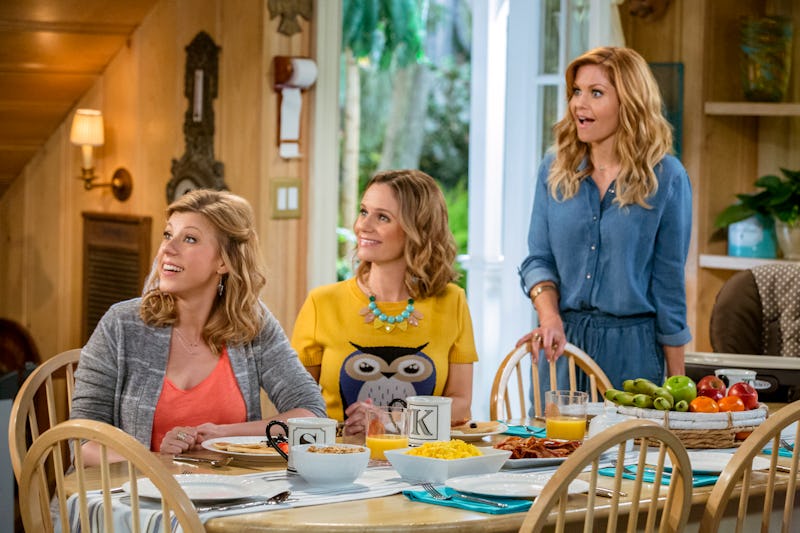 Mike Yarish / Netflix
After speculation that Fuller House may soon be canceled had fans saying, "Oh, Mylanta!" Candace Cameron Bure set the record straight: Fuller House isn't ending after Season 4. "I don't know why or how that rumor got started," the actor who played D.J. Tanner in the original Full House '90s family sitcom (and D.J. Fuller in the Emmy-nominated Netflix sequel) told E! News in an interview that aired on Thursday, Oct. 18. "I think it was a slow news day and someone wanted to make more of it than it is."
Also noting that, in the past, renewals haven't even been announced before new Fuller House seasons have premiered, Cameron Bure assured fans that they won't be saying adios to the Tanneritos, er, Fullers, anytime soon. "I have no doubt that we're going to be back for Season 5," she added to E! News. (Netflix has yet to announce a specific Fuller House Season 4 premiere date, though it's expected to be available for binge-watching in the coming months.)
Rumors of Fuller House's possible cancellation began with an Oct. 16 report from TVLine which cited an unnamed source. A Netflix spokesperson responded to the story, telling TVLine, "No decision has been made about the future of Fuller House; we're looking forward to the premiere of Season 4 later this year."
Netflix first announced Fuller House was renewed for Season 4 back in January, noting that the next chapter will pick where the third season left off. According to TVLine, Tanner family patriarch Danny (Bob Saget), Uncle Jesse (John Stamos), Aunt Becky (Lori Loughlin), and Joey (Dave Coulier) will all be moving back to San Francisco in Season 4, so expect loads of "Tanner family fun time" with the OG Full House cast members soon enough.
With the second half of Season 3 ending as Kimmy (Andrea Barber) successfully became the surrogate for Stephanie (Jodie Sweetin) and Jimmy (Adam Hagenbuch), there will be plenty of new storylines on the way to keep viewers tuned in. Some fans think that there may even be a new set of twins — or even triplets — moving into the already, well, full house. In the episode, "Fast Times at Bayview High," Stephanie's doctor told her that she had three viable embryos from her IVF treatments. The clues really are everywhere you look.
While Cameron Bure also told E! News in a separate interview that the pregnancy will be "the focus of season four," fans will also be tuning in, of course, to see if former high school sweethearts D.J. and Steve (Scott Weinger) finally get their happy ending.
"DJ and Steve are together," Cameron Bure confirmed to E! News in July for all the Steej fans out there. "There's no back and forth in Season 4, so she's with Steve and made that decision. I like watching and I hope the fans enjoy actually watching that relationship develop more."
Also headed to San Fran for Fuller House? According to TVLine, American Horror Story's Leslie Grossman will appear in the Season 4 finale as a doctor in the hospital where Kimmy presumably gives birth. (Barber also posted a photo of Grossman (in scrubs) with the cast after Season 4 wrapped taping on Instagram in September.) As also reported by TVLine, the upcoming season will feature appearances by Maria Canals-Barrera (as the mother to Juan Pablo Di Pace's Fernando) and Josh Peck (as a hipster dad), too.
Clearly there is much more to come when Fuller House debuts its fourth season later this year, so Cameron Bure's new comments should provide a big sigh of relief for fans.