G-Eazy Couldn't Stop Complimenting Halsey In A Supportive New Interview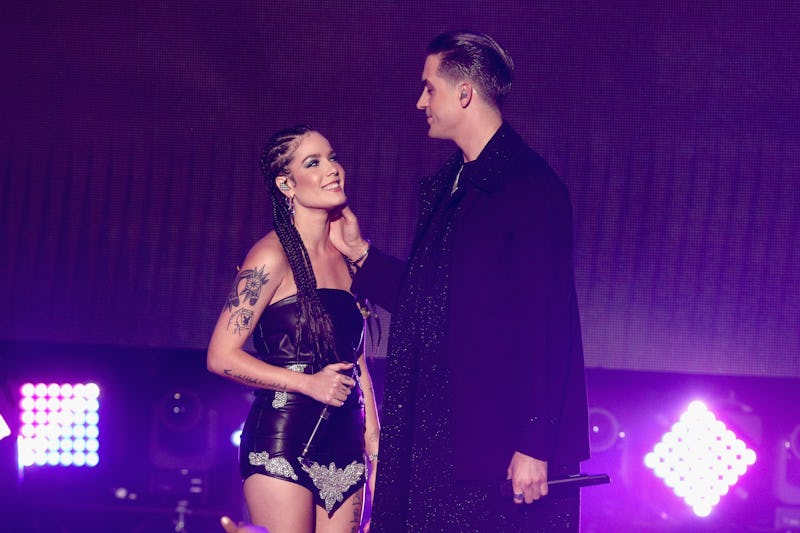 Frederick M. Brown/Getty Images Entertainment/Getty Images
Ahh, young, multi-platinum, chart-topping superstar love. It's a beautiful thing, isn't it? Even though the rapper doesn't flat-out call his one-time ex his girlfriend again, G-Eazy's comments about Halsey in a recent interview with E! News sure do make it sound like the on-again, off-again couple is totally back on.
Now, while both E! News and People do, in fact, refer to G-Eazy as Halsey's "proud boyfriend" in their respective coverage, there's no specific mention of the pair's relationship status in the interview video itself. He's definitely the proud something in Halsey's life, that's for sure. He practically lit up when E! asked him about her. There was like, an *actual* twinkle in his eyes.
But, yeah — nothing is official quite yet. Don't let that stop you from swooning over what G-Eazy had to say about Halsey's talent, though. "I mean she's an incredible artist," he told E! News with a visible grin. "She's really inspiring to watch work."
The rapper continued,
"I've been blessed and fortunate enough to get in the studio with a lot of artists I admire, but she's one of those that when you hear her voice come through live from the booth, it hits you right away. It's pure."
Fans have been speculating about whether or not Halsey and G-Eazy are back together for the last several months. The couple dated for nearly a year before announcing their breakup back in July, but sparked reconciliation rumors shortly thereafter.
In the wee hours of Aug. 21, Halsey and G-Eazy were snapped holding hands following the VMAs. G-Eazy was a presenter at the show, but Halsey did not attend. It's also worth noting that it was late — really late — when the pair got caught by TMZ. It was around 4:30 a.m., to be exact. (After the VMAs, Bustle reached out to Halsey's rep and G-Eazy's agent for comment, but did not hear back.)
Neither one of them commented on their relationship status after the VMAs, but they did put on a very PDA-filled performance together just a few weeks later. During one of Halsey's shows in New Jersey over Labor Day weekend, G-Eazy joined her on stage to sing their joint hit, "Him & I."
During his surprise appearance at Halsey's show, G-Eazy reportedly addressed the crowd, and said things like, "Make some noise for the most beautiful woman on this planet right now," and referred to his former lady-love as a "queen." Oh, and then there was that major kiss between the two at the end of their performance.
The pair continued to be affectionate together later that month, as they jetted off to Italy to celebrate Halsey's 24th birthday. "Happy birthday to this one," G-Eazy captioned a photo of the singer. "I love you so so so much and I always will. I myself, along with millions and millions of other people appreciate you more than you'll ever know. You're the brightest star in the sky. So grateful to get to travel thru life with you, so happy to call you my queen. Happy birthday baby," he wrote.
"My queen," eh? That sounds like phrasing typically used when talking about significant others, right? Most of the time, at least? Between the holding hands at the VMAs, the steamy performance in New Jersey, the birthday trip to Italy, and now G-Eazy's recent interview with E! News, it really, really seems like they're back together. Now, if only they'd confirm that news themselves.