Maisie Williams' Thoughts On Her School Bullies Will Make You Respect Her Even More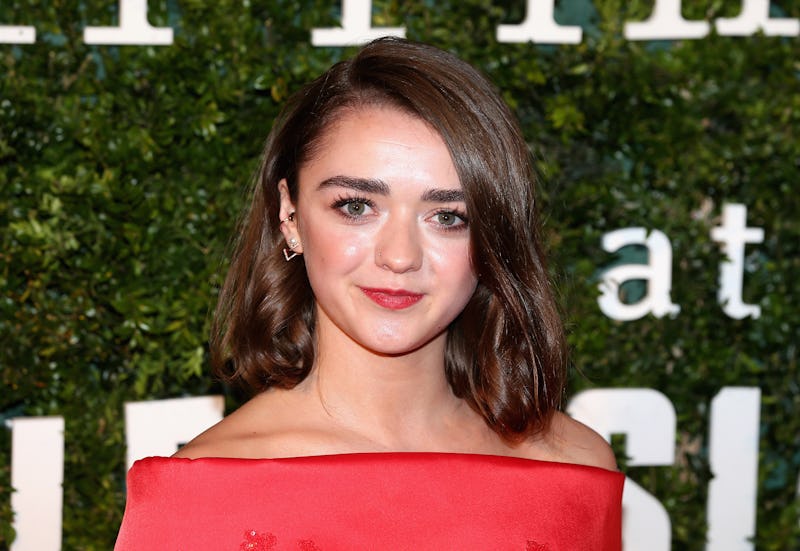 Chris Jackson/Getty Images Entertainment/Getty Images
It's not easy being a teenager. Britney vibes, not a girl, not yet a woman is stressful AF because you are falling down with opinions, hormones, feelings, insecurities. Yeah all the uber tough stuff. Now let's back paddle a bit and imagine all of those things but in the public eye. And top that off with being bullied at school for being successful. Grim, right? Well, that was reality for Game Of Thrones star Maisie Williams, who was bullied by her classmates when she was a teenager.
During an interview with the Guardian, Williams bravely opened up about her experiences at school. Some would think that your peers would find it cool that you had a leading role in one of the biggest shows on TV. But no. Sadly, that wasn't the case for the Arya Stark actress. In fact, things got so bad for her at school that it changed her outlook on people in general. She told the paper: "Leaving school, and then going back and having this awful experience, made me really bitter about life and people. People let you down and they hurt you. I went through a really dark phase of just thinking everything was awful."
Suffering through years of bullying however has not embittered the talented actress. She is sage AF about the whole situation at this point, and low-key twirls away the haters by being understanding about their behaviour.
"I don't want to excuse anyone's behaviour," she continued. "But being 15 and feeling threatened by someone who's successful, that seems like quite a human thing. When I look back, I just think it could have literally been anyone. It just so happened that I was the one who got the success."
Remarkable kindness and empathy considering how unhappy her tormentors appear to have made her but like, what else do you expect from a young woman who has proven herself to be a complete boss in the industry? Williams basically does not take BS and has shown her true badass colours on multiple occasions.
Take for example the time the Daily Mail's headline on an article about her in 2016 was "Unveiled: Game of Thrones' Maisie Williams goes braless in sheer lace dress and quirky headpiece at charity masquerade ball," which was accompanied by photos and a story about her look for that night. I mean, it was a great outfit, but Williams pointed out in her alternative headline that she would like to focus to be on what she was doing, too. She instead captioned the article with:
Game of Thrones actor, Maisie Williams, helps raise thousands at a Summer Masquerade Ball for @NSPCC
Despite having been picked on in school, Williams was definitely not without pals. She is well known for her close friendship with co-star Sophie Turner which is actual friendship goals. The pair have been BFFs since the show began, and Williams is even set to be in Turner's wedding.
Whatever about her past, this star's future and ability to inspire other young women with her openness is certainly going to keep her in high esteem in a rapidly changing world. And we can't wait to be inspired.