Sophie Turner & Maisie Williams Had The Most Fun During Their 'Game Of Thrones' Sleepovers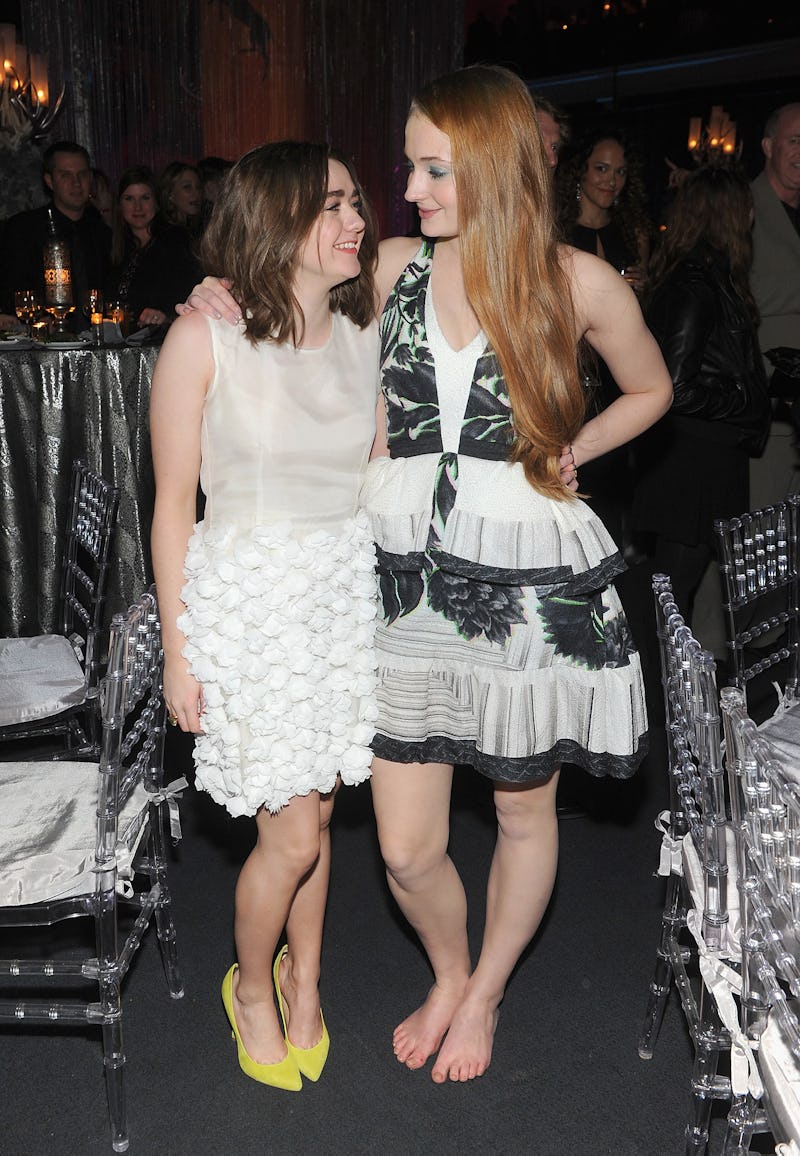 Jamie McCarthy/Getty Images Entertainment/Getty Images
Game of Thrones' sparring sisters Sansa and Arya Stark aren't always relationship goals on-screen, but off-screen, actors Sophie Turner and Maisie Williams are all that and a bag of Westerosi chips, too. Sophie Turner and Maisie Williams had Game of Thrones sleepovers, as Turner revealed, and they sound like they went exactly the way fans of the actors might assume.
On Oct. 6, Vulture caught up with Turner at New York Comic-Con. She was quick to reveal the secret behind staying sane during Game of Thrones and tight with Williams: Full-on sleepovers together. "We're kind of like loners on Game of Thrones, just because the past few seasons Maisie and I have sleepovers every night when we're shooting," the actor explained, adding:
"...Or every night whenever both of us are in town! We just used to sit there and eat and watch stupid videos and smoke weed. I don't know if my publicist will kill me for saying this!"
Turner continued, half-joking, "We'd get high and then we'd sit in the bath together and we'd rub makeup brushes on our faces. It's fun!" Hey, that's one way to bond. And speaking on behalf of a friend, a friend who definitely has had that experience, it's pretty relaxing too.
Williams and Turner bonded during the GoT audition process, and have been as close as non-Stark sisters ever since. Over the years, they made cute Vines together, filmed one another goofing off, got a little drunk, wore matching Halloween costumes, and so much more. It's beyond sweet that they maintained their closeness — and staved off madness brought on by filming those grim GoT sequences — by having old-fashioned slumber parties together at literally every opportunity. How many others can say the same of a friend and coworker, honestly?
Here's how Turner described her initial connection with Williams in the Vulture interview:
"We did a chemistry read together, It was the final three for Sansa, and I was like, F***, I really need to up my game. I went in, and was I like, What's up?! I gave her a big hug. I was like high-five after every take. I was super extra, but it worked. I read with other Aryas before, but Maisie was special. We just got on like that."
That IRL chemistry is definitely part of what makes the Sansa and Arya relationship so meaningful. Even if it took literal years for the pals to share a scene together after Season 1!
As for Sansa Stark? According to Turner, this is truly her season to shine. She told Vulture something that echoed an earlier statement to Entertainment Weekly, which is that "Sansa really comes into her own".
As the actor explained:
"I know I say this every season, but... The past few seasons for her and the whole series for her, she's kind of been somewhat lost as a matter of where she wants to be, who she wants to be, who she wants to surround herself with, and this season she is very very self-assured."
You might think that would be good news for fans of the elder Stark sister, until Turner continued:
"She knows what she wants. She knows what she stands for. She knows who she wants to be around, and she faces threats to that this season. But, well, we'll see how that goes."
That kind of sounds like Sansa dies, right? Still, that could be a total misdirect. They're really, really good at keeping everything under wraps over there.
In fact, Turner revealed that the actors have fake names on their scripts and the scripts don't even say Game of Thrones on them. Fans already knew the scripts self-destructed, but did anyone realize the sets had magical drone-killing technology over them to prevent leaks from the sky? Or that they have the cast dress up in costume and hang out where the paparazzi are in parts of Croatia to fool them into thinking they've captured set photos? These are just some of the facts that GoT actors casually revealed to Vulture today.
No wonder Sophie Turner and Maisie Williams needed those chill bath moments. Thank the Seven Gods they got them.