Emilia Clarke Spilled On Her Meeting With Prince William & OMG It Sounds So Awks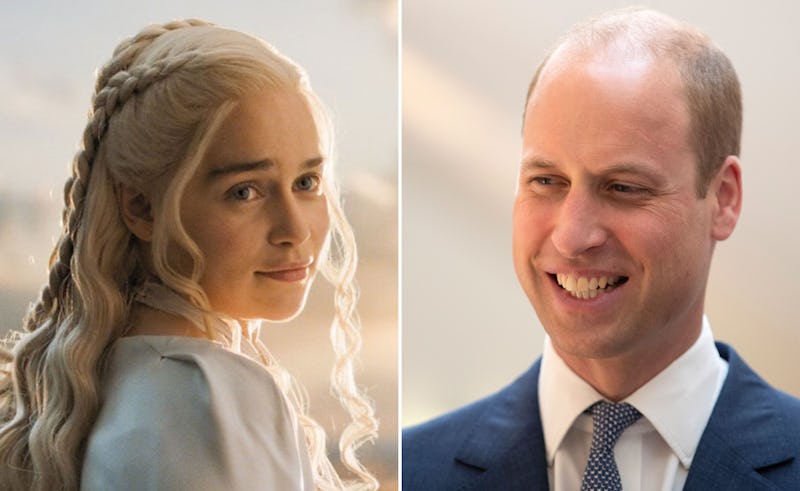 HBO/WPA Pool/Getty Images Entertainment/Getty Images
You might think that a Hollywood mega star would find it easier than mere mortals to keep their cool in front of the royal family. But it turns out, they are just as susceptible to getting starstruck as everybody else. If you're wondering whether I'm talking about anyone in particular, why yes, I am. I'm referring to when Emilia Clarke met Prince William. The Game of Thrones actress recently revealed that when she came face-to-face with the future king at Kensington Palace earlier this year for the 2018 Centrepoint Awards, things didn't exactly go as smoothly as she'd hoped.
During an interview on Late Night With Seth Meyers, Clarke explained how she'd found visiting the palace a rather intimidating experience. And really, who can blame her? "So it is a frightening thing going to the palace. There's a whole… there's a thing," she commented. "When you're there, I was just relaxing and they [said], 'Prince William is coming,' so I was like, 'Oh cool, great'. I'm really relaxed and everything is going to be fine."
But unfortunately her sense of calm didn't stick around for long as the list of things she had to remember to do and not do in front of the royal got longer and longer and longer. "They were like, 'You can't turn your back,' so I was like, 'No worries,' and they said: 'You have to address him as your Royal Highness'. Then after that you can call him Prince William and there's lots of formalities that you need to kind of adhere to'.
"For whatever reason, maybe because I was so scared, I couldn't manage to get out 'Your Royal Highness,'" she continued, even treating the chat show audience members to a reenactment of the awkward moment for their amusement. "So it was kind of like 'ra… ra…', it was pretty much all I managed."
But in true Mother of Dragons style, Clarke didn't let her initial nerves or the uncomfortable encounter stop her from having a thoroughly enjoyable evening at the Palace as she teamed up with Prince William to hand out awards to deserving young people. During the ceremony, the actress even found some gold leaf-covered eggs that looked suspiciously like miniature versions of Daenerys' dragon eggs. Kudos to the palace caterers for that cute little gesture.
It's hardly surprising that Clarke was so overcome by Prince William's presence as she's known for being some what of a royal fan. She even ducked out of her own screening of Solo: A Star Wars Story to catch Prince Harry and Meghan Markle's wedding, while her guests stayed to watch her film, as reported by Mashable. Now that's dedication. And later in her Seth Myers interview, she revealed she'd been disappointed to have not been invited to the royal wedding in May despite not actually knowing Harry or Meghan. But tbh, same. I'm still not over that.
However, it seems that the admiration is mutual between the Khalessi actress and the royals, as Prince William and Kate Middleton are certified Game of Thrones super fans. They cited the epic fantasy series as one their favourite shows during a surprise visit to the BBC Radio 1 studios last year. At the time, actor Tom Wlaschiha who plays Jaqen H'ghar was also there, and the royal couple jumped at the chance to try and get some juicy details about the upcoming series from him. You see, the royals are total GoT stans.
So deep down, I reckon Prince William was probably just as starstruck to be meeting Daenerys of the House Targaryen, the first of her name, the Unburnt, Queen of the Andals, the Rhoynar and the First Men, Queen of Meereen, Khaleesi of the Great Grass Sea, Protector of the Realm, Lady Regnant of the Seven Kingdoms, Breaker of Chains, and Mother of Dragons. I mean, wouldn't you be? He should just count himself lucky that she didn't steal his throne.