Emilia Clarke Met Prince William & It's Everything You Dreamed It Would Be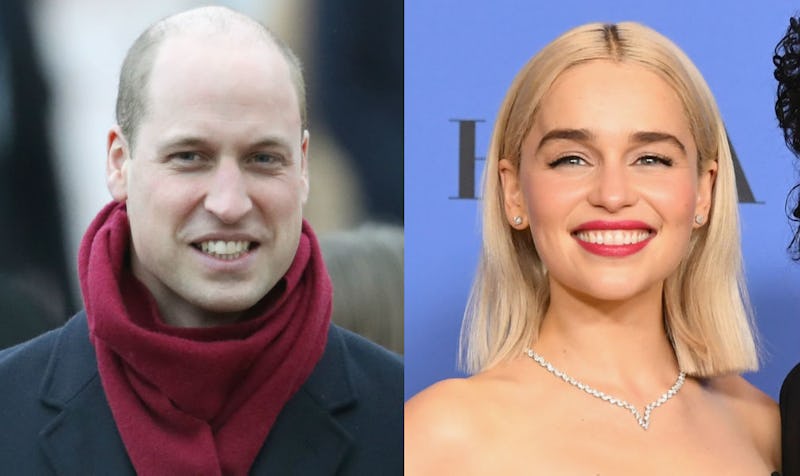 Chris Jackson/Getty Images Entertainment/Getty Images; Kevin Winter/Getty Images Entertainment/Getty Images
Westeros and the United Kingdom collided for a good cause at the 2018 Centrepoint Awards at Kensington Palace, and a certain prince was no doubt delighted. According to W Magazine, Prince William met Emilia Clarke at the ceremony that honors young people who have faced homelessness. Clarke was there to read out the names of the honorees, while Prince William handed out the awards — that's right people, the prince and Khaleesi were working as a team.
During a BBC One radio interview in April 2017, Prince William and Kate Middleton revealed they're big fans of Game of Thrones (writer: Vanessa Taylor). Shortly after their interview, the royal couple met Tom Wlaschiha who plays Jaqen H'ghar, and the actor told the Evening Standard that they did what any self-respecting Game of Thrones fans would have done in that situation — asked him to divulge spoilers. A man knows better than to spoil one of the most popular TV shows ever though, so he reportedly didn't drop any hints about things to come. Can the same be said for Clarke? Probably, but sadly, there's currently no information about what happened when the prince officially met Clarke.
Thankfully, there are a few photos from the evening that show Clarke beaming as Prince William hands off the awards to the deserving young people who were honored at the ceremony. It seems safe to say that if the prince was excited when he met Wlaschiha, he was surely ecstatic over working side by side with Daenerys Targaryen herself.
As for Clarke, she clearly had a blast at Kensington Palace if her Instagram posts are any indication. The actor sounds like she was both excited and honored to be part of such an important event. In a photo of herself with another attendee, Troy the Magician, Clarke wrote on Instagram of the evening,
"@centrepointuk this evening has been magical for so many reasons @troymagician made that literal. The plight that so many young people face as a result of homelessness can seem insurmountable but tonight I met and heard about those incredible young people who made it not only possible to turn it around but soar and survive instead. @centrepointuk hella yeah."
The Centrepoint Awards were once thrown by Princess Diana, who counted it as one of her favorite charities, according to Express. It's lovely to see that Prince William is carrying on his mother's legacy in such an important way, and involving stars who are equally passionate about fighting homelessness in the event.
While Clarke was there to support a serious cause, she made time to appreciate the fact that she was hanging out in Kensington Palace too. One of her posts from the evening suggests she wanted to try the throne out, but she quickly discovered that it has an alarm. If the royal family is going to make an exception for anyone, shouldn't it be the Mother of Dragons? Because there's no way that a photo of Clarke sitting on throne wouldn't be one for the history books.
Speaking of dragons, Clarke also got a kick out of the hors d'oeuvres. The event featured eggs covered in edible gold leaf, and the Game of Thrones star couldn't help but think of her beloved dragons. Were the "dragon" egg nibbles a coincidence or the work of a certain Game of Thrones super fan? If Prince William ends up with a cameo in the show's last season, those hilarious eggs are going to look super suspect in retrospect.
Keep your fingers crossed that someone asks Prince William or Clarke about their official meeting soon, because the world needs details about this momentous occasion. In the meantime, it's enough to know that Prince William and Daenerys handed out awards together, and likely had a laugh over a platter of eggs. One thing's certain: this is the unexpected royal crossover the world needed.