Another George R. R. Martin Book Series Is Reportedly Becoming A TV Show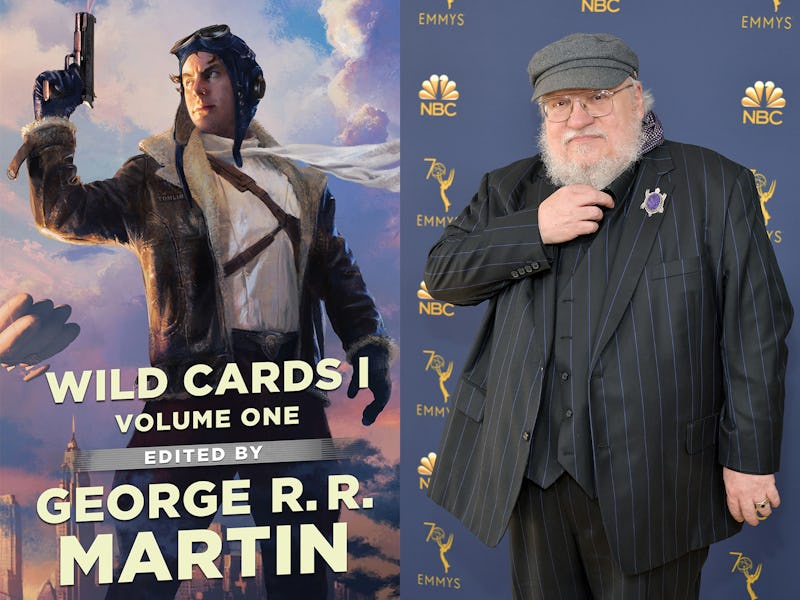 Neilson Barnard/Getty Images Entertainment/Getty Images
It's a big week for Game of Thrones fans. HBO recently announced the premiere month for the final season of the series, which means that George R. R. Martin fans are probably already thinking about what to read and watch once Game of Thrones is finished. Don't worry, there's good news: Hulu is reportedly near a deal to secure the adaptation rights to a George R.R. Martin edited series. According to The Hollywood Reporter, Hulu wants to bring the series to television as as not one but multiple series.
Wild Cards is a 27-book science fiction series edited by George R. R. Martin and co-edited by Melinda M. Snodgrass. It consists of anthologies, mosaic novels, solo novels, and short stories written by a collection of 40 authors called the Wild Cards Trust. The series is set in an alternate version of post-World War II United States, where a super virus called Wild Cards kills 90% of its victims and mutates survivors' DNA so that they become either Jokers or Aces. Aces acquire superhuman abilities, while Jokers develop unique and sometimes debilitating physical conditions. If you want a quick taste of what the series is all about, Tor.com has actually featured a ton of original short stories set in the Wild Cards universe that you can read for free online.
Wild Cards actually got its start as a campaign in the Superworld RPG, game-mastered by Martin and played for two years by a collection of science fiction writers. The RPG players went on to become the original authors of the series when Snodgrass and Martin first developed it into book form. (So that just goes to show, all you D&D and RPG fans, that your wildest dreams about your campaigns turning into the next big franchise can come true.) The first book in the series, Wild Cards, came out in 1987, and new stories have been continually added to the franchise over the past 30 years. The most recent addition, Texas Hold'em, came out last week.
Martin and Snodgrass will both serve as Executive Producers for the new television series, along with Vince Gerardis and Andrew Miller. The series will be produced (in conjunction with Hulu) by Universal Cable Productions, the same team that produced The Magicians and Mr. Robot. There is no news yet on when Wild Cards will premiere—which means you have plenty of time to read the books before it comes out.
Meanwhile, Martin has plenty of other projects in the works. As any A Song of Ice and Fire fan will tell you, there is still no word on when the sixth installment of the series, Winds of Winter, will be hitting bookshelves. However, this month, Martin will release Fire and Blood, the first volume in a two-part history of the Targaryens. He is also serving as an Executive Producer on HBO's Game of Thrones as well as the upcoming SyFy adaptation of Nightflyers. So while it may be a while yet until Winds of Winter comes out, there is definitely a Lannister's helping of new stories for Martin's fans to get excited about.