Gina Rodriguez's New Show About Immigration Is Needed Now More Than Ever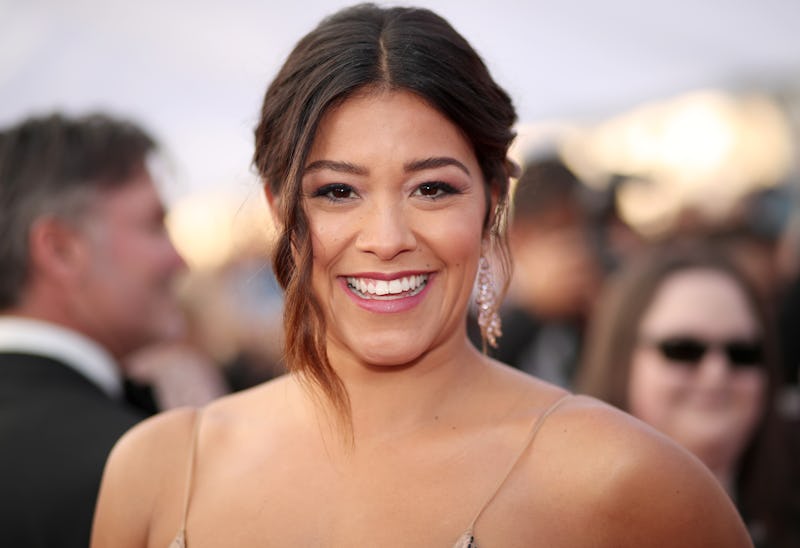 Christopher Polk/Getty Images Entertainment/Getty Images
The Trump Administration may be planning to rescind DACA, but Hollywood is working together to make sure the stories of DREAMers won't be overlooked or forgotten. Jane The Virgin star and activist Gina Rodriguez's new show Illegal is one of those projects. According to Deadline, the recently green-lit series will be centered on the undocumented immigrant experience of an all-American teenager.
Created by Jane The Virgin writer Rafael Agustin, Illegal is inspired by the Ecuadorian TV penman's real life. Agustin's story is brilliantly interesting, to say the least — as he did not find out that he was undocumented until well into his teen years. With the lead character being described as "a charming but bumbling high school student just trying to survive puberty," per Deadline, Illegal sounds like it'll deliver a balance between humor and rawness that will make any TV junkie fall in love with the bound-to-be inspirational and relevant series.
Diversifying Hollywood has been top of mind for many talents of color, so the news of a Latino dramedy coming down the primetime pipeline feels like a major win. Rodriguez, who's developing the series, knows of the struggle to have stories of color brought to the forefront all too well, so she couldn't help but share her excitement with anyone who would listen.
Agustin also took to Twitter to share just how happy he was to have his TV series brought to life.
Illegal may be Agustin's first time helming a major television production, but this isn't the first time he's flexed his comedic genius outside of Jane The Virgin. The writer is also known for co-creating the autobiographical stage production N*gger Wetb*ck Ch*nk: The Race Play, which uses comedy to challenge racism and stereotypes — something that's obviously right up Rodriguez's ally.
The talented Latina frequently uses her platform to champion for those who far too often have their stories overlooked. From launching #MovementMondays to highlight Latino creatives on Instagram to encouraging women to speak up about equal pay, Rodriguez has shown that bringing visibility to the disenfranchised is something she's all about. And together with Agustin, the two make the perfect pair to bring this very important story to life.
With the fight on to defend DACA, Illegal couldn't come at a better time. And placing these invaluable immigrant stories in living rooms across the nation is a sure-fire way to not only educate viewers on the scary reality that DREAMers face, but to get the support needed to protect them.